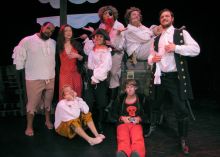 In the summer months, I take time off work to spend the days with my kids. So if you need any advice on how to entertain children on the Outer Banks, I'm your girl. * (If you want to know how to keep your kids from bickering on the long summer days at home, you might want to find another girl). * In the five weeks since school let out, we've been up, down and around these sandbars, patting horses, paddling boards, seeing shows, swinging from monkey bars, slapping mosquitoes, eating ice cream, biking to breakfast and so much more. * Here are a few of the best things we've done so far or have on our to-do list for the upcoming weeks...
By far our favorite kids' show of the summer is Pirates! A Boy at Sea, presented by some very talented cast members of The Lost Colony. The actors in this show are downright charming, even the "evil" she-pirate. I was really blown away by the layers of surprises this show brought out. The story about a boy who gets kidnapped by pirates is funny and quite touching (I think I may have had misty eyes at the end), and the presentation is highly creative. At each scene transition, the actors go into a crazy slow-motion parody, and the music is all retro - Beach Boys and Beatles. You should see it. A few local parents have balked at the $12 per person ticket price, but, I tell you, it's worth it. Pirates! plays at Roanoke Island Festival Park's indoor theater on Wednesday and Thursday afternoons at 2 p.m. It lasts a little more than an hour. Call (252) 473-3414 for info or tickets...
An Outer Banks Daredevils baseball game is something else we've really enjoyed. The pre-game activities are really fun, and the level of play is active enough to hold a kids' attention. The concessions, of course, might be the biggest draw for a kid. Games this week are on Tuesday, Wednesday, Friday and Sunday. Gates open at 6 p.m. with the game starting at 7 p.m. The games are held at the First Flight High School baseball complex just south of the Wright Brothers National Memorial. Call (252) 202-1842 for info...
Something we have yet to do, but want to do because we've had friends tell us it's fun, is The Elizabethan Gardens' Scratch & Sniff Garden Children's Workshop. For ages 12 and younger, it's a aromatic exploration of the gardens. It's held Wednesdays from 10 a.m. to noon, and cost is $20. Call (252) 473-3234...
I've been hearing, too, about the weekly Faire Days Festival at Scarborough Faire in Duck. Seems that there's a lot for kids at the event, held Wednesdays from 2 to 7 p.m. There's a juggler, Magic Mike the animal balloon-creating clown, live music, live horses from the Corolla Wild Horse Fund, story hour; tattoos, arts and crafts, food, funnel cakes, Segway demos and more...
The Town of Duck has quite a few kid-friendly events. The most popular has to be the Family Magic Shows on Wednesdays at 10 a.m. in Duck Town Park. It's free, but the only problem is that seating is limited so you have to get your tickets starting on Monday at Kellogg Supply/The Cottage Shop in Duck. If you can get a ticket, the kids will love it. * Duck also has a Children's Story Hour on Thursdays at 10 a.m. in the Town Park. * And most kids enjoy the outdoor music concerts in Duck Town Park on Tuesday and Thursday evenings at 6 p.m. This week see Ruth Wyand on Tuesday doing all acoustic originals and Connected on Thursday...
The N.C. Marionette Theater presents the show "Tom Benn and the Pirate Blackbeard" around town: Tuesdays at 3 p.m. at Deepwater Theater on Ocracoke; Wednesdays at 11 a.m. at Kitty Hawk Kites Kids Days; and Thursdays at 2 p.m. at The Whalehead Club in Corolla...
Got teenagers? That's not my realm, but I can tell you that my teenage niece hangs on the beach around Jennette's Pier in Nags Head all day. Then at night she heads to The Pit for Teen Night with a DJ. These no-alcohol nights draw kids from everywhere and they really seem to dig it. Teen nights are Monday, Wednesday and Friday. The older kids and teenagers also really like watersports rentals and skate parks too. Skate parks can be found in Corolla, Kitty Hawk, Nags Head and Manteo...
Here are a few more quick ideas for entertaining the kids: North Carolina Aquarium on Roanoke Island (new sea turtle exhibit, any of the special programs); The Lost Colony (kids love it); Corolla Wild Horse Museum activities; wild horse tours north of Corolla; Red Wolf Howling Safaris in Alligator River National Wildlife Refuge; nature activities/programs at Jennette's Pier, Jockey's Ridge State Park, Pea Island National Wildlife Refuge, Cape Hatteras National Seashore or Outer Banks Center for Wildlife Education; dolphin tours in the sound in Nags Head; climbing Currituck Beach or Cape Hatteras lighthouses; ferry ride to Ocracoke Island; kite flying at Jockey's Ridge; Children at Play Kids' Museum in Kitty Hawk...
Ice cream shops abound on the Outer Banks and I can't think of one that is not good. But the new Sweet Frog Frozen Yogurt shop in Kitty Hawk is above and beyond. Serve your own yogurt, top it with stuff from the topping bar (healthy options too) and pay by weight. Coconut frozen yogurt with chocolate mini chips and shredded coconut is my new thing...
A couple of other things to tell you about: In Avon on Thursday and Friday there's an art show on the lawn at Hatteras Realty. Hours are 1 to 7 p.m. and a fish fry dinner follows. * Be sure to hit the Hatteras Farmers Market on Tuesday mornings in Avon and the Manteo Farmers Market on Saturday mornings in downtown Manteo...
On Saturday at 10 a.m., it's the 18th Annual Surfrider Paddle Race at the Ocean Bay Boulevard Access in KDH. The race is open to paddlers ages 8 and older. It's a one-mile race for long and short boards and a two-mile race for paddleboards and kayaks. There are tons of great prizes and raffles. Check it out even if you're not competing. Go to www.outerbanks.surfrider.org...
Next Monday and Tuesday at 2 p.m. at Roanoke Island Festival Park, see the play The Diary of Adam & Eve, presented by Elizabeth R and Company. The play is based on a short story by Mark Twain. It's a comical twist on the original story and is Twain's interpretation of married couples. It's a one-hour show and it's included in the price of admission to the park. Call (252) 475-1500...
There's a lot more going on this week. Look around our site. The nightlife listings are crazy long, and the shopping and dining deals are out there too. Check it all out. And if you have any more kid ideas, let us know in the Comments section, below...