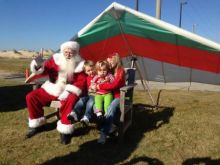 While the Thanksgiving turkey fills the house with savory aromas, I look to the week ahead and see the start of the Christmas season. The décor will change in a matter of days, and good cheer will be the feeling for the next month or more. And I, as a lover of all things Christmas, could not be more excited for the tree decorating, cookie baking and the long list of great holiday events happening on the beach this season. Because on the Outer Banks, we don't do the holidays like everybody else. Here our lights are in the sky, and you guessed it – they're on kites!
Hangin' With Santa and Kites With Lights
It's time again for good ol' Saint Nick to pay the children of the Outer Banks a visit, and it looks like this year he's arriving via hang glider. The man in the big red suit will be at Kitty Hawk Kites in Nags Head this weekend, and kids can have their photo taken with him, enjoy cocoa and cookies, then head across the street for an incredible holiday lights display in the sky. This is something that I try to see every year. Kites above the sand dunes of Jockey's Ridge State Park are always a classic Nags Head sight, but when you add lights? It's a must. Hangin' With Santa will take place on Friday, November 27 from 10 a.m. to 2 p.m. and Saturday, November 28 from 1 to 4 p.m., then Kites With Lights will begin at 4 p.m. on Saturday. There will be all sorts of holiday sales this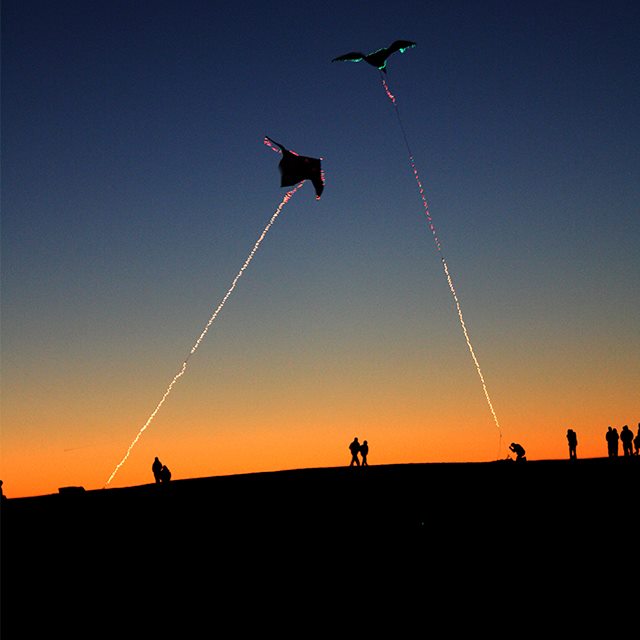 weekend too, so be sure to check out the shops at Jockey's Ridge Crossing.
WinterLights at the Elizabethan Gardens
I sure do love the lights at Christmastime. From the larger-than-life displays at local homes to the ones up in the sky, I wouldn't mind seeing them all this holiday season. One display in particular that is truly magnificent to walk through is WinterLights at the Elizabethan Gardens. The winding garden paths and trees are transformed into an illuminated winter wonderland with traditional holiday décor and fantastic displays. While the lights give the gardens a radiant glow, a fire lights up and warms the Great Lawn. And kicking it all off this year is the Grand Illumination on Friday, November 27. There will be festive food and drink as well as a seasonal gift shop and plant sale. The Grand Illumination takes place from 6 to 9 p.m., and beginning the following week WinterLights will be open Wednesdays through Saturdays in December, excluding holidays.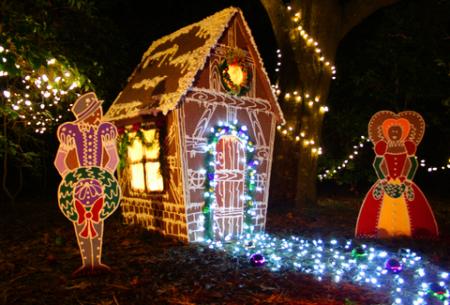 Arts and Crafts Christmas Fair
Now that the Christmas decorations are going up, it's the perfect time to pay a visit to an Outer Banks craft show. This Friday, November 27, the Outer Banks Woman's Club will sponsor their annual Arts and Crafts Christmas Fair at the Baum Senior Center. You'll find handmade items from artists, crafters, woodcarvers and other local talent as well as a bake sale and raffle. Some of the best holiday gifts and décor I have seen on this beach can't be purchased in a store but can be found at an art show – we've got serious talent here! Admission is $1, and children younger than 12 are free. The fair runs from 10 a.m. to 4 p.m.
Jeff Galloway Runners' Schools
You knew this was coming. After the marathon dining experience today, it will be time to think about running off the turkey – or in cases like mine, the peanut butter pie from the dessert table. The man often referred to as America's Running Coach is coming to the Town of Duck to help runners and walkers find enjoyment in exercise and achieve their running goals. Jeff Galloway has inspired athletes all across the country through his retreats, training programs and books. His courses, called Jeff

Galloway Runners' Schools, will be held on Friday, November 27 in two 3-hour blocks. Registration is limited to 30 runners per session so that everyone can get some one-on-one with the coach himself, so make sure to check it out in advance. The courses will be held in the Town Small Conference Room at 9 a.m. and 1:30 p.m.
The holidays always seem to light up the nightlife scene on the Outer Banks. This week there's going to be all kinds of live music and DJs, sip and dip-style painting classes, karaoke and more happening – have you ever tried shag dancing? See it all on our Nightlife & Events page, and plan your night out at the beach.