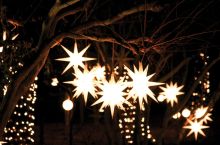 The decorating is done, the presents are wrapped and the sweets have been baked. You've got the family all gathered for the holiday, and you've eaten all you can eat. Now what do you do?
Go look at the lights! It's a time-honored holiday tradition to pile into the car, tune the radio to holiday songs and burn up some gas while riding around looking at all the Christmas lights. On the Outer Banks there are also a few walk-through sites where you can get out and stretch your legs or let the little ones run. Below are some recommendations for places to enjoy a holiday light show.
Isn't it wonderful how some people go to the effort to set up lighted displays for us all to enjoy? No matter how simple or elaborate, the lights are part of what makes the holidays so much fun. Thanks to all of you people out there who make the holidays so much brighter!
Photo: Ancient oaks dripping with festive lights are just one of hundreds of light displays in The Elizabethan Gardens.
WinterLights at The Elizabethan Gardens
Friday, Dec. 23 and Tuesday, Dec. 27 through Friday, Dec. 30
WinterLights is by far the largest lights display on the Outer Banks. Held in the stunningly beautiful, 10-acre Elizabethan Gardens on the North End of Roanoke Island, WinterLights is feast for the eyes and senses. You'll walk along illuminated pathways and stroll through lighted vignettes. You can stop at a bonfire and enjoy a s'more, and along the way you'll hear holiday music and carols, sometimes live. Because this is such a huge display, there's an admission fee. The cost is $16 for adults, $12 for youth, $8 for children ages 2 to 5, free for infants and $5 for leashed dogs. You must purchase tickets online in advance for timed entry. Hours are 6 to 9 p.m.
Corolla Christmas Village
Friday, Dec. 23, Saturday, Dec. 24 and Friday, Dec. 30
Head to Historic Corolla Village to enjoy a magical display of lights. Park the car and walk the self-guided tour and stop along the way to peek into the local shops and museums, enjoy a tasty warm beverage and grab something to eat from a food truck. There's even a Kids' Christmas Village. The light of the Currituck Beach Lighthouse over the village is the perfect accompaniment to this light display. The tour is open from 5 to 8 p.m., and it's free.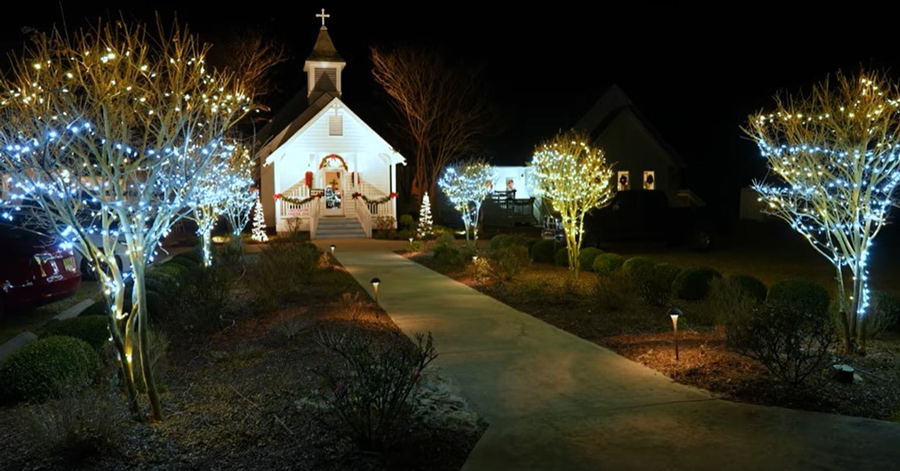 Quaint Corolla Chapel is part of the lighted tour of Historic Corolla Village.
Roanoke Island Lights
The Town of Manteo is a festive place to look at lights. Start a self-guided tour downtown at the Manteo Christmas Tree. On the waterfront next to Tranquil House Inn, this impressive cedar wrapped in thousands of lights is such a sweet symbol of Manteo's small-town charm. Behind it across the water you can see the Elizabeth II replica sailing shop outlined in lights for the holidays. From the waterfront you can walk around downtown to look at the decorated homes and businesses, or you can hop in your car and just ride around downtown and the neighborhoods of Manteo. Drive slowly and just wander the side streets and neighborhoods off Highway 264. You really cannot get lost on Roanoke Island as eventually you'll wind up back on Highway 264.
While you're on the island, head down to the village of Wanchese, where many of the residents put up festive light displays. Again, this is a time for just wandering around on the streets, driving slowly and admiring people's creativity.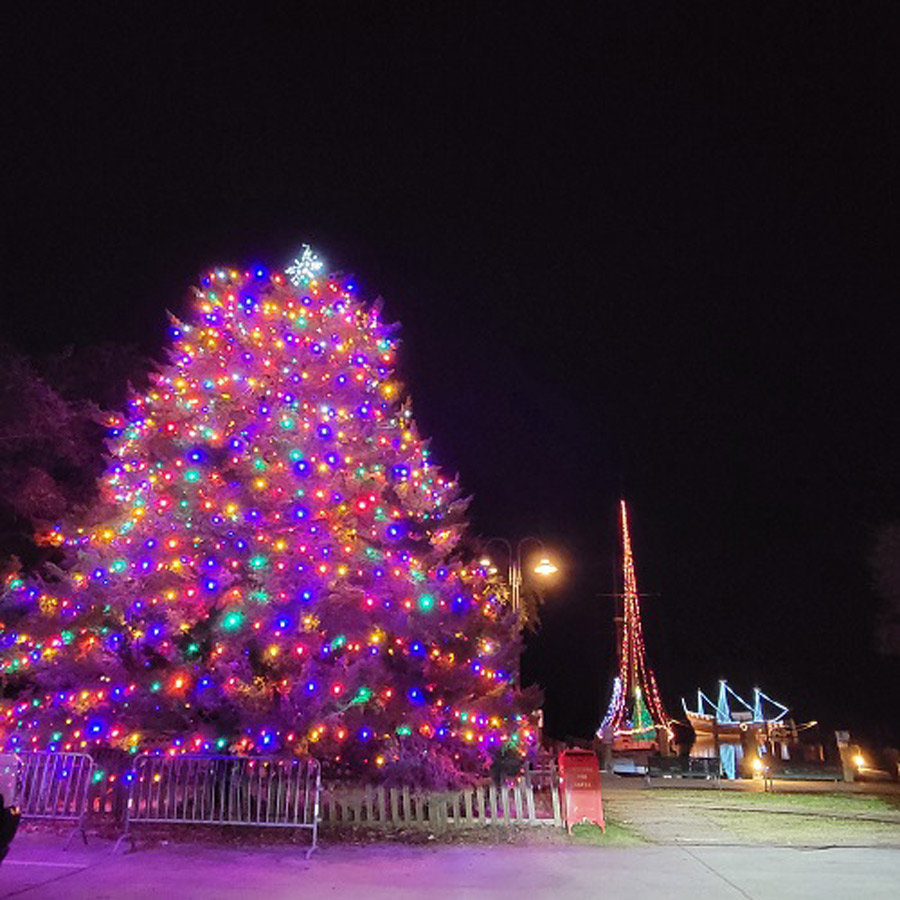 The Town of Manteo's Christmas Tree is a bright spot on the downtown Manteo waterfront.
Nags Head Lights
A good place to start a light tour in Nags Head is at Dowdy Park. You can get out and walk around among various light displays and let the children play on the illuminated playground. The west side neighborhoods in Nags Head tend to have more decorations than those along the beach road, so you could drive around a look at those. Ride past or climb up Jockeys Ridge to see the lone lighted tree, and be sure to check out the big light display at Nags Head Church just south of Jockeys Ridge. Nags Head Town Hall has a nice little light display in its rain garden too.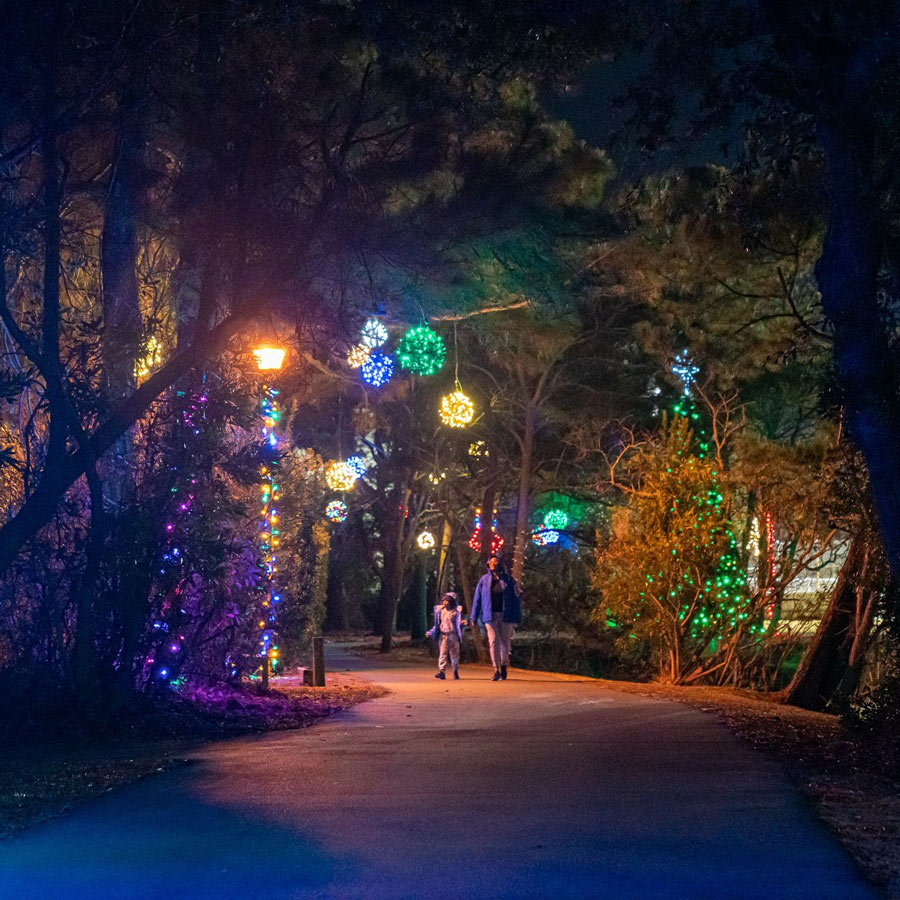 Stroll under the lights at Winter Lights Illumination at Aviation Park in Kill Devil Hills.
Kill Devil Hills Lights
The Town of Kill Devil Hills has a great light display Winter Lights Illumination at Aviation Park. It's an opportunity to get out of the car and stroll the path in the park around the little turtle pond. You'll enjoy an assortment of light displays and walk under ligths in the trees. It's free to visit and will be lit through the end of December.
One of the Outer Banks' most popular light displays is the Mennicucci House at 206 Clamshell Drive. This family has been upping the ante on the light show for nine years now, and it's a truly impressive display of 70,000 lights, some of them dancing in time to music. Even more impressive is the fact that they collect donations for Beach Food Pantry as well. Last year's donations totally to nearly $5,000. This display will run through New Year's Eve. They turn off the lights around 9 p.m. on weekdays and a little later on the weekends. Don't forget your donation – either a cash donation or a nonperishable food item.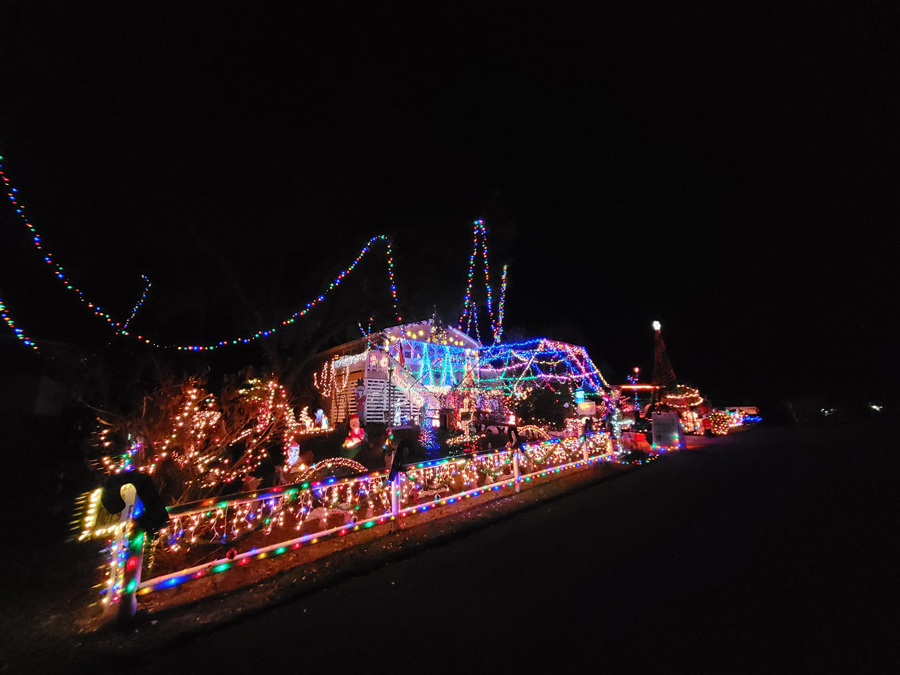 The Mennicucci House in Kill Devil Hills features more than 70,000 lights.
Kitty Hawk Lights
A Kitty Hawk light show is just about driving around the neighborhoods and seeing what you see. One sure bet is to head along Kitty Hawk Woods Road. Take any side streets you like but be sure to head down to the end to the Kitty Hawk Landing neighborhood, where there are always several houses with big, fun displays.
Southern Shores and Duck Lights
One place to stop is the Borzellinos House, which has dozens of inflatables and themed inflatable villages along with light displays and a 32-foot light tunnel. Their display at 5111 Lunar Drive in Kitty Hawk will be up through January 3, and this family is collecting donations for Outer Banks SPCA this year. Duck Town Park also has a lighted town tree and light displays that are worth going to see. Otherwise, just ride around in Southern Shores and Duck neighborhoods and you'll find some lights to enjoy.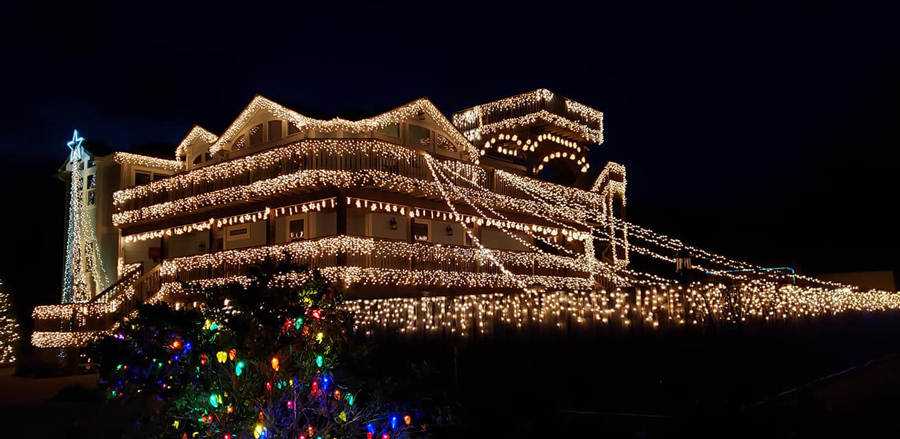 You can't miss the Borzellinos House in Southern Shores.
If you're looking for other things to do with your family this holiday, head right on over to our Daytime and Nightlife listings.
May your holidays be merry and bright!
---