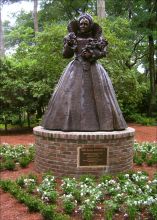 Here it is already, the last full week of summer vacation. For kids on the Outer Banks, school starts on August 25, meaning this is the last full week they have for late bedtimes, sleeping in and filling the weekdays with the pool, the beach and all the other fun stuff there is to do on these incredible islands. * So, all of you who are affected by the school schedule, live it up as much as you can this week...
Another end-of-summer milestone being hit this week is the end of the season for The Lost Colony. * When the Colony is done, you know that the college kids are back on campus, vacationers will be staying home, and school is about to start - and that's always a little sad...
All you who have yet to see the 2010 Lost Colony show and backstage tour need to get over there and see it before Friday, which is the last day. * A good day to go is on Wednesday, which is Virginia Dare's birthday - if she hadn't died she'd be 423 on Wednesday. The Lost Colony celebrates her birthday by casting live infants in the role of Virginia Dare, which, of course, adds to the element of surprise...
Virginia Dare's birthday is celebrated all day on Wednesday at the Virginia Dare Faire at Fort Raleigh. The Elizabethan Gardens generously opens its gates free of charge for the day. Come to Fort Raleigh National Historic Site for cake and ice cream and games, crafts and events all day. This year, for the first time, The Town of Manteo is honoring Virginia Dare's birthday with a town holiday. I love a town that honors its history...
The Elizabethan Gardens is also hitting a milestone this week - the 60th anniversary of the original idea for the gardens. * On Tuesday, the ECU Chamber Orchestra will perform on the Overlook Terrace at 10:30 a.m. * On Wednesday admission is free all day. There's a musical tribute to Virginia Dare at 10 a.m., a performance by Elizabeth R. and Co. on the life of Virginia Dare, and lunch served by the Wanchese Lion's Club. * On Thursday, head to the gardens to see the unveiling of a portrait of Queen Elizabeth I. The portrait has been a mainstay in the gardens' gatehouse since 1960, and recently spent several months at ECU being examined by historians and archivists to determine whether or not it is a true 1592 portrait of the aging queen attributed to the studio of Marcus Gheeraerts the Younger. An art historian will reveal that secret at the unveiling...
Thursday is National Aviation Day (and Orville Wright's birthday), and Wright Brothers National Memorial is marking the occasion with free admission all day and some special events. * The schedule's got Junior Flight Ranger Programs, special talks, kite-making programs, book signings, aircraft displays, a visiting exhibit by the Civil Air Patrol, special dedications, tours and more...
On Saturday, Brew Thru is celebrating the nearing of summer's end with a festival that combines two great things - music and beer. The Bluez 'N Brewz Festival will be held at The Promenade at Milepost 1 in Kitty Hawk from 4 to 10 p.m. * Expect 80 different beers and four great blues bands (Mojo Collins, The Crowd, Grant Austin Taylor and the Josh Preslar Band) * Advance tickets ($35 for drinkers; $20 for nondrinkers) are on sale at all Brew Thru locations...
This is a good weekend to go out. Here's a quick rundown of some nightlife highlights. * On Friday: Midnight Madness Comedy at Outer Banks Brewing Station (don't know what that is but it sounds funny and I like funny); Ty Fleming Band at Poor Richard's; Dreadnecks at Beach Road Grill; Rich Whiskey Band at Kelly's; Mojo Collins at Pamlico Jack's; Karl Werne and Friends at Ocean Blvd. * On Saturday: Christian Benedi at Beach Road Grill; Rich Whiskey Audition at Kelly's; Jug Tucker at Pamlico Jack's; Sea Level at Poor Richard's. * Sunday's big show is Toubab Krewe at Kelly's. Big-time music-festival-goers will recognize this instrumental band that's known for its highly original sound played on a variety of unusual instruments...
And one more thing: Art lovers, stop by the ARTspace Gallery and Studio in Southern Shores on Wednesday to see a show called Beach Retro. It's featuring work by local painters, jewelers and more. The gallery is open from 11 a.m. to 7 p.m., and a reception will be held from 5 to 7 p.m. * Stop by the new Dare County Arts Council building in Manteo to see two shows hanging - photography and pen-and-ink. * Stop by Roanoke Island Festival Park's Gallery to see Weather and Sky Photography, an amazing photography show by three of the best nature photographers on the Outer Banks...
I'm done. I think...
Check the site all week as businesses and organizations are adding new stuff here every day. If you've got a business or organization that wants to get the word out about something - a sale, a special, an event or a fund-raiser - click on Get Involved just on the right column of this page...
And put your 2 cents in. If you'd like to contribute or add your voice to this blog, you can do that below. Keep in mind that the blog comments are moderated so that this site is only putting positive vibes into cyberspace * We'd really love to hear from you...