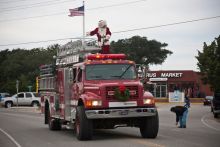 One of the top news stories on the Outer Banks right now would be considered a total non-event in a city. The top headline in the local news is vehicle break-ins. (And those are to unlocked cars, mind you.) * While I (of course) hate that our residents and visitors have to deal with having their stuff stolen, I love living in a place where vehicle break-ins are pretty much the only crimes the newspapers have to report about. * Of course there was that elusive graffiti artist in KDH, but rest assured that he has been apprehended. * We Outer Banks are living in our own little bubble, removed from the big crime and problems of the mainland, and we're lucky to have it that way. As long as you lock up (your cars and your houses), look out for drunk drivers late at night and early in the morning, and keep a watchful eye out for the occasional kook, you can enjoy one place in the world that still feels safe...
The other headlines around here mostly have to do with Mother Nature. The Outer Banks faces the big problems of what to do about the shoaling in Oregon Inlet as well as what to do about N.C. 12 at the Pea Island breach and Mirlo beach. The NCDOT is taking comments about the 12 situation until Dec. 20. If you've got something to say, now's the time. Click here for info...
If you're looking for something to do this weekend in our little bubble of safety and sand, you're reading the right blog. * Most of what's going on is holiday related, so put on your chipper face and start humming those holiday tunes...
The Elizabethan Gardens' WinterLights is going Tuesday through Saturday nights (except Christmas Eve) through the rest of the month. This is such an awesome event - walking through gardens at night with thousands of lights twinkling is - dare I say it? - magical. WinterLights is from 6 to 9 p.m. Tickets cost $11 for adults, $9 for youth (6 to 17) and $4 for little kids...
The Elizabethan Gardens is also offering some fun holiday workshops this week. On Saturday (this and next), the Art of Wreath Making with Wes and Kim Stetson will be held from 10 a.m. to noon. Cost is $25. * All ages will enjoy The Art of Gingerbread Cookies this Saturday from noon to 2 p.m. Participants will bake and decorate cookies. Cost is $25. * From 2 to 4 p.m., take a Nature Photography Workshop with Jeff Lewis, the Gardens' Garden and Nursery Manager and a fantastic photographer...
Backtracking to Friday night, the third annual Violins & Voices Classical Christmas Concert will take place Friday, Dec. 9, 7-9 p.m., at St. Andrews Episcopal Church, Nags Head. There will be traditional Christmas music and holiday treats, featuring live performances by Angelo Sonnesso, Sue Artz, Claire Thomas, Stacey Walters, Dorothy Molz, Will Haresch, Nick Hodsdon and David Spangler. Tickets are $10 with proceeds to benefit Nags Head Lions and the Gem Center, supporting Dare County citizens experiencing memory loss or vision problems and the ones who love them...
Theatre of Dare's "Harvey," which received great local reviews after its opening weekend, plays for the second weekend starting Friday night at 7:30 p.m. You can also see it Saturday night at 7:30 p.m. and on Sunday at 2 p.m. The play is a comedy and it'll be at COA Roanoke Island Campus in Manteo. Tickets are $10 for adults, $5 for students...
On Saturday, Cape Hatteras National Seashore is offering a free Cape Hatteras Lighthouse Winter Climb. Normally they're closed after October, so this is a rare treat to see the island from a high perch -- with no people on it! All climbers must be at least 42 inches tall. The free climbing is from 10 a.m. to 3 p.m....
Saturday afternoon and evening, catch the Nutcracker performed by the Outer Banks Centre for Dance. The show is at 1 p.m. and 7 p.m. at First Flight High School. Admission is $15...
Saturday afternoon from 3 to 6 p.m. Currituck Heritage Park is having its Annual Holiday Illumination. They'll simultaneously light up the Currituck Beach Lighthouse and the park Christmas tree. There are also horse-drawn carriage rides, caroling and some goodies too. This event is free and it's a good excuse to hang out in beautiful Currituck Heritage Park...
Christmas Past at Island Farm is Saturday from 5 to 8 p.m. Explore Island Farm on a guided candlelight tour and experience an 1850s Southern Christmas. This is a great event for children, who love candles, the Christmas tree, the fire, the cider and the caroling. Admission is $10, with children ages 5 and younger admitted free...
The Hatteras Village Christmas Parade is Sunday at 2 p.m. in Hatteras Village. Expect floats, horses, bikes, fire trucks, marching bands and Santa. The parade begins at Teach's Lair and continues to the Hatterasman Drive-In. Cookies and hot chocolate and a celebration follow at the Civic Center. Call 475-4388 if need information; otherwise just show up along the parade route and enjoy the show. There's a gathering at the Hatteras Village Civic Center afterwards...
Still need more stimulation to get you in the holiday spirit? Kill Devil Hills has its First in Flight Holiday Lights display at Frog Pond in Aviation Park. With the lights reflecting in the water, this is a gorgeous scene. You'll find it between Town Hall and the high school. Park at the skateboard ramps. * And of course it's time for the Outer Banks' most dazzling light show - the Poulos Christmas Lights on Ocean Acres Drive in Kill Devil Hills. Don't miss this one. Turn at Pigman's (opposite McDonald's) and follow the road until you see it. It's free, but you should make a donation to help these generous folks pay the power bill...
So that is all the big stuff, but there is definitely more. Some great bands are playing (see By Night) and the stores are offering some great shopping deals and the restaurants that are still open have some very good eats to fuel you up for all this fun stuff...