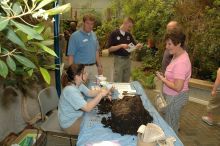 There's a lot that we could worry about these days - funding cuts to many of our local attractions, the uncertainty of expensive beach nourishment, the rising cost of gas and groceries, shoaling in Oregon Inlet, predictions of a busy hurricane season, radiation in our ocean - but who knew tornadoes was on the list? Duck and lower Currituck County were actually struck by tornadoes last Saturday night! No one was seriously hurt here on the Outer Banks, but in nearby Bertie County 11 people were killed by tornadoes...
But we can't get carried away on worries. Worry is poison -- and the antidote to worry is appreciation. If you're worrying about any of these things, start making a list of things you appreciate. That's what helps me anyway. * So when my son was worrying about tornadoes after Saturday night, I tried to redirect his attention to things that we appreciate. First on his list: "I appreciate that ditch by our yard that we can go lie down in if a tornado comes"...
Here on the Outer Banks, we've got a lot to appreciate - beautiful weather, a strong summer economy, lots of visitors this week, gorgeous surroundings, friendly people, and lots to do! * Here's something else to appreciate: Thanks to National Park Week, it's free to visit Wright Brothers National Memorial from through Sunday. I'm sure the Park Service could use those admission fees, but they're giving us a free week nonetheless. I appreciate that and I think I'll take my kids there on Saturday...
If you drive to or from Hatteras Island much, you'll appreciate that N.C. 12 on Bodie Island has reopened to traffic, so no more detour on Old Oregon Inlet Road...
If you read this blog before Wednesday's Outer Banks This Week e-blast, here are some things you might be able to catch on Tuesday: Dare County Arts Council is holding a Membership Celebration at ARTspace Gallery in Southern Shores from 6 to 8 p.m. on Tuesday. Check out ARTspace's Local Color show, enjoy food and wine by Coastal Provisions Market, hear David Neal play music, and mingle with the DCAC folks. * After that, stop by Outer Banks Brewing Station to see Carbon Leaf at 9:30 p.m. The show is a benefit for Outer Banks Relay for Life. Tickets are $17 at the door...
On Wednesday, Dare County Arts Council is hosting a Postcard Making Workshop from 3 to 5 p.m. at DCAC Studios. Create you own postcards in any medium and participate in the Postcard Exchange Program with Manteo's twinned town, Bideford, England. Call (252) 473-5558...
I'm sure you've heard that it's Bike Week on the Outer Banks. While we might worry about how their noise affects us, let's try to appreciate the economic boost their visitation brings. * The week is full of bike shows, poker runs, guided tours, party nights, tattoo contests, vendors, music, concerts, pig pickin's and more. Go to www.outerbanksbikeweek.com to see a list of events. * Part of Bike Week is the Outer Banks Rock N Ride Concert on Saturday from noon to 5 p.m. at Roanoke Island Festival Park in Manteo. Music is by The Georgia Satellites, Mojo Collins and 10LB Biscuit. Tix are $15 at the door...
Don't forget that Friday is a half-day for Dare County Schools, if that affects you in any way, and that next week is spring break - a whole week off...
On Friday, the N.C. Aquarium on Roanoke Island will celebrate Earth Day with a Party for the Planet from 10 a.m. to 3 p.m. This year's focus is on sea turtle conservation, and there will be crafts, games and much more - all free with regular paid admission. They'll also have a Monarch Butterfly Conservation Plant Sale, with three different milkweed species and wildflowers for sale. Adding milkweed to our home landscapes can help ensure the survival of the monarch butterfly...
On Saturday at 9 a.m., support a good cause and get a workout at the Inaugural OBX GO FAR Bunny Hop 5K and Jelly Bean Fun Run. This race benefits the GO FAR running program in the schools. It starts at Knuckle Up Gym in Kitty Hawk. Go to: http://www.fsseries.com/index.php?action=event&event_id=381 to register...
Saturday is also the Corolla Pedal-Foot-Paddle Triathlon. Beginning in Currituck Heritage Park, it includes a 7-mile scenic cycle through Corolla followed by a 2-mile beach run at low tide, wrapped up with a 1-mile kayak paddle on the sound. It starts at 8 a.m. Got www.whaleheadclub.org and click on Events...
On Friday and Saturday, Kitty Hawk Kites is having its Fly Into Spring kite show on Jockey's Ridge. They'll have stunt kites, power kites, giant animal kites and much more atop Jockey's Ridge from 10 a.m. to 4 p.m. Call (252) 441-4124 for info...
Saturday night on Ocracoke, there's an Easter concert with local performers to benefit the Ocrafolk Festival. It starts at 7:30 p.m., and tickets will be sold at the door at the Ocracoke Community Center...
Saturday afternoon in Buxton, there's a Barbecue Dinner to benefit the Cape Hatteras Wounded Warriors Program. Stop by the Buxton Oaks Shopping Center from 10 a.m. to 2 p.m...
This is Easter weekend, so that means egg hunts and sunrise services. Here's the rundown of the Easter Egg Hunts and Festivities being held this weekend. All of these festivities include egg hunts and many more Easter-related activities. Call for more details.
- Easter Eggstravaganza at the Whalehead Club - Friday from 1 to 3 p.m. (252) 453-9040
- Easter Egg Hunt at Roanoke Island Festival Park - Friday starting at 1 p.m. Bring a canned good for the Dare County Food Pantry. (252) 475-1500
- Egg Hunt at the N.C. Aquarium - Saturday at 10 a.m. Preregistration required. (252) 473-3494 ext. 232
- Easter Eggstravaganza at The Elizabethan Gardens - Saturday, 10 a.m. to 1 or 2 p.m. Hunt at 11:30. Free with paid admission. (252) 473-3234
- Easter Eggstravaganza at Kitty Hawk Kites in Nags Head - Saturday 11 a.m. to 1 p.m. (252) 441-4124
- Easter Eggstravaganza at Stowe on Twelve in Hatteras - Saturday noon to 4 p.m. (252) 986-2024
- Easter Egg Hunt and Big Bunny's Barrel Roll at the Cotton Gin in Grandy - Sunday from 2 to 5 p.m.
- Hopping Hatteras Easter Egg Hunt at Hatteras Realty in Avon - Monday at 11 a.m. at the Avon location. Bring a donation for the Hatteras Island Food Pantry. (252) 428-8372
For Easter Sunrise Services, here are a few locations that I could find and presumably all of these start at 6 a.m.:Jockey's Ridge State Park, Old Cape Hatteras Lighthouse Site, Avon Pier, Kitty Hawk Pier, Chicamacomico Life-Saving Station and Ocracoke Life Guard Beach...
There are a lot of bands playing in the restaurants this weekend. If you're looking to go out on the town, check our Nightlife listings... It's also a huge sale weekend in the local shops. Check our By Day or Shopping listings to see where some of the deals will be...
Here are a few tidbits to prepare you for early next week: Dace County Arts Council is hosting The Taste of Hatteras Island, a membership-building event at the Inn on Pamlico Sound in Buxton on Monday from 6 to 10 p.m. There will be food, music, art, a gorgeous sunset and neighborly cheer. Mojo Collins with Triple Vision and Sean Bendula will provide the music. Food, wine and beer will come from local restaurants: Mack Daddy's, Kaia's Kitchen, Diamond Shoals, Teach's Lair, Rusty's Surf & Turf, Dinky's, Orange Blossom Bakery, Atlantic Coast Cafe, Hatteras Harbor Deli and Captain Rollo's. Tickets are $20 at the door. Proceeds benefit DCAC as well as the Hatteras Island Cancer Foundation. Call (252) 473-5558. * DCAC is hosting a Painting Workshop with Mike Rooney on April 25, 26 and 27 from 9 a.m. to 4 p.m. daily. Call (252) 473-5558. * DCAC is also accepting entries for the Mollie Fearing Memorial Art Show next week - on Wednesday and Thursday. See www.darearts.org for info...
Ok, I have to stop myself. Is anyone still reading? If so, have a great holiday weekend!...