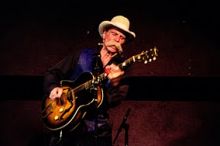 Here's something else from the great ideas file: Outer Banks Sounds. This collaboration between WVOD 99.1 The Sound and Dare County Arts Council shines the spotlight on local musicians, from acoustic singer-songwriters to rock bands to bluegrass ensembles and more.
The focus is on original music written by these local musicians, and there are two components to Outer Banks Sounds - monthly music showcases at Kelly's and a soon-to-be-released compilation CD.
To get Outer Banks Sounds going last fall, DCAC and The Sound invited local musicians to submit applications to be a part of the event. They got 60 entries.
"We were surprised at the number who submitted," says Matt Cooper, program director at WVOD, who helped formulate Outer Banks Sounds. "We could only select 15 for the CD, so it was a difficult selection. The 16th will be chosen by voting online."
The Outer Banks Sounds live music showcases are held at Kelly's in Nags Head every third Thursday of the month through April (they started last October). Each night three different bands or musicians play, and the public is invited to come hear the music. Playing this Thursday night are Sean Bedula, Ruth Wyand and Jug Tucker.
A CD containing a song from each of the 16 musicians will be released in May.
"This shows the breadth of Outer Banks music," says Cooper. "There's a broad range of musical styles here."
All the proceeds from the sale of the CD will benefit DCAC's scholarship program for kids' music lessons at the Community Music School. For more information, go to www.darearts.org. Thanks to Bob Muller for our accompanying photograph of Mojo Collins performing at Outer Banks Sounds...
Meanwhile, Outer Banks Sounds is looking for artwork to accompany the CD that will be released in May. Local artists are encouraged to submit artwork by March 31. The art must be original and submitted in Photoshop, Illustrator, In Design, Quark Express or Corel Draw and emailed to info@darearts.org. This is a high-profile gig - the winning artist will receive recognition on 1,000 CDs, posters and other materials...
Local artists are also encouraged to submit works to DCAC's 34th Annual Frank Stick Memorial Art Show. This show, which is held at Glenn Eure's Ghost Fleet Gallery in Nags Head, typically exhibits the works of about 100 local artists under one roof. Cash prizes are awarded by judges, and there is one people's choice award. All submissions are to be dropped off on January 24 or 25 at Glenn Eure's Ghost Fleet Gallery (210 E. Driftwood Street). Fee is $20 per artist or $35 for nonmembers. The show will run January 28 through February 24...
What else is going on this week? Well, it's kind of slow. And that's actually a good thing. It's winter after all, and that's synonymous with DOWN TIME. Stay home a little. Read a book. Go for a beach walk. Don't be so busy. Savor the winter days. Especially since they're unseasonably warm. The weather forecast is for upper 40s into the high 50s for the next 10 days (and that sounds great to me!)...
One thing you can do is celebrate Yoga Day USA. This local celebration is on Saturday, January 21 at Outer Banks Yoga in Kitty Hawk. From 3 to 4:15 p.m. there will be an "open dialogue" class where you can ask questions or bring up discussions about yoga during class. From 4:30 to 6:30 p.m. there is a two-hour yoga class with Anne. It's open to everyone. Donations are welcome but not necessary...
Elizabethan Gardens is having its Coldest Day of the Year Plant Sale on Saturday. It's actually a plant sale, yard sale and gift shop sale. While you're there, visit the gardens and see all those bee-yoo-tiful camellias in bloom. * Did you know the gardens has 300 varieties of camellias? * They'll have free hot chocolate too. The sale goes on from 10 a.m. to 2 p.m....
Saturday is also the day for The Lost Colony's Local Auditionss. If you've got talent in acting, singing or dancing and you love the theater, you should give it a go. Kids can audition too...
On Saturday night, take a blast into the past and check out The Return, a show that re-enacts the best songs of the Beatles. This is an Outer Banks Forum presentation, and it's at First Flight High School at 7:30 p.m. Tickets cost $25...
Artsy types should know that Pocosin Arts Folk School in nearby Columbia has two events coming up: Wildlife Photography Workshop with Mike Dunn is Feb. 3 to 5, and the annual Cabin Fever Reliever is Feb. 16 to 19. Cabin Fever Reliever includes classes in basketry, jewelry, metals, clay, painting and ceramics. Enrollment is only open through January 31.You can find info here.
Look around our site a little too. Our By Day and By Night sections have a lot more listings. Several bands are playing around town this weekend if you feel like going out...
I've got one more thing to tell you: Cameron House Inn in Manteo is offering $50 off rooms in their inn right now. It's a great place to get away, if you need a little winter break. Click here to get the coupon...