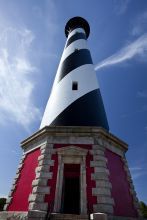 Connecting with nature is an essential part of being alive. Somewhere within ourselves, we all crave freedom from our material possessions and hectic schedules. We crave silence, wildness and connection with the rhythms and patterns of animals, plants, winds, moon phases, tides and seasons. When we can let go of our everyday duties and worries and focus on the flow of nature, we find happiness, joy and peace. One place I can always reconnect with this state of being is in Cape Hatteras National Seashore. Occupying portions of Bodie, Hatteras and Ocracoke islands, this protected area is an oasis of undeveloped land amidst a booming coastal area. It is a haven for plants, animals and people.
In many coastal areas, there are only little pockets of nature to be found. Preserved open space is secondary to homes, hotels and businesses that accommodate vacationers. In those places you have to look hard to find even a patch of undeveloped land. Here on the Outer Banks, Cape Hatteras National Seashore is a 30,000-acre, 75-mile-long defining feature where nature steps right up to greet you. It is a place for people who love outdoor activities, whether it's camping, kayaking, birding, beach walking, fishing, surfing or so many other activities. It's a place where wildlife is wild, where more than 400 bird species have been seen, where you can see sea turtles and dolphins, foxes, raccoons and deer, and where you can catch a great variety of fish.
Cape Hatteras National Seashore is easily accessible from N.C. Highway 12. Just drive south on the highway from Nags Head and you're there. The highway passes right through the seashore. Along the way you'll cross over two long bridges, one small bridge and a ferry and pass through seven villages on Hatteras Island (Rodanthe, Waves, Salvo, Avon, Buxton, Frisco and Hatteras) and end up in one on Ocracoke Island. The seashore, therefore, offers all the joy of wild nature right alongside the creature comforts of food, accommodations and necessities. If you're looking for a place that's vastly different from urban life but not too remote, this is it.
Creating the Nation's First National Seashore
It took more than 20 years to bring Cape Hatteras National Seashore to fruition. In 1933 Outer Banks-based artist, real estate developer and conservationist Frank Stick made the first proposition to preserve the barrier islands from the Virginia border through Beaufort Inlet as a national park. He saw the park as an opportunity for conservation and at the same time as a way to create job opportunities for locals in the wake of the Great Depression. The public response was favorable. Stick worked to gather support from the National Park Service and N.C. lawmakers. He convinced two Pennsylvania brothers to donate their 2,700-acre hunting club on Hatteras Island as the nucleus of the park. In 1935 a state commission was formed, and by 1937 the creation of Cape Hatteras National Seashore was authorized by Congress and enacted into law. The state began acquiring the land for the national park, but the park was still a long time coming.
World War II got in the way, and Stick became unavailable to push the park project. By 1945 the national seashore park was dead, and land acquisition had ceased. Landowners and local residents had changed their minds and wanted a fair value share for the property. There were rumors of oil and gas prospects in the area, and people didn't want to let go of their land in case that panned out. In 1947 David Stick, Frank's son, moved back to the Outer Banks after attending college and working as a reporter. He was surprised that more was not happening on the park, and in 1949 both Stick men were stunned when the N.C. General Assembly proposed abandoning the project and returning the land they had already acquired to the original owners. David and his father decided to revive the project, with the help of many others, of course.
Though the National Park Service and federal government were still interested, the locals were not. The local chambers of commerce vocally opposed the park and the locals didn't want it. But in the end, the local community was appeased with the governmental promise to build N.C. Highway 12, exclude the already established villages from the park and a reduction in the proposed park size to portions of Bodie, Hatteras and Ocracoke islands. In 1952 the Mellon Foundation granted $618,000 to help create the first national seashore, and the state matched the funds. On December 22, 1952, a ceremony was held in which the state turned over all of its acquired lands to the National Park Service, and on January 12, 1953, Cape Hatteras National Seashore was officially established. It was dedicated on April 24, 1958.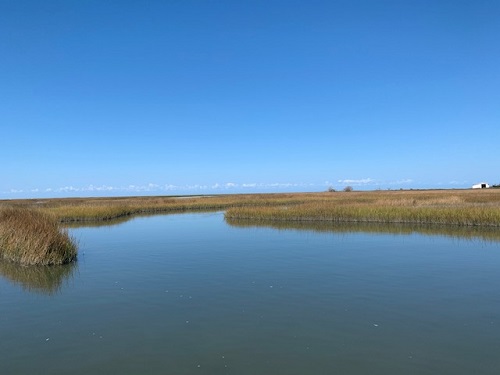 What to Do in Cape Hatteras National Seashore
Cape Hatteras National Seashore is a wonderland for outdoor recreation on ocean beaches, dunes, maritime forest, salt marshes and sound beaches. It's also a land of rich history, from the earliest inhabitants, the Croatan Indians, to the early European explorers to the first English-speaking residents. It's a place full of maritime history, from shipwrecks and war battles to lighthouses, the U.S. Life-Saving Service and Coast Guard to commercial and recreational boating. It's legendary for activities like inshore, offshore and surf fishing, waterfowl hunting, wreck diving, off-road driving, surfing, windsurfing, kiteboarding and camping. It includes three lighthouses, hiking trails, pony pens, visitor centers, beach accesses, boat ramps, museums, guided programs and so much more.
Here's a rundown of some of the most popular things to do in Cape Hatteras National Seashore.
Visit Lighthouses
The National Park Service maintains three lighthouses within Cape Hatteras National Seashore.
Bodie Island Lighthouse - Just south of Nags Head. Open for climbing from April through October. Museum on site. Reservations are required at recreation.gov
Cape Hatteras Lighthouse - Buxton. Closed to climbing this summer due to renovations. The museum on site is open.
Ocracoke Lighthouse - Closed for climbing
See Other Attractions
Some of these are National Park Service property and others are just near the seashore.
Oregon Inlet Life Saving Station, south end of Oregon Inlet, not open to the public but nice to look at up close
Chicamacomico Historic Life-Saving Station, Rodanthe, open Monday through Friday 10 a.m. to 5 p.m.
Little Kinnakeet Life-Saving Station, north of Avon, not open to public but it's cool to see
Britsh Cemetery, near Cape Hatteras Lighthouse
Frisco Native American Museum, Frisco, open Tuesday through Sunday 10:30 a.m. to 5 p.m.
Graveyard of the Atlantic Museum, Hatteras, open Monday through Saturday, 10 a.m. to 4 p.m.
Pony Pens, Ocracoke Island
British Cemetery, Ocracoke village
Ocracoke Preservation Society Museum, Ocracoke village, open Tuesday through Saturday 10 a.m. to 3 p.m.

Camping
Cape Hatteras National Seashore's four campgrounds are on the ocean side of the island, and they are popular. Reserve sites early at recreation.gov.
Oregon Inlet Campground, just south of Nags Head, 107 sites, water and electric at 47 sites, open year-round
Cape Point Campground, Buxton, 202 sites, no hookups, closes November 28
Frisco Campground, Frisco, 127 sites, no hookups, closes November 28
Ocracoke Campground, Ocracoke, 136 sites, no hookups, open year-round
Beach Driving
Driving on the ocean beach or soundside in a 4x4 is allowed in many areas – but not all areas so be sure to check before you go. An Off-Road Vehicle Permit is required at a cost of $120 a year or $50 for 10 days. Get your permit at recreation.gov.
Hiking
Hiking is a great way to explore the barrier island ecosytems within the seashore.
Bodie Island Dike Trail, 2 miles, starts at Bodie Island Lighthouse south of Nags Head
Buxton Wood Trail, 0.8 miles, starts near Cape Hatteras Lighthouse in Buxton
Open Ponds Trail, 4.5 miles one way, connects Frisco Campground with British Cemetery near Cape Hatteras Lighthouse in Buxton
Hammock Hills Trail, 1 mile, starts across from Ocracoke Campground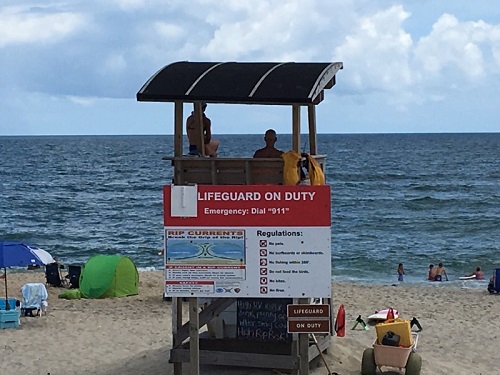 Ocean Swimming
For safety's sake, it's always best to swim near a lifeguard if possible. Lifeguards are present from 9 a.m. to 5 p.m. at the following locations from Memorial Day through Labor Day. If you're swimming without a lifeguard present, never swim alone and be sure to learn about rip currents and how to swim in the ocean safely. Text OBXBEACHCONDITIONS to 77295 to receive daily rip current alerts and swimming conditions on your phone.
Coquina Beach, south of Nags Head across from Bodie Island Lighthouse entrance
Old Lighthouse Beach, near Cape Hatteras Lighthouse, Buxton
Frisco Lifeguard Beach, at the Frisco Bathhouse, just south of Frisco
Ocracoke Lifeguard Beach, near the village on N.C. 12
Sound Access
Salvo Sound Access, just south of village of Salvo
Haulover Sound Access, just south of Avon
Sandy Bay Access, just north of Hatteras village
Fishing
Pier fishing: Bonner Pier on the south end of the Basnight Bridge over Oregon Inlet, Rodanthe Pier and Avon Pier
Surf fishing: Allowed anywhere along the ocean and sound beaches. Check for occasional pedestrian or beach driving closures. An N.C. Coastal Recreational Fishing License is required; go to ncwildlife.org.
Offshore fishing/inshore fishing charters: Offshore charters are available at Oregon Inlet Fishing Center, south of Nags Head and at marinas in Hatteras and Ocracoke villages.
Beach Bonfires
Beach bonfires are allowed in Cape Hatteras National Seashore. Get a free permit online here.
Visitors Centers
Whalebone Junction Visitors Center, at the park's north entrance in Nags Head
Bodie Island Center, at Bodie Island Lighthouse
Museum of the Sea, Cape Hatteras Lighthouse
Hatteras Weather Bureau, Hatteras village
Ocracoke Discovery Center, near passenger ferry docks, Ocracoke village
Ranger Programs
Cape Hatteras National Seashore rangers offer a number of free, family-friendly programs in the summer months. Programs run through September 5.  For information, click here. The new NPS mobile app can be used to find info about Cape Hatteras National Seashore programs. The app also has an audio tour of the seashore.
Surf Fishing with a Ranger - Wednesdays, 8:30 to 10 a.m. Call (252) 475-9622 to register
Ocracoke Banker Ponies - Monday, Wednesday, Friday, 9:30 to 10 a.m. Ocracoke Pony Pens
Bodie Island Lighthouse History - Wednesdays, 11 to 11:30 a.m. Bodie Island Lighthouse
Ocracoke Lighthouse Talk - Monday through Thursday 11 to 11:30 a.m. Ocracoke Lighthouse
Cape Hatteras Lighthouse History - Daily 11 to 11:30 a.m. Cape Hatteras Visitor Center
Totally Turtles, Weekdays 12 to 12:30 p.m. Cape Hatteras Visitor Center
Shaping These Barrier Islands, Daily 2:30 to 3 p.m. Hatteras Island Visitor Center Pavilion
Dark Skies Over Hatteras, Tuesdays 9:30 to 10:15 p.m. Ramp 43 Beach Access
Crabbing with a Ranger, Thurdsays 9 to 10 a.m. Call (252) 564-4068 to register.
Soundside Explorers, Thursdays, 9:30 to 11 a.m. Call (252) 475-9622 to register.
Old Days at the Weather Bureau Station, Thursdays, 2:30 to 3:30 p.m.
Other Activities
Many other things to do in the national seashore, like kayaking, biking, watersports, wreck diving, fishing charters and much more, are available through businesses in the villages. You might rent your gear or hire an outfitter from the village, then do your activity in the seashore boundaries. Explore our Ocracoke, Hatteras and Nags Head sites for all of the restaurants, shops, accommodations, services and things to do near the Cape Hatteras National Seashore.
Protect Cape Hatteras National Seashore
More than 3.2 million people visited Cape Hatteras National Seashore in 2021. That's an increase of 35 percent over the ten-year visitation average from 2011 to 2020. It's a huge place, so it doesn't feel crowded, even with all those people. But it's important to take care of the seashore when you're there. Respect beach closures, which protect nesting shorebirds and sea turtles. Keep pets on leashes at all times and clean up after them. Pick up your trash. Do not shoot off fireworks. Do not leave anything on the beach overnight. Do not disturb dunes and vegetation. Do not harass wildlife. You know what to do.
Trust me, one visit to Cape Hatteras National Seashore and your heart will grow deeply fond of this salty place. For more information, click here.