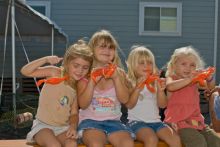 Yes, it's fun to fly by the seat of your pants. It's nice to be the carefree soul with an open schedule who can change your mind at a moment's notice. I like being that person. I like to travel with just a passport and not even the vaguest notion of where I'll hang my hat that night. I like to keep my summer schedule free because who knows whether tomorrow will be a sound day or an ocean day. I don't like to plan meals because I never know what serendipitous handout of fresh shrimp might appear at my door at dinnertime (that actually happened last night).
But sometimes, dammit, you've got to make a plan. You've got to step up and buy the tickets, make the reservation, send the invitations, book the flight, RSVP or whatever else is required for you to commit to something solid. At least that's what my mom tells me. And that's what I'm here to tell you about right now. Outer Bankers are hosting some top notch festivals and events this fall, and if you want to get in on them, you've got to make your plan.
The fall festivals kick off with Day at the Docks in Hatteras village on Saturday, September 15. From 10 a.m. to 5 p.m. along the docks, Hatteras villagers celebrate the working traditions of the waterfront community with games, contests, competitions, displays, seafood, music, a Blessing of the Fleet and a lot more. This year they're also having events on Thursday, Friday and Sunday. Book a room to stay overnight in Hatteras or just come for the day. This is an old-fashioned festival that's full of local, make that native, flavor.
Next up is the Currituck Food & Wine Festival in Jarvisburg on Saturday, September 22. Taste wine and beer from regional and N.C. brewers and vintners, listen to live music by L-Shape Lot, Jesse Chong Band and others, taste delicious cuisine from the waters and fields of Currituck County, go on a hayride, participate in the Great Currituck Grape Stomp and more. Tickets are $20 in advance, $25 at the door. Hours are 12 to 6 p.m. I love the setting at Sanctuary Vineyards/The Cotton Gin - it's quite pastoral and inviting. Here you'll also need to make a plan for a designated driver - Jarvisburg is about a 20-minute drive from Kitty Hawk and the wine is going to be good.
You really need to get your butt in gear if you haven't already bought tickets for the Outer Banks Bluegrass Festival on October 5 and 6. Tickets are selling fast for this two-day festival at Roanoke Island Festival Park, and it will very likely sell out of its 5,000 daily tickets. The setting is perfect for the likes of Rhonda Vincent and Doyle Lawson and other musicians from all over the country. Tickets are $25 for adults and $10 for kids. It's new, it's big time and it's going to be a blast. Buy tickets online, reserve a room in Manteo and bring your boots.
The following day, Sunday, October 7, head up to Duck for the Sixth Annual Duck Jazz Festival on the Duck Town Green. Currently scheduled to perform are: The Rippingtons featuring Russ Freeman, Paula Atherton, The Fuzz Band, and Emme St. James & Her Jazz Gentlemen. This is an outdoor, daytime show, which is a huge part of the fun factor. That, and the fact that it's free. It's a see-and-be-seen among the locals, with great music and a great view to boot. Music starts at 11 a.m. and lasts until 6 p.m. Plan to stay in Duck until Monday.
Corolla gets its music moment when Mike Dianna's Grill Room presents the Mustang Music Festival on October 13 and 14. It's a weekend of world-class music, art and food to celebrate and help protect the Colonial Spanish mustangs of Corolla. This is quality music, headlined by New Orleans jazz legends Ivan Neville's Dumpstaphunk and 2012 Grammy winners Rebirth Brass Band. Others playing include Ben Miller Band, Uberlounge, Formula, Eric Penrod Group, The End of the World Blues Band, Hungry Mother, Category 5, Holy Ghost Tent Revival, The Tom Principato Band, The Critters, Mercy Creek, Hound Dogs Family Band, Paul Rowland Project, Zack Mexico and Andy Begina. How's that for a lineup? Two-day passes are just $50. Day passes are $30. Make a weekend of it and book a room in Corolla.
The very next weekend you'll want to come back for the first Outer Banks Seafood Festival on Saturday, October 20 starting at 11 a.m. It'll be held in Nags Head, on the old soundside Windmill Point property - a great setting for a festival by the water. Live bands include Blind Prophets, Aquarium, Old Enough to Know Better, Molasses Creek and The Crowd. More than 16 restaurants will be preparing and serving locally caught seafood specialties.
Families should gear up for The Elizabethan Gardens' Harvest Hay Day celebration on October 27 from 10 a.m. to 1 p.m. This festive, fall event combines all the colors, flavors and fun of fall into hayrides or hale bale mazes, scarecrows, hot cider, pumpkin pie, bonfires and more. Tickets are $8 for adults, $5 for youths and free for children younger than 5.
The Wings Over Water Festival is a six-day celebration of wildlands and wildlife in eastern North Carolina and the Outer Banks. For a modest cost, participants can select from such varied experiences as birding, photography, traveling to historic landmarks, exploring wildlife refuges, paddling tours, wolf howling safaris, nature hikes, bear watching, wading trips and more. Sign up soon; some of these workshops will fill up quickly.
Athletes should sign up for the Outer Banks Half-Marathon or Marathon on Sunday, November 11 (or 5K, 8K or Fun Run the day before). The courses are mostly flat with tons of natural beauty. If you're game, you really need to make a commitment now - to training and to holding your place. These are popular races.
Meanwhile, it's Labor Day weekend this weekend on the Outer Banks, you know. No pressure, but if you haven't made a plan, you need to get on it. It's always a busy weekend and hotel rooms and friends' guestrooms book fast.
Look around our site for the full rundown of things to do this weekend and next week on the Outer Banks. By Day and Nightlife are full of fun things to do. If you have any ideas on planning ahead, leave us a note on "Contribute Your Voice," below. We'd love to hear from you!

This week you have a chance to win a One night stay at the Cameron House Inn and two tickets to the Roanoke Island Festival Park!
For more information about Cameron House Inn, check out their website.
For more information about Indian Roanoke Island Festival Park, check out their website.
Last Week's Winner
Congratulations to Alayne Snow!!!

You won a $25 gift certificate to Atlantic Coast Cafe and a $50 gift certificate to Indian Town Gallery!
For more information about Atlantic Coast Cafe, check out their website.
For more information about Indian Town Gallery, check out their website.