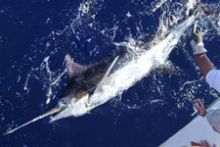 I don't envy those people who are trying to decide what to do on their one-week Outer Banks vacation. I live here all year and I have trouble making a plan in the summer. * It's like standing in the cereal aisle in the grocery store - too many choices and you go numb with indecision. * Maybe I can help you narrow the selection with a few of my recommendations for this week...
THRILL SEEKERS
Thrill seekers have a range of options with surfing lessons, kite-boarding lessons, Parasailing, Jet Skiing, air-boat tours, helicopter or biplane air tours or hang-gliding on Jockey's Ridge...
My personal recommendation for this week is offshore fishing. * Charter a boat from one of the local fishing marinas and head out to the Gulf Stream for a full day of excitement. Catch and release a marlin, plus bring home tuna and dolphin or maybe a wahoo for dinner. * See the Fishing tab at the top of this page...
BTW, Nags Head Church is offering its Hukilau Surf Camps for middle and high school students (grads 6-12) on Saturday, July 17. The three-hour camp (8 a.m. to 11 a.m.) costs just $25 and includes instruction and a T-shirt. Call 441-1696 for info...
NATURE LOVERS
For outdoorsy types and nature lovers (but not necessarily the bungee jumpers in the crowd), we've got kayak tours in every town, dolphin tours in Nags Head and Roanoke Island, wild-horse-sighting tours in Corolla, inshore fishing charters or head boat fishing charters on Roanoke Island, Oregon Inlet or Hatteras Village, and nature programs galore, I mean galore, at local nature-oriented attractions like Outer Banks Center for Wildlife Education, Jockeys Ridge State Park and the N.C. Aquarium on Roanoke Island...
My personal recommendations this week are the programs at Alligator River National Wildlife Refuge, Pea Island National Wildlife Refuge or the National Park Service. Alligator River has Wolf Howling Safaris on Wednesdays at 7:30 p.m., Black Bear programs on Wednesdays at 6 p.m. (they set it up so you can do both in the same day), Tram Tours on Tuesdays at 9 a.m. and Thursdays at 1:30 p.m., and Canoe Tours on Wednesday, Thursday and Friday at 9 a.m. * Pea Island has Canoe Tours on Wednesday at 10 a.m., Thursday at 9 a.m. and Friday at 10 a.m., Bird Walks on Wednesdays, Thursdays and Fridays at 8 a.m., Turtle Talks on Tuesdays at 2:30 p.m., Soundside Adventures on Thursdays at 2:30 p.m., Bird Programs on Wednesdays at 2:30 p.m. * The National Park Service has an astounding number of nature-oriented programs every day, from snorkeling to fishing and marsh walks. Check our By Day listings...
HISTORY BUFFS
The National Park Service programs include options for history lovers. Check their listings for history programs about the Civil War and the Graveyard of the Atlantic and others. * The Whalehead Club tours in Corolla also cover a great deal of Outer Banks history, as do, of course, the history-oriented attractions like Island Farm, Roanoke Island Festival Park, Fort Raleigh, Wright Brothers National Memorial, The Lost Colony and the lighthouses...
My top recommendations for history buffs this week are the summer programs at Chicamacomico Life-Saving Station Historic Site. * Monday through Friday at 2 p.m., they've got a history-oriented program: Behind the Scenes of the Nights in Rodanthe on Monday (well, that's just the recent past, not history), America's Forgotten Heroes on Tuesday, The real Taffy of Torpedo Junction on Wednesday, the famous Beach Apparatus Drill on Thursday and What Really Happened to the Lost Colony on Friday...
THE CULTURED
You could spend your whole week checking out our local art galleries, and I could go on and on about them ... but I've also got to keep everyone's attention (still there?). * Check our Shopping listings for your town...
My top recommendation this week is the I Love a Piano Irving Berlin Review at Roanoke Island Festival Park. Western Carolina University is staging this event at 8 p.m. on Tuesday, Wednesday and Thursday nights in the Outdoor Pavilion. It's free. Bring a blanket or chair and a picnic. Well-behaved pooches are welcome...
There's also a local craft show on Wednesday and Thursday at Holy Redeemer Catholic Church in Kitty Hawk from 10 a.m. to 2 p.m. Stop by to see what the ladies have been crafting...
Be sure to catch Denver Lindley's show of 19 pastel drawings of mechanical objects. It's hanging at Glenn Eure's Ghost Fleet Gallery in Nags Head but it comes down on Saturday...
NIGHTOWLS
There's a lot of good music this week, from the live acoustic on the soundfront decks in Duck, Nags Head and Roanoke Island to DJs at Outer Banks Brewing Station and Port O' Call to Teen Nights at The Pit to The Lloyd Dobler effect at Kelly's on Wednesday and Thursday to the OBX Extreme Magic Show at the Outer Banks Music Showcase. * Here's a recommendation for something new - the Comedy Club of the Outer Banks. It plays at The Flying Dutchman in Corolla on Tuesday and Thursday nights, the Ramada in Kill Devil Hills Monday through Friday nights and at Finnegan's Dining Haul in Buxton on Wednesday nights...
FAMILIES
Every attraction on the Outer Banks is kid-oriented, so you can't go wrong. A special show this week is Sesame Street Children's Show at Roanoke Island Festival Park. It plays Tuesday, Wednesday and Thursday at 10:30 a.m., and the people at the park say you need to get there early to get a seat. Last week they had to turn away a few sad-faced children because the seats were full...
Check our By Day or By Night listings for a wide range of options, or visit our Shopping and Recreation pages for the town where you're staying. (Don't forget you can use the Search function to narrow down your selections to your specific interests)...
And relax: There are no bad choices. Any decision you make will be a good decision...
Please put your 2 cents in. If you'd like to contribute or add your voice to this blog, you can do that below. Keep in mind that the blog comments are moderated so that this site is only putting positive vibes into cyberspace * We'd really love to hear from you...