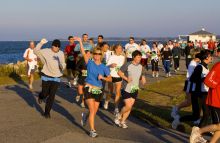 Runners will be hoofing it all over the Outer Banks this weekend as the TowneBank Outer Banks Marathon and its accompanying races increase the foot traffic on roadways typically dominated by automobiles with out-of-state plates. Although registration is now closed for all races you can still thrill to the competition of the Buccaneer 5K and the Outer Banks 10K on Saturday, November 8, and the Southern Fried Half Marathon and the Outer Banks Marathon run Sunday, November 9.

The Buccaneer 5K is an out-and-back course that includes part of the Outer Banks 10K course and begins and ends at the First Flight High School track in Kill Devil Hills. The Outer Banks 10K is an out-and-back course starting in Kill Devil Hills near the First Flight Middle School complex, continuing through Nags Head Woods Maritime Forest and finishing at the First Flight High School track. The course is partly on a dirt road and is walker-friendly. Strollers and wheelchairs are not allowed.

The Southern Fried Half Marathon begins at 7 a.m. at Jockey's Ridge State Park (home of the largest sand dune on the East Coast) in Nags Head and finishes on the Manteo Waterfront. The Outer Banks Marathon> begins at 7:20 a.m. in the village of Kitty Hawk, proceeds through Kill Devil Hills and the incredible maritime forest of Nags Head before crossing the Washington-Baum Bridge and ending at the finish line on the Manteo Waterfront. See the event website for detail information of race times, starting and finishing points, routes, parking and other essential information.

Visitors on the Outer Banks for the races will want to join locals in downtown Manteo from 6 to 8 p.m. Friday evening for November's First Friday celebration. Headlining the musical entertainment will be local favorites The Crowd performing at the Magnolia Pavilion, while SoulONE will be performing at the Dare County Arts Council (which will also be introducing a new month-long exhibit in The Vault). Boutiques and restaurants will be open late, and family-friendly activities abound!
A fishing tournament returns to Hatteras Island's Avon Fishing Pier in Avon for the first time in five years as Koru Village joins forces with sponsor Pabst Brewing Company to host the First Annual PBR Classic Red & Blue Fishing Tournament running Friday, November 7 through Sunday, November 9. The around-the-clock tournament, a fundraising initiative with the goal of rebuilding the lost "T" at the end of the pier, will focus on red drum and blue fish with cash prizes awarded to the top three winners in each tournament category. Participation is limited to the first 63 people to enter. The entry fee is $90/person or $60/person for annual pier pass holders. Entries can be made in person at the Avon Pier or through the pier's website. Tournament events include a welcome party at the pier house on Friday, an awards lunch at Pangea Tavern on Sunday and a raffle to raise money for the "T-Fund." For more information contact Avon Pier manager Keith Matthews at (252) 995-5480 or visit the Avon Pier's website.
Workshops and classes have really been percolating at the Dare County Arts Council lately. One of the latest entries is the Steampunk Sculpture Class to be held Saturday, November 8 from 10 a.m. to 2 p.m. Aesthetically, Steampunk is a sort of re-imagining of modern life through the prism of Victorian-era industrial revolution technology (hence the steam reference) and the heart-shaped pendants made during this workshop will incorporate common Steampunk elements such as watch parts, found objects and wire. At the conclusion of the workshop participants will go home with a Steampunk Sculpture Heart Pendant. The workshop will be taught by Cyndi Buell, an artist and teacher who has studied at the School of the Museum of Fine Arts in Boston and at Penland School of Crafts in North Carolina's Blue Ridge Mountains. The workshop fee is $85, and all tools and materials will be provided. Additional supplies can be purchased for a small fee. Pre-registration is required. For more information call (252) 473-5558 or visit the Arts Council website for a detailed description of the course.
Music Island
The Motu Music Foundation is a new Outer Banks Organization dedicated to a belief in the power of music and its ability to transform a community. Motu means "island" in the language of New  Zealand's Maori people and, as it is with the aboriginal people of New Zealand, music is an integral part of our Outer Banks community. Motu, an offshoot of the Dare County Arts Council, will partner with the arts council to further the vision of the Community Music School program and expand its reach throughout the Outer Banks. To learn more about the Motu Music Foundation's mission and how you can help, attend the Motu Backyard Party hosted by Roadside Bar and Grill in Duck on Sunday, November 9 from 2 to 5 p.m. where you can enjoy some great food, enter a raffle and hear our talented students play. For more information check out the organization's Facebook page.
Other Happenings
Admission is free to the 6th Annual Manns Harbor Holiday Craft Show held Friday, November 7 and Saturday, November 8 from 10 a.m. to 5 p.m. each day at the Manns Harbor Volunteer Fire Department. More than 20 vendors will offer a variety of holiday gifts, decor, jewelry, canned jams and jellies and more, and the Manns Harbor Womens Club will be selling breakfast and lunch on both days. Door prizes will be awarded, a 50/50 raffle will be held to benefit the Manns Harbor Volunteer Fire Department and donations will be accepted for the Dare County Angel Tree!
The Graveyard of the Atlantic Museum in Hatteras Village is holding its Volunteer Day this Friday from 10 a.m. to 1 p.m. Admission is free to anyone interested in volunteering. Stop by to hear an inspirational guest speaker, meet active volunteers, enjoy lunch and explore volunteer opportunities. Call (252) 986-2995 to reserve a space.
Over in Colington Harbor the Annual Volunteer Fire Department Spaghetti Dinner Fundraiser will be satisfying appetites this Saturday from 5 to 8 p.m. at the Colington Volunteer Fire Department. Eat in or request carry-out of a complete dinner of spaghetti with sauce and meat balls, a salad and fresh-baked bread! All proceeds benefit the Colington Volunteer Fire Department.
You can get a jump on the holiday season with The Art of Candy Making Workshop, a delicious class scheduled for Tuesday, November 11 from 6 to 9 p.m. at The Elizabethan Gardens on Roanoke Island. You'll learn to make sumptuous holiday candies from scratch, including peanut butter cups, turtles, bourbon balls and nut clusters. Experienced instructors will share their techniques for making beautiful holiday candies. Each participant will take home a dozen of each candy, so remember to bring containers for your creations. Dress for candy making and decorating. Class size is limited to 20 and pre-registration is required. The class fee is $40/Members and $50/non-Members. Light refreshments will be served. For more information call (252) 473-3234.
Looking Ahead
Teddy Roosevelt was one of America's most dynamic and intriguing political figures, and you can spend an evening with him courtesy of The Bryan Cultural Series presentation of An Evening with Teddy Roosevelt held Thursday, November 13 at 7:30 p.m. at the Hilton Garden Inn in Kitty Hawk. Historical interpreter Clay Jenkinson is the host of the Jefferson Hour on NPR and a noted historian and performer. During the performance he shares Roosevelt's views of current events and the events that shaped his life, including the Panama Canal, the charge up San Juan Hill and Roosevelt's views on nature and national parks. Tickets are $15 in advance, $20 at the door.