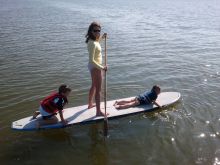 Isn't May awesome? The greens are greener than I ever remember them being, the soft-shell crabs and fresh little fish are so yummy, the strawberries are redder and plumper than last year (it seems) and everyone is in such a dandy mood. * Speaking of good moods, I had an awesome Mother's Day with my family. My son forbade me to go near my computer (in production season!) but the world did not end. We had breakfast by the ocean at Nags Head Pier, rode bikes, played tennis, watched The Pink Panther cartoons on YouTube while it rained, painted a dollhouse pink and fried fish with family. My favorite part was paddleboarding with two wiggly kids - one on the nose, one on the back end. If that's not a balancing act I don't what is! And I'm proud to say I didn't spill them into the drink...
The skies to the southwest (for me) have been more interesting than usual, but that's actually not a good thing. The billowy clouds are smoke, stemming from a 25,000-acre fire that has been burning, at this writing, for almost a week in the Alligator River National Wildlife Refuge at the border of Dare and Hyde counties. Luckily it's in a remote area that is not threatening more than a few homes, but it is expensive and dangerous work for the firefighters and an inconvenience for many people since a 10-mile stretch of U.S. 264 is closed and since the smoke has been thick and the smell unbearable on parts of Hatteras Island and in counties to the south and west. And it's hard to even think about all those poor wild creatures that aren't able to escape the fire...
So, I've got a lot of events to tell you about this week, and I'm just going to go day by day to give it some semblance of organization...
On Thursday, Dare County Arts Council is hosting Literary Open Mic Night at the Front Porch Café in Nags Head from 6:30 to 8:30 p.m. They welcome fiction, nonfiction and poetry, and you can read your own work or someone else's if it moves you. Call (252) 473-5558. * Outer Banks Birth Network is hosting a free program called Adjusting to Parenthood, exploring the many physical and emotional changes that occur for mothers, fathers and families in the early postpartum period. It's at the KDH Library meeting room from 7 to 9 p.m. Call (252) 207-5601. * Tanger Outlet Center is celebrating 30 years with the World's Largest Dessert Party. Sample local desserts at the center from 2:30 to 4 p.m. * The Graveyard of the Atlantic Museum and other organizations are presenting a British War Grave Ceremony on Thursday at 11 a.m. at the WWII British Cemetery in Buxton. There's another on Ocracoke at the British Cemetery on Friday at 11 a.m. The ceremonies honor those WWII British and Canadian soldiers who gave their lives to defend the coast of the United States. Call (252) 986-2995...
Friday is the start of a Yoga Retreat in Duck with the Ashtanga Yoga Center of the Outer Banks. Call (252) 202-0345 for info or to register... It's also the opening day of the Theatre of Dare's 20th Anniversary Show. The show features highlights from past favorite shows and runs Friday and Saturday nights at 7:30 p.m. and Sunday at 2 p.m. at the COA Roanoke Island campus. Cost is $15...
On Friday, take the little ones to the 4th Annual Kids Fest at Roanoke Island Festival Park. Sponsored by the Children and Youth Partnership, this is a fun, quality event with all sorts of things to do, from wildlife Olympics to crafts and games to climbing on fire trucks. Hours are 9:30 a.m. to 12:30 p.m. and it's free! Call (252) 441-0614...
This weekend is the beginning of Outer Banks Restaurant Week. From May 13 to 22, the Outer Banks Restaurant Association-sponsored event gives diners an opportunity to enjoy three-course, prix fixe lunch or dinner menus at 20 participating restaurants for a lesser price than the regular menu. It's a great time to try a new restaurant or go back to a longtime favorite! There are also "Crab Crawls" - sampling crab dishes at a few different restaurants - and the Colington Crab Classic and Soft Shell Showdown on Saturday from 3 to 7 p.m. at Outer Banks Epicurean on Colington Road. This outdoor event features crab-shedder tours, soft shell and crab cake dinners, story tellers and the Soft Shell Showdown. For info, see www.outerbanksrestaurantweek.com...
On Saturday morning, don't forget to swing by the Manteo Farmers Market on the waterfront downtown between 8 a.m. and noon. Get there early for the best selection of produce, art, sweets, meats and more. * The Coastal Gardening Festival - theme: Green Thumb NOT Required - is Saturday from 10 a.m. to 2:30 p.m. at the Baum Center in KDH. The festival offers plants for sale, art, home décor, food, children's activities, a raffle and educational displays. Call (252) 473-4290. * The Currituck Rural Farm Festival at the Currituck Rural Life Center in Powells Point is on Saturday from 10 a.m. to 4 p.m. Horse show, fishing, paddling, wild horses and other activities...
Angler alert! The Spring Fishing Tackle Flea Market is on Saturday from 8 a.m. to noon at Pirate's Cove in Manteo. Call (252) 473-1015 for info...
Want to take your kids flying? Youth Aviation Day is on Saturday from 10 a.m. to 4 p.m. at the Dare County Regional Airport, and this is the most affordable way to take a quick sightseeing tour. Local pilots offer short $15 airplane rides, $20 biplane rides and $25 helicopter rides! Plus there are games and much more related to aviation. Call (252) 475-5572...
Saturday at Roanoke Island Festival Park, there's a rare opportunity to see traditional Javanese music when Western Carolina University presents Gamelan. The free shows are at 2 p.m. and 7 p.m., with the 2 p.m. geared to young audiences. Call (252) 475-1500...
Outer Banks Relay for Life begins Saturday at noon at the First Flight High School track. In addition to the 24-hour relay, there's a big yard sale on Saturday morning as well as the Cupcake 5K at 9:30 a.m. Go to www.obxrelayforlife.org for info...
Bands playing this weekend: Pat McGee Band is playing Kelly's on Friday and Saturday nights. The Ben Phelps Project is playing the Brewing Station Friday night. Aaron Caswell Band is playing Howard's Pub on Ocracoke on Friday. Ask Fester is playing Dajio on Ocracoke on Saturday...
On Sunday, there's a fund-raiser for the local Lawrence family, who have been affected by cancer. It's called Surf. Art. Support. and it's going on Sunday from 2 to 6 p.m. at Outer Banks Brewing Station's awesome backyard venue. They'll have a Surf Gear Yard Sale, a cornhole tournament, an art auction, music by Rubber Pants, kids' activities and more. Call (252) 256-0423 for info or to donate...
Moving into next week, on Tuesday, Kelly's has The Wailers! Won't miss that! On Thursday, don't miss LUNAFEST, a fund-raising film festival dedicated to promoting awareness about women's issues and highlighting women filmmakers. It's at Kelly's and tickets cost $10. There are nine short films. For info call DCAC at (252) 473-5558. * DCAC is hosting "Dare County Plein Air: A Three Day Painting Workshop" with Richard Oversmith Tuesday through Thursday. Call (252) 473-5558 for details * There are Full Moon Tours of Cape Hatteras Lighthouse on Tuesday at 8:30 and 9:30 p.m. Tickets must be purchased in advance at the lighthouse ticket office starting this Sunday...
Yeah, so good luck trying to fit all this into your calendar. Do what you can, and have fun doing it! And let me know what I missed. Or let someone know what's on your mind. Use our Comments section, below...