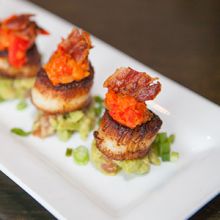 It was in late 1993 that meat-and-potatoes America was introduced to a new concept in television — the Food Network. This strange hybrid of cooking how-to and entertainment immediately struck a chord with the nation's fledgling culinary culture that was waiting to be plucked. The network's stable of highly regarded but relatively unknown chefs became household names — Emeril Lagasse, Bobby Flay, Sara Moulton, Mario Batali — and soon a new phenomenon, the celebrity chef, was born.
If you've been watching recent broadcasts of WAVY-TV10's Hampton Roads Show, you may be aware that the Outer Banks can now claim its own celebrity chef in the person of Chef Wes Stepp of Red Sky Café in Duck. If not, then let this be your introduction.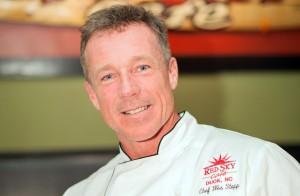 For more than 10 years Chef Stepp and his crew at Red Sky Café have been attracting Outer Bankers and visitors with fresh, creative dishes featuring the right-off-the-boat seafood and other local ingredients that make the Outer Banks such a fount of good food.
In addition to his skills in the kitchen, it turns out that the chef also is something of a natural at the art of making television (see the video below...if you look closely you can see a copy of OuterBanksThisWeek.com Magazine in the lower left of the screen). Stepp has mastered the harder-than-it-looks ability to talk and cook simultaneously, a skill that makes him exceptionally comfortable in front of the cameras with show hosts or onstage in front of an audience. Which is important since cooking live on-camera in front of a studio audience presents a number of inherent challenges, from the undersized and very basic studio cooktop to maintaining continuity through commercial breaks to the meager amount of time (usually just 10-15 minutes) dedicated to the cooking segment of the overall show. Still, Stepp routinely produces three to five dishes per show, noting "I've learned what to cook on-camera and what to stay away from."
In spite of the built-in degree of difficulty, Chef Stepp makes it all look so easy that viewers would be surprised just how unstructured his TV appearances really are. "I seldom know exactly what I'm going to cook until right before we go live," he admits. "I always have a lot of variety of ingredients in my cooler, but the appearances are completely unscripted. We're winging it!"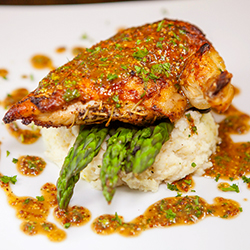 A cynic might assume the obvious promotional benefits Chef Stepp and Red Sky Café derive from his TV appearances provide his primary motivation for doing the spots. But that cynic would be completely missing the point. The chef views himself as an ambassador for the Outer Banks and all it has to offer, from the locally sourced ingredients that make up many of his dishes to the region's unique history and culture.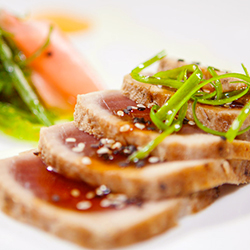 He's a man on a mission, and being visible and raising awareness about locally produced and healthy food is an integral part of that mission.
"I want to demystify food," Stepp declares. "I want to make what seems to be gourmet food more approachable. When people watch me prepare and present a dish in three minutes on TV, I want them to say to themselves 'Wow! That's beautiful, and he didn't spend eight hours doing it!' "
To see more videos with Chef Stepp visit the Hampton Roads Show and Red Sky Café websites.
---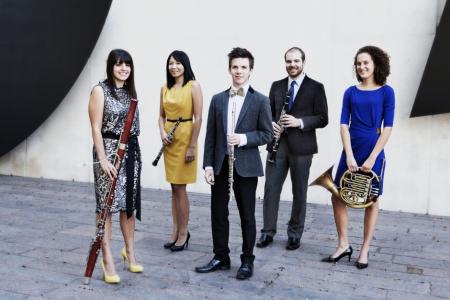 The arts have a strong presence this week. The latest offering from the Outer Banks Forum is the award-winning Windsync, a talented group of young people hailed as "revolutionary chamber musicians" by the Houston Chronicle. The ensemble's members, who perform on flute, oboe, clarinet, bassoon and French horn, play exclusively from memory and include elements of staging and choreography in each performance. Windsync will take the stage at First Flight High School in Kill Devil Hills on Saturday, March 28 at 7:30 p.m. Tickets are $28/adults, $15/students and can be purchased online or at the door.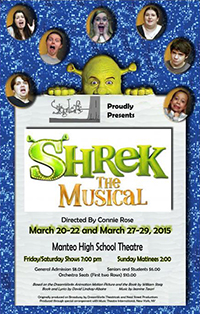 The Manteo High School Theater has put on some big shows over the past couple of years. But this big show is bigger than most, featuring an exceedingly large, ostentatiously green ogre. I'm referring, of course, to the family-friendly fun of Shrek: The Musical, based on DreamWorks' animated motion picture and the book by Willam Steig. Performances will be held in Manteo High School's auditorium Friday, March 27 and Saturday, March 28 at 7 p.m. each night with a Sunday matinee at 2 p.m. on March 29. Tickets are available at the door and are $8/general admission, $6/seniors and students and $10/orchestra seating.
After seeing Manteo High School's production of Shrek the Musical this Sunday why not take advantage of the fact that you're already out and about on Roanoke Island and stop in for the opening reception (from 2 to 4 p.m.) of the Dare County High Schools Annual Art Show exhibiting at Roanoke Island Festival Park's Event Room? The free exhibit, showcasing the works of students from Manteo, First Flight and Cape Hatteras High Schools, is open to the general public and will run Monday-Friday from March 30 through Thursday, April 30 from 9 a.m. to 5 p.m. each day. The exhibit will be closed Friday, April 3 for the Easter holiday.
People have wandered the Outer Banks for thousands of years, plenty of time to generate more than a few ghost stories. The Lost Colony delves into this spectral past with Haunted History, its new interactive production running from Tuesday, March 31 to Saturday, April 11 at 8 p.m. each night. Gather with other brave souls at historic Waterside Theatre to examine the mysteries of Roanoke Island and meet the ghosts of those who lived and passed here. Trevor Janzen, founding President of Astral Plane Investigations, and his team of ghost hunting researchers will guide you on the hour-long walking tour. Tickets are $15+tax. Call (252) 473-6000 for more information and ticket sales.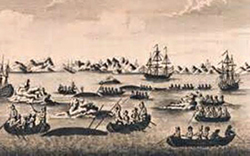 If you're like me, you don't really think of North Carolina having a history as a whaling center. But the Graveyard of the Atlantic Museum program Where Were the Whalers? The History and Archaeology of Whaling in North Carolina goes a long way toward correcting this misperception. The truth is that inhabitants of the Outer Banks processed right whales from the Colonial period until the turn of the 20th century. Where Were the Whalers? examines whaling artifacts and what they can tell us about the industry, its people and the quarry pursued. The free program, presented by Ryan Bradley of East Carolina University on Thursday, April 2 at 11 a.m., will also be streamed live during a 6 p.m. online presentation. For more information, call (252) 986-2995 or e-mail maryellen.riddle@ncdcr.gov.
Live Local Music


Thursday evening enjoy the singing and guitar-playing of Phil Watson at Beachside Bistro in Kill Devil Hills from 6 to 9 p.m., or stop in at Trio in Kitty Hawk for some rootsy rock-n-roll with Jonny Waters and Co. beginning at 7:30 p.m.
On Friday night you'll find live music at Awful Arthur's Oyster Bar in Kill Devil Hills starting at 6 p.m., jazz quintet Chez Says performing at Trio at 7:30 p.m. and Kevin Wilder bringing his relaxed vibe to Peppercorn's Restaurant and Lounge in Kill Devil Hills from 8:30 to 10:30 p.m. Beginning a little later in the evening, The Acoustaholics present their blend of classic rock and country rock favorites at Basnight's Lone Cedar on the Nags Head/Manteo Causeway at 9 p.m., Sean Olds and The Church of the Eternal get things groovin' at Ocean Boulevard in Kitty Hawk at 10 p.m. and the five-piece no musical boundaries band Karnivale will have the audience moving at Kelly's in Nags Head at 10 p.m. for the first performance of the their two-night run. Jonny Waters & Co. will have things hoppin' at Poor Richard's on the Manteo waterfront from 8 to 11 p.m. Down south in Ocracoke the Aaron Caswell Band takes the stage at Howard's Pub at 7 p.m. and David and Samantha Styron perform at Gaffer's Sports Pub at 8 p.m.
Saturday night features Rick Agudelo at Beachside Bistro in Kill Devil Hills from 6 to 9 p.m., Steve Hauser and Natalie Wolfe performing together at Trio in Kitty Hawk at 7:30 p.m. and Sean Olds and the Church of the Eternal transmitting their alt country/rock/Americana mix to fans at Outer Banks Brewing Station in Kill Devil Hills at 10:30 p.m. Karnivale returns to Kelly's at 10 p.m. for the second part of their two-night stay. Finally, over on Roanoke Island Poor Richard's in downtown Manteo will be rockin' to the ever-popular husband/wife duo Chickweed from 8 to 11 p.m.

This time you have a chance to win a two-night stay at Days Inn Oceanfront & a $35 gift certificate to the Outer Banks Olive Oil Co.!
For more information about Days Inn Oceanfront check out their website.
For more information about Outer Banks Olive Oil Co. check out their website.
Last Giveaway's Winner
Congratulations to Scott Sharp!!!
You won a one-night stay to Oasis Suites Hotel & a $35 gift certificate to Basnight's Lone Cedar Cafe!
For more information about Oasis Suites check out their website.
For more information about Basnight's Lone Cedar Cafe check out their website.