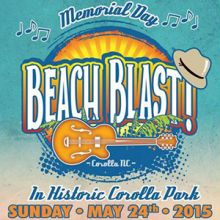 Although the Outer Banks summer doesn't really kick into high gear until mid-June when the majority of East Coast schools let out, Memorial Day Weekend has become the unofficially official marker of the beginning of The Season. With each passing day the weather and water slowly warms, and beginning this weekend a schedule of daily beach- and tourist-related activities and events is initiated that will run essentially uninterrupted until mid-September. Our businesses, restaurants, accommodations and attractions are fully ramped up and awaiting a summer full of visitors, and already the calendar of live local music is in full bloom, with more opportunities for enjoying live music than can be comprehensively covered in this blog (so click on the Nightlife and Events tab to get all the details). Summer has been a long time coming. We're ready. Bring it on.
The two biggest events of the weekend are Sunday's Memorial Day Buck's Beach Blast in Corolla and the 2015 Shallowbag Bay Shag Beach Music Festival in Manteo on Monday. The free Memorial Day Buck's Beach Blast at Whalehead in Corolla begins at 12 p.m. Sunday and brings The Embers to the Outer Banks as headliners for a fun-filled day of beach-oriented music that also includes sets by local bands Pairadocs and Aquarium. Picnics and coolers are welcome, but no glass containers or outside alcohol will be allowed into the park. Food vendors will be on-site and beer and wine will be available for purchase.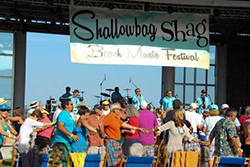 The list of performers at this year's Shallowbag Bay Shag Beach Music Festival held at Roanoke Island Festival Park in Manteo from 1 to 9 p.m. includes Jim Quick and Coastline, The Embers (in their second appearance of the weekend), The Tams and Band of Oz. All festival attendee parking will be located at the Manteo High School parking lot with all-day shuttle bus service available every 10 minutes. Shuttles will begin running at 10 a.m., and festival gates open at 11:30 a.m. Bring your own chairs or blankets for seating. Food and beverage vendors will be on-site all day selling assorted foods, beer, wine, sodas and water. Outside food and beverages are prohibited. Pets are not allowed in the festival seating area​. Tickets may be purchased online at obxshag.com. (Important: Remember to bring your printed ticket to the gate to be scanned so you can receive your festival armband.)
The Body Speaks Through Dance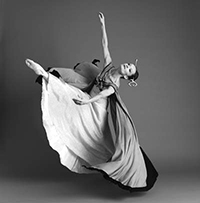 The Bryan Cultural Series is noteworthy for bringing big city-worthy cultural events to our somewhat remote Outer Banks. Their latest offering is a screening of Christine Dakin's film La Voz del Cuerpo, or The Body Speaks, followed by a talk and dance performance this Friday night at 7:30 p.m. in the Indoor Theater at Roanoke Island Festival Park in Manteo. Dakin, chosen by famed choreographer Martha Graham to join Graham's dance company in 1976, became celebrated in her own right for her performances of Martha Graham roles and in roles created for her by Graham and other noted choreographers such as Robert Wilson, Twyla Tharp and Martha Clarke. Dakin was named artistic director of the Graham company in 2002.
La Voz del Cuerpo was created as an effort to capture on film the personal poetics of a Martha Graham-trained dancer. Gus Solomons, Jr., a journalist and professor at New York University's School of the Arts, writes that "Dakin relates Graham movement and philosophy to other art forms, shows its relationship to nature, demonstrates how essential dance is to life itself." Tickets are $15/person and can be purchased online or at these following local outlets: Duck's Cottage Coffee & Books in Duck, Downtown Books in Manteo, Gray's Department Store in Kitty Hawk and Sea Green Gallery in Nags Head.
Arts & Crafts
The Outer Banks Spring Festival of Arts & Crafts returns for its fourth year to the Baum Senior Center in Kill Devil Hills this Saturday from 9 a.m. to 6 p.m. Sponsored by the Outer Banks Woman's Club, the festival features artists, wood carvers and crafters displaying their works both indoors and outside the Center as well as a bake sale. The $1 admission goes to support Outer Banks Woman's Club scholarships and community needs.
Mud, Cupcakes and Sand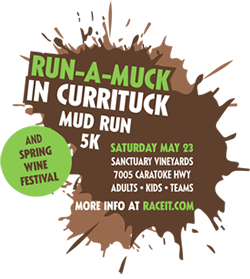 Runners and running fans have their choice of not one, not two, but three "running" events this Memorial Day Weekend. First, get down-and-dirty on Saturday with runners from all over the mid-Atlantic region for the Run-a-Muck in Currituck Mud Run 5K and Spring Wine Festival, a rain-or-shine day of competition, challenging obstacles, mud and wine taking place at Sanctuary Vineyards in Jarvisburg in Currituck County just a short distance north of the Wright Brothers Bridge. The race — which begins at 9 a.m. and has divisions for adults, teens, children age 12 and younger and teams, as well as a Little Ones Mud Run following the main competition —  is a fundraiser benefiting the Currituck County Fraternal Order of Police, a nonprofit organization dedicated to serving the community and the families of fallen officers through financial assistance and support. Pre-registration is required to participate in the run, and includes entry, T-shirt and admission ticket to the Sanctuary Vineyards Spring Wine Festival taking place from 12 to 6 p.m. following the race. For the most up-to-date information regarding entrance fees, packet pick-up and other details contact racedirector@runcations.com, call (252) 489-8239 or visit the event website.
Admission to the Spring Wine Festival is $15/person and includes a complimentary souvenir wine glass, wine, live music and family-friendly games and activities. Non-alcoholic refreshments will be provided for those who don't partake of the grape.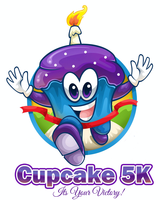 On Sunday the Cupcake 5k, an event dedicated to second chances and personal victories, returns after a one-year hiatus with a new course, a new time and the same great cause! Sponsored by the Roanoke Island Running Company, the Cupcake 5K this year will donate all net proceeds to Outer Banks Cancer Cares, a local organization assisting Outer Bankers struggling with cancer. Registration is already closed for runners, indicating the level of support this event enjoys. But you can still make a donation and sign up to participate in the after-race celebration featuring burgers, hot dogs, beer and non-alcoholic beverages and live music that will begin at 5:30 p.m.!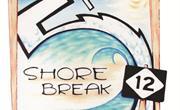 On Monday the exertion takes place down in Avon on Hatteras Island with the 4th Annual Shore Break 5K and Tide Pool Fun Run starting at Koru Village Beach Klub. The Shore Break 5K will begin at 8 a.m., and runners will traverse a 3.1-mile course through Kinnakeet Shores that includes paved roads, wooden bridges, boardwalks and beach walkways before going up and over the dunes to the beach for a final stretch along the surf line of the Atlantic Ocean! Pre-registration is required and was still open at press time to all runners, joggers and walkers. Entrance to the 5K is $35/person, with entrance to the half-mile Tide Pool Fun Run set at $10/person. The Tide Pool Fun Run will take place after the conclusion of the 5K. All proceeds from the event will go toward the Hatteras Island Youth Education Fund.
Looking Ahead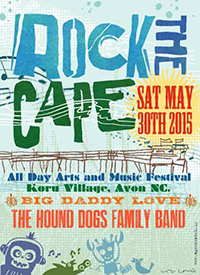 The Dare County Arts Council will host the 3rd Annual Rock The Cape festival at Koru Village in Avon on Saturday, May 30 from 11 a.m. to 4 p.m. The event, a fundraiser for the Dare County Arts Council, includes a free art show, live art demonstrations, hands-on children's crafts and activities and a concert featuring the bands Big Daddy Love and The Hound Dog Family Band. Tickets are $12 in advance, $18 at the door and are available online at BrownPaperTickets.com and at the following local outlets: Koru Village in Avon, Dare County Arts Council in Manteo and Cloud Nine Gallery in Nags Head. For more information e-mail dareartsinfo@gmail.com, call (252) 473-5558 or visit the Arts Council website.
The Lost Colony's Waterside Theatre, recently named one of the 10 Best Outdoor Concert Venues in the Country by USA Today, will provide the waterfront setting for Summer of Rock 2015 Concert Series. Tickets are on sale now for the series' three separate trips on the Way Back Machine — the first, 1964, the so-right-on-it-could-really-be-them Beatles tribute act on June 21, followed by Jefferson Starship with a mix of classic Jefferson Airplane and Starship hits on July 12, and ending with Resurrection, a Journey tribute, on August 2. To purchase tickets, visit The Lost Colony's website or call (252) 473-6000.