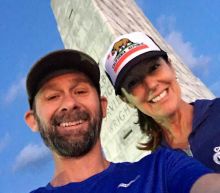 Outer Banks local Shane Miles is a passionate distance runner and leading figure within the area's running community. He was diagnosed with Stage IV colon cancer in December 2018, in the midst of his preparation for a marathon this spring. During his life, he's brought philanthropy, a love for running and promotion of health and fitness to the Outer Banks community. Now it's time for the Outer Banks community to bring it right back to him.
Shane's love for running grows from local roots, starting with the Relay for Life team he co-captained in 2008. Earlier that year, he was diagnosed with tonsil cancer, which he beat. During the Relay for Life event, Ed, Shane's co-captain and friend also diagnosed with tonsil cancer, decided to train for a marathon, starting with walking 26.2 miles around the track that day. He succeeded and later went on to run the Outer Banks Marathon that year. His success inspired Shane to try running himself. He started with 1 mile, which sparked a passion that led to his goal to participate in a future Outer Banks Marathon.
Photo above: Miles for Shane GoFundMe page
The following Relay for Life season, Shane turned running into a way to benefit others. He started the Cupcake 5K, a road run that benefitted the American Cancer Society. It brought runners and walkers together to remember those lost to the disease, support those fighting it and celebrate those who beat it. The Cupcake 5K increased in popularity each following year until the event consistently sold out well in advance.
As Shane's own running journey continued (including multiple marathons and two 100-mile races), he became president of the Outer Banks Running Club and continued managing the Cupcake 5K. He even opened his own specialty running store on Roanoke Island in 2014. For the last year he has worked as strategic initiatives coordinator at Outer Banks Sporting Events, organizers of the Outer Banks Marathon and many other running events.
In December 2018, after dealing with persistent pains following his most recent 100-miler, Shane was diagnosed with Stage IV colon cancer, and it had already spread to his liver and lungs. He's approaching the long road to recovery like he would a 100 miler: taking it one step at a time with determination, strength and commitment to the long haul.
To support him down this road, local runners and walkers are holding an un-timed run at the Sandtrap Tavern and Seascape Golf Links this Saturday, March 2. In the spirit of the marathon Shane had previously planned to run this spring, Saturday's event will be 2.62 miles. It will begin at 8 a.m. and go out and back along the golf course. Participants can enjoy free beer at Sandtrap Tavern after they cross the finish line. There will be a 50/50 raffle too. Parking will be available at Sandtrap Tavern's lot.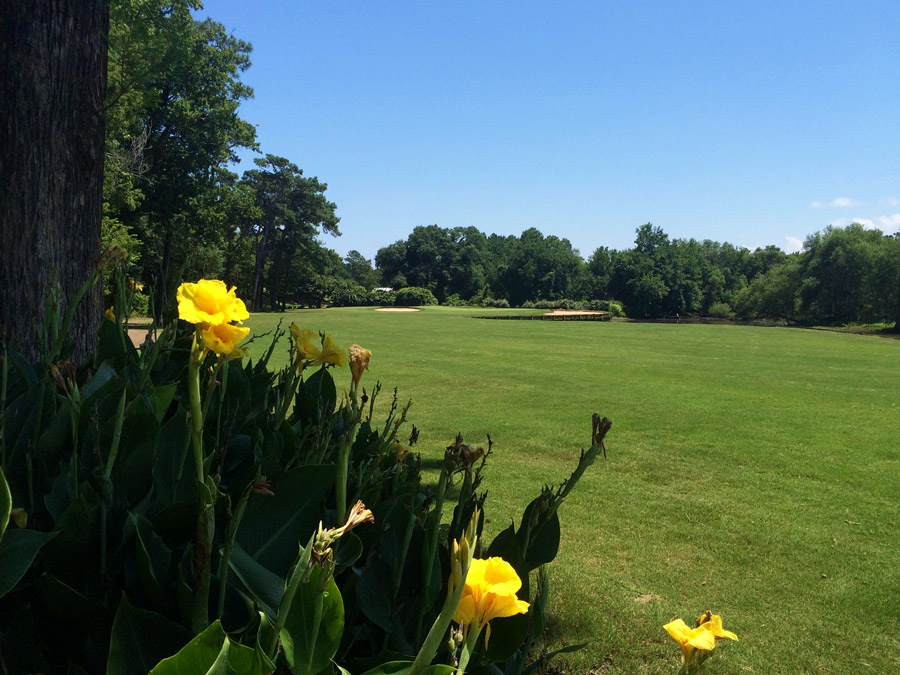 Photo: Saturday's run will take place alongside Seascape Golf Links. 
There's a $25 minimum registration fee for the run, and the entirety of the proceeds go to help Shane cover the costs for his medical treatment. You can register in advance on Shane's GoFundMe page or at the door (by cash or check).
Come out this Saturday, March 2, and join the Outer Banks Running Club, Sandtrap Tavern and Weeping Radish in helping this Outer Banks running legend and community friend kick cancer to the curb!
And in other Outer Banks news … The Bridge is Open!
The new bridge over Oregon Inlet opened to traffic this week! The first cars rolled up and down the bridge on Monday, February 25, ushering in the newest route to the southern Outer Banks. Driving across it is quite an experience! The new, wide bridge towers over the old one, and drivers and passengers can marvel at views of the inlet, the ocean, the sound, Bodie Island Lighthouse (when traveling north) and the rolling dunes on Hatteras (when going south). It's awesome, and people around here are rightfully excited. Go see it for yourself!