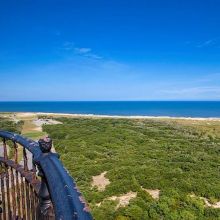 The National Park Service's Outer Banks sites made two exciting announcements this week for National Park Week – the installation of a new webcam at Cape Hatteras Lighthouse and the arrival of the nation's first self-driving shuttle on public lands at the Wright Brothers National Memorial.
About the webcam: Outer Banks Forever, the local nonprofit partner of the Outer Banks national parks (Cape Hatteras National Seashore, Fort Raleigh National Historic Site and Wright Brothers National Memorial), has partnered with the National Park Service, Outer Banks Visitors Bureau and Surfline to launch a webcam at the top of Cape Hatteras Lighthouse. Two more webcams are coming later to Fort Raleigh and the Wright Brothers.
Photo: View from the top of the Cape Hatteras Lighthouse (Hatteras Realty)
If you're already tuned in to Surfline's webcams, then you know how convenient they are for checking live surf and beach conditions – on the Outer Banks or around the world. Surfline has installed and manages state-of-the-art webcams on six continents. They offer real-time views of surf conditions as well as wind, wave and weather forecasts. They have an Outer Banks office and manage 33 webcams from Kitty Hawk to Ocracoke Island. Be forewarned: Once you go in, it's easy to slip down the virtual rabbit hole of spying on beaches around the world. 
The new Cape Hatteras Lighthouse webcam serves another purpose of allowing those who can't make the lighthouse climb to see the spectacular view from the top. Since Cape Hatteras Lighthouse is undergoing an extensive restoration, climbing is not currently allowed (and probably won't be until at least late summer, maybe longer). So right now the webcam is the only way to see that view. The restoration may also cause the webcam to be unavailable intermittently over the next few months. The lighthouse webcam can be viewed exclusively at the following partner websites: obxforever.org/obx-national-park-webcams, outerbanks.org/webcams and surfline.com.
Over at Wright Brothers National Memorial, a self-driving vehicle is being tested by the N.C. Department of Transportation (NCDOT) and the National Park Service. It's the first to be tested at a recreational public lands site in the nation, and rides on the site are free. The Connected Autonomous Shuttle Supporting Innovation, CASSI for short, was launched at the Wright Brothers National Memorial on Tuesday, April 20. It will help NPS and NCDOT learn about driverless vehicles (aka autonomous transportation) and how it can be used safely. The vehicle navigates its route using remote sensing laser technology called LiDAR and GPS used to map and then monitor a fixed route. Sensors continuously scan the shuttle's surroundings and signal for it to stop when an obstacle is too close. During the pilot, information will be collected about things such as the number of passengers, trips and the vehicle's battery usage. At Wright Brothers National Memorial's pilot program, a trained customer service operator will ride in the vehicle to ensure the safety of passengers and will be able to manually stop the vehicle at any time.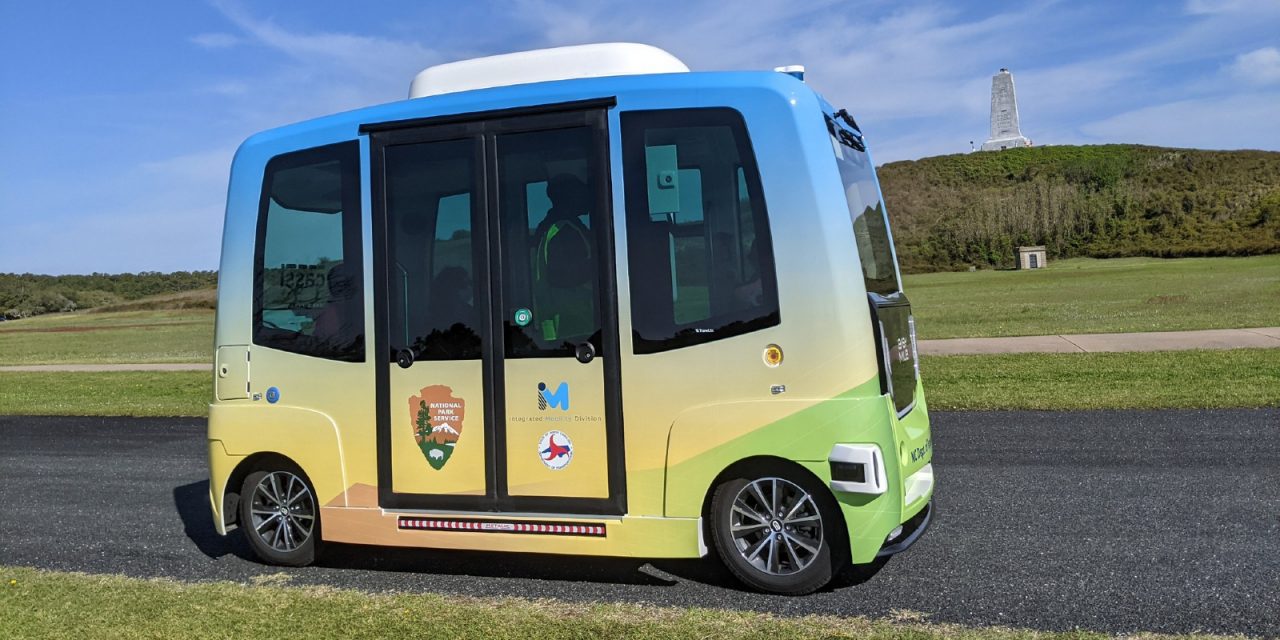 CASSI, the driverless shuttle at Wright Brothers National Memorial (North Carolina Department of Transportation)
The CASSI will be tested at the Kill Devil Hills site for three months, and the public is welcome to ride for free. Through July 16, the vehicle will take passengers from the Wright Brothers National Memorial museum to the First Flight bronze sculpture and back. The number of passengers is limited due to the size of the vehicle and space limitations due to COVID-19. Passengers will be asked to follow COVID-19 safety protocols during rides, including mask wearing and physical distancing. More information can be found on NCDOT's website and the National Park Service's Wright Brothers National Memorial website.  
Whether it's National Park Week or a regular day, it's always a good time to visit one of the Outer Banks' national parks. These are places to learn, rest, recharge and play. You can visit museums, camp, hike, beach walk, watch wildlife, surf, swim, fish, paddle a kayak, canoe or SUP, stargaze and so much more in the local parks. The Outer Banks would not be the same without Cape Hatteras National Seashore, Fort Raleigh National Historic and Wright Brothers National Memorial and we appreciate their presence so much!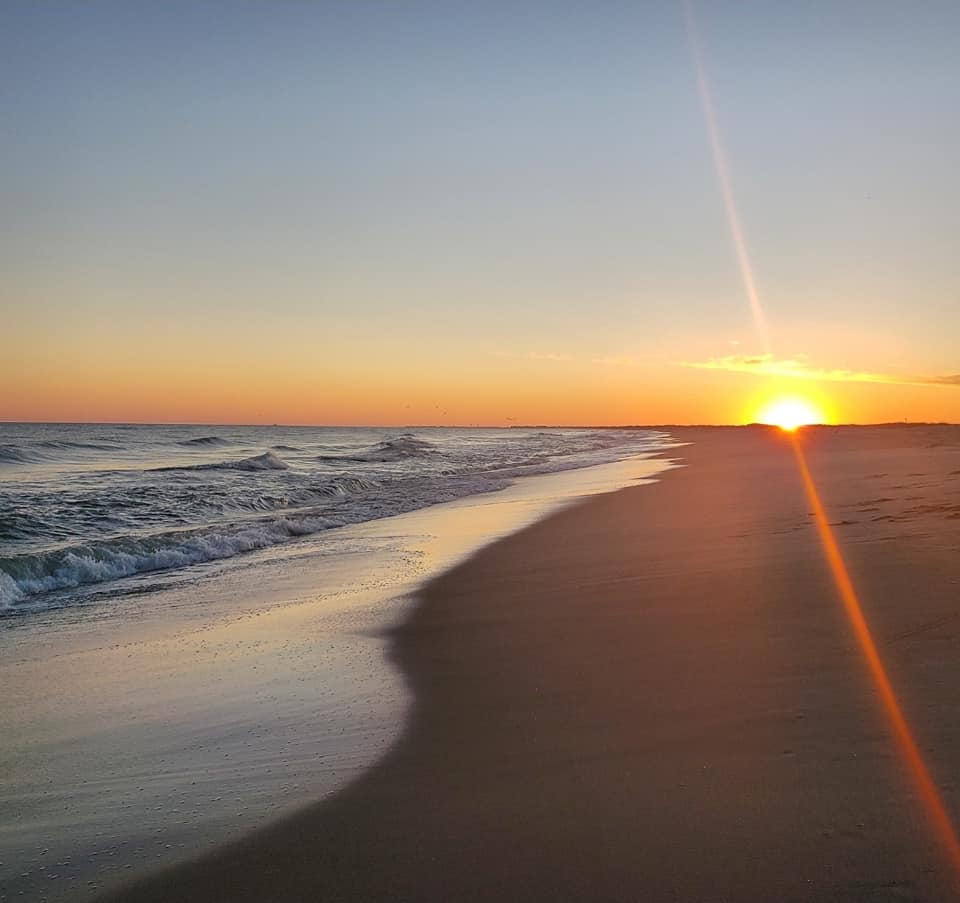 Photo: Ahhh, the beach Cape Hatteras National Seashore. (Outer Banks Forever)
A Few Weekend Events
This Saturday, April 24, is #indiebookstoreday, a national, one-day celebration of books, authors and independent bookstores. In honor of Independent Bookstore Day, Downtown Books in Manteo will be offering giveaways, gifts with a purchase, a Downtown Manteo Story Walk, a used book sale, B12 shots, Blind Date Books and more. Stop by and shop small!
On Roanoke Island, it's time for one of the favorite events of the year. On Saturday, April 24, it's the annual Sheep-Shearing Day at Island Farm. Island Farm's resident sheep will be hand-shorn, just as they would have been in the old days. The Island Farm herd is made up of two different sheep breeds: four Merino and two Romney. In addition to hand-shearing, visitors can watch wool washing, yarn spinning and weaving cloth. Children will find a large offering of toys and games, including everything from hoop and stick, quoits and tug of war. As always, there will be plenty of farm animals to see. The event lasts from 9 a.m. until 3 p.m. Admission is $8, and children 3 and younger are admitted for free.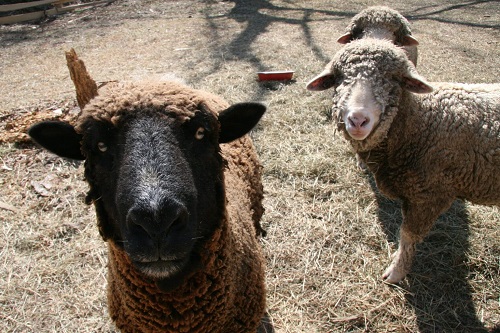 Photo: The sheep are ready for shearing at Island Farm (Island Farm)
If you're feeling inspired by Earth Day, pitch in on a cleanup on Saturday. Kitty Hawk Kites is partnering with Surfrider Foundation Outer Banks Chapter to host a socially distanced Cleanup at Jockey's Ridge State Park. Participants will meet outside of the Kitty Hawk Kites Hang Gliding School located at 302 Carolista Drive in Nags Head at 10 a.m. and pick up litter until 1 p.m. Pre-registration is encouraged. Surfrider will have "Be the wave of change" t-shirts for sale for $25 as well as raffle prizes at the tent during check-in. For more information, contact events@kittyhawk.com or visit the website. 
The Town of Duck will also have a Cleanup of Duck Town Park and the soundside on Saturday, April 24. Lunch will be provided by the town for all those who help. Please be sure to bring your own reusable water bottle as well as a mask/face covering. Some people who are willing to get into the muck at the water's edge will be needed, but others can work along the park and boardwalk. Cleanup times are 10 a.m. to noon. The rain date is Sunday, April 25. Meet at Duck Town Park.
For more things to do, visit our Daytime and Nightlife pages.