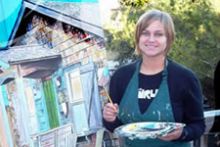 The Outer Banks has come such a long way in the past 20 years. I'm in awe of how many worthwhile events are going on this week...
I visited my sister in Kill Devil Hills in February 1989 and I was dumbstruck that practically all the stores, the restaurants and bars, even the McDonald's and some of the gas stations were closed for the season. I swear I recall that the one and only grocery store closed at 7 p.m. There was nothing to do but hang out at other people's houses - but most of her friends had moved to Snowshoe for the winter. I thought then that Outer Banks was a windy, cold, deserted Siberia...
Fast forward to the middle of February 21 years later, and, well, we've still got wind and cold, but the grocery is open into the wee hours, the bars and restaurants are hopping and we've got art shows, live music and concerts, fund-raisers, garden tours and that is not all...
We can thank the hard-working folks at the Dare County Arts Council for many of our options this month * I still haven't gotten over to see the Frank Stick Memorial Art Show, but by the time you read next week's blog I will have gone to see it at Glenn Eure's Ghost Fleet Gallery in Nags Head. This is the opportunity to check out what all of our artist friends have been up to, and let me tell you, it's fascinating what they come up with! Local artist Fay Davis Edwards won best in show for her painting "One Lump or Two: The New Reality", tying for the award with Greenville sculptor Hanna Jubran. The People's Choice Award voting is going on through February 26, so get in there and vote * I'm also really excited to see Katy Caroline's show that's hanging all month in the Arts Council Gallery in downtown Manteo. Her show is called "Bid in a Box" and the works in the show are available for blind bidding during the whole month. It's Katy's way of being generous to those who support her work. I like it! Top bidders will be announced at the end of the show * And here's another thing I like: OB Can. It's a community arts project aimed at cleaning up our beaches that invites artists to decorate trash and recycling cans that will be placed on the ocean and sound beach accesses in Nags Head. Applications are due March 11. See darearts.org for info...
Popped into John Silver's Gallery in Manteo this weekend, and I have to say it is the perfect place to perk yourself up on a gray winter's day. The colors are astounding. * I also took in the new Chipmunks flick at The Pioneer Theatre in Manteo with my son. Wouldn't say I recommend the movie, but Pioneer proprietor H. A. Creef chasing down kids to turn off their cell phones and instructing them on how to behave properly in public is not to be missed!...
On the music front this week, the Outer Banks Forum for the Performing Arts is hosting a concert on Saturday night, Feb. 20. They've got the New Century Saxophone Quartet at First Flight High School at 7:30 p.m. It's an award-winning group, and you can trust the Outer Banks Forum to bring quality entertainment to town...
Also on the music front: The peeps at Outer Banks Brewing Station are so generous with their time and space. Last week they hosted The Vagina Monologues three nights * This week, on Saturday, Feb. 20, they're holding the OBX for Haiti Benefit with the band 9:58, Ruth Wyand, Laura Martier and Rubber Pants performing as well as an auction for local goods and services. Doors open at 9 p.m...
Another nightlife standout for you mid-week partiers: Fat Tuesday at Ocean Blvd. on Feb. 16. The special low-country menu, drink specials and lagniappe make it sound awfully tempting, but the Rajun Cajuns playing early - 7 p.m. - could be the real kicker...
On the cold front: The N.C. Polar Plunge to Benefit Special Olympics is being held Sat., Feb. 20 in the ocean at 1 p.m. (registration begins at 10:30 a.m.) behind the Ramada in KDH. I wish I could say I would be there to help out, but I've got to, uh, take a sick friend to the hospital * OK, OK: I hate to be cold and you'd have to throw me off a pier to get me in the ocean in February...
That's it for now. Keep checking the site all week as businesses and organizations on the Outer Banks are adding new stuff every day. I'll be back with a new blog of Outer Banks snippets and events next Monday. And if you've got a business or organization that wants to get the word out about something - a sales event, a special, an event or a fund-raiser - click on Get Involved just on the right column of this page...
Please put your 2 cents in. If you'd like to contribute or add your voice to this blog, you can do that below. Keep in mind that the blog comments are moderated so that this site is only putting positive vibes into cyberspace * I'd really love to hear from you...
And for a highly unoriginal signoff: Stay warm...