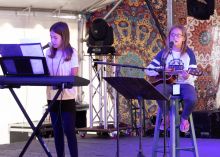 Listen up, music aficionados, because I'm about to rock your worlds (well, not me personally, but the bands and artists from across the state and country likely will).
We can agree that a week spent on the Outer Banks is music to many people's ears. Over the next five days, that sentiment rings particularly true between the Outer Banks Bluegrass Festival and the Mustang Spring Jam 8. For the first time ever, two of the area's biggest music festivals' occur in the same week, bringing with it a musical mélange of bluegrass, country, folk, rock n' roll, gospel and more. Many of us on the Outer Banks make plans in the spring and in the fall to see these shows. But this year, with both scheduled for May 15 through May 19, I cleared my calendar completely for the Bluegrass Festival that begins on Wednesday and ends Saturday as well as the weekend's Mustang Spring Jam.
Photo above: Mustang Outreach Program students performing at Mustang Music Festival. Photo courtesy of Mustang Music Festival Facebook.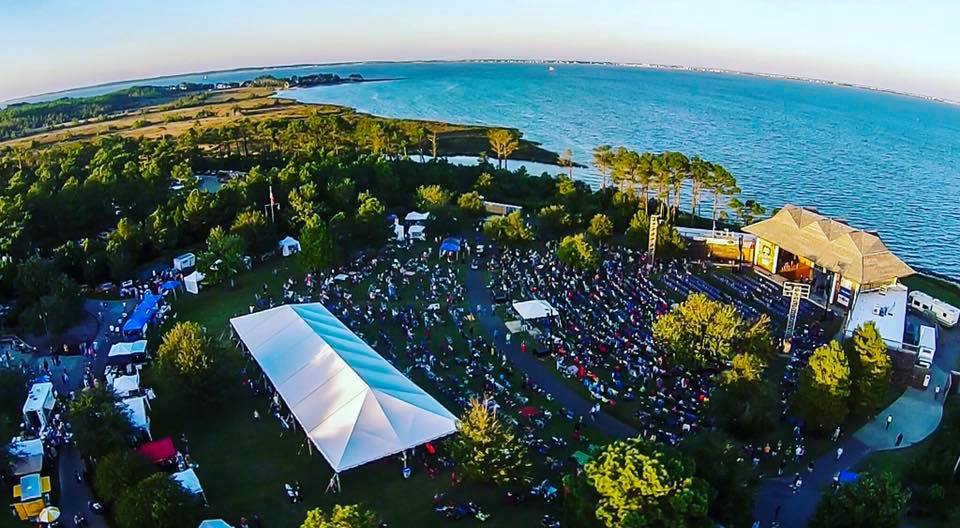 Outer Banks Bluegrass Festival takes over Roanoke Island Festival Park on May 16, 17 and 18. Photo courtesy of Outer Banks Bluegrass Festival Facebook
What began in 2012 as a simple one-day event, the Outer Banks Bluegrass Festival experienced a rapid rise in popularity in the past seven years and now holds a reputation as one of the premier bluegrass festivals in the country. Cory Hemilright, the event's organizer, started it as a sort of passion project where he played on his dream of bringing bluegrass music to the Outer Banks.
Cory grew up with bluegrass roots. As a child he listened to his grandfather's banjo music on the back porch of his house, and later when he lived in Bristol, TN, bluegrass musicians visited his cabin to sit for a spell and share some music. He missed the familiar twang back on the Outer Banks and thought that the style could find an unexpected but successful home in the land of surf and sand.
His humble plans for the first year's daylong event were overhauled by bluegrass star Rhonda Vincent's interest in performing at the festival. It turned heads in the bluegrass world, bringing in more big names and even bigger audiences with each consecutive year. Starting in the second year, the festival blossomed into a four-day event.
Now, music lovers eagerly anticipate the Bluegrass Festival's annual return to Roanoke Island Festival Park, where they enjoy the talents of regionally and nationally renowned bands against the breathtaking backdrop of the Shallowbag Bay. It's not just local bluegrass fans who get excited, though. The Bluegrass Festival also is known to attract visitors from around the country and some from around the world. After all, with beautiful beaches, boating, fishing and an outdoor wonderland, the Outer Banks presents a unique and successful venue for bluegrass.
The festival is doing things a little differently this year. It usually occurs during the first week and weekend in October, and with its new May dates, it coincides nicely with the season's increasing flurry of activity and visitors. Starting Wednesday, May 15, and continuing through Saturday, May 18, 18 bluegrass bands and musicians fill Manteo with the sounds of guitar, fiddle, banjo and vocals. Wednesday kicks off the festival with a free welcome shindig at the Bluegrass Island Trading Co. in Manteo, and Thursday through Saturday Roanoke Island Festival Park hosts all the acts. Visit the event's website to learn more about performance schedules and ticket information.
On the other end of things (and I mean the other end of the Outer Banks), you'll find the eighth annual Mustang Spring Jam. This weekend-long show transforms Corolla into a live music hub. And just as interesting as the national-scale musicians' performances is the man, the philanthropy and community behind it all.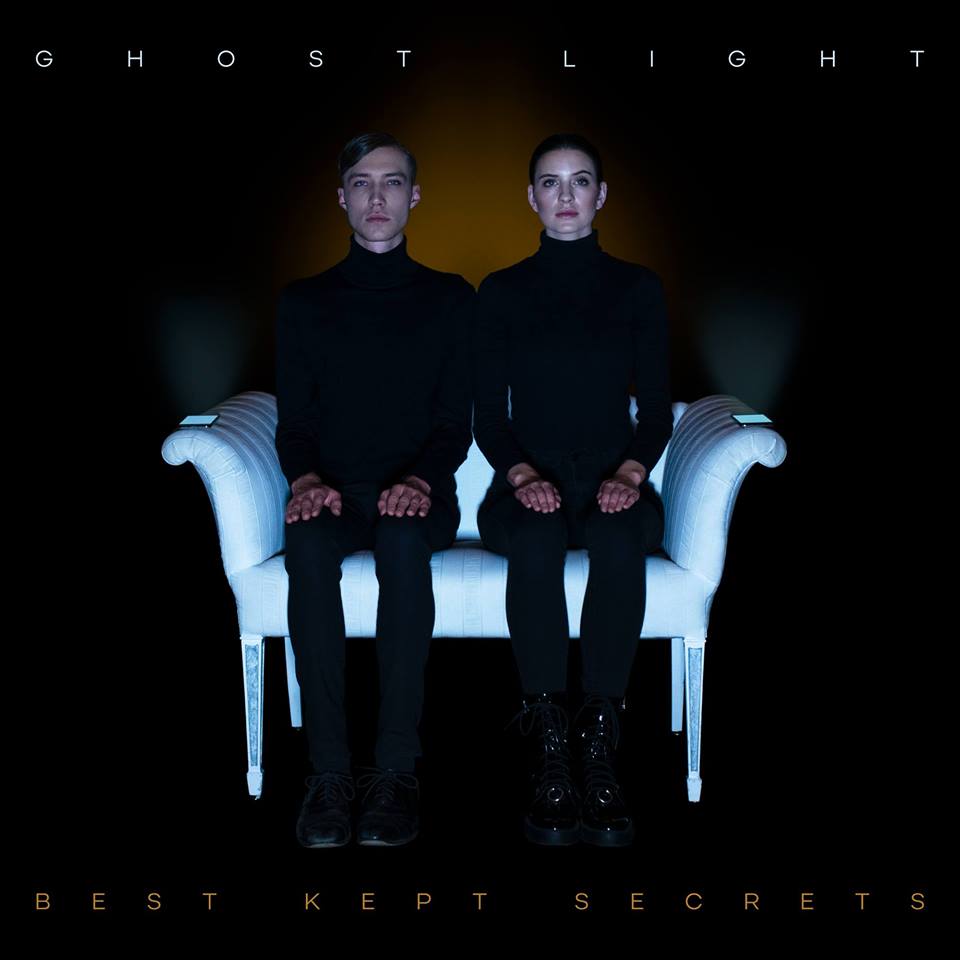 Ghost Light will perform at Mustang Mustang Music Festival on Sunday, May 19. Photo courtesy of Mustang Music Festival Facebook.
Mike Dianna (as in the man who opened Mike Dianna's Grill Room) has made himself a name as a local music producer and promoter. He started the popular Bearded Face Productions, and he plays a key role in booking musicians at venues throughout the Outer Banks. When he owned Mike Dianna's Grill Room, he booked regular performances from musicians at the restaurant – usually every day of the week. It was a passion, and it drove him to organize the first Mustang Music Festival in 2011. It was well received by locals and visitors, and it brought in funds that Mike donated to the Corolla Wild Horse Fund.
The event moved to larger venues in following years, attracting people by the thousands, and it eventually transitioned into three, stand-alone events: the Mustang Midsummer Meltdowns, Mustang Rock and Roast and this weekend's Mustang Spring Jam. But Mike's musical philanthropy spans beyond the Mustang music festivals. He founded the Mustang Outreach Program, a nonprofit that brings musical and cultural opportunities to Outer Banks youth. Through the program's work, children receive music lessons, instruments (until they can afford their own), opportunities to perform, music residency programs, mentoring and the chance to cultivate their own leadership skills. Children take lessons at any age, and once they reach high school, they're encouraged to help teach and mentor their younger peers. Yes, music is the main focus for the Mustang Outreach Program, but the philosophy of paying it forward sits at its heart.
The Mustang Spring Jam is a chance for these burgeoning musicians to practice their live performance skills, debut original compositions and show off the talents that they've spent months or years cultivating, and additionally, it connects them with big-name musicians who travel to Corolla to perform.
This year the show opens with folk wave and soulful-rock bands from Asheville, introduces a group from Charlotte and welcomes the headlining act, Roosterfoot, from Virginia as well as a hip-hop group from Charleston. Local band Mojo Collins and Triple Vision also performs. If you're interested in hearing the products of the Mustang Outreach Program, be sure to check out the jam on Sunday, which will feature performances primarily from the student bands and solo artists.
For specifics about the performance schedules and ticket information, visit the event's website. And if you're looking for other action happening around the Outer Banks this week, check out our Daytime Events page for art shows, the hang-gliding extravaganza, farmers markets and more. For live music, trivia nights and dance parties, our Nightlife calendar guides you to all the evening fun.