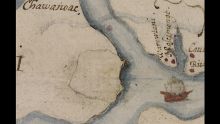 Did everybody hear about the recent discovery that could possibly solve the mystery of the Lost Colony? It's week-old news, but since there are many locals who didn't catch the story in the media last week, I imagine there are many more people from far away who didn't hear the story either.
Here's the deal: A fort symbol found hidden under a patch on a centuries-old Elizabethan map could prove that the "lost" colonists of Roanoke Island resettled 50 miles inland in North Carolina. The location in question is now an Arnold Palmer-designed golf course in Bertie County.
The lost colony has not been found yet, but the symbol under the patch is the first major clue as to its whereabouts in centuries and it gives archaeologists and historians a place to focus their search for the lost colonists.
Brent Lane, director of the UNC Center for Competitive Economies at UNC Chapel Hill, is responsible for the discovery of the hidden fort symbol. Lane was studying a map called "Virginea Pars," which was created by John White, the leader of Sir Walter Raleigh's expedition to settle the first permanent English colony in the New World. The map has two small patches of paper pasted over certain areas. Experts say patches were common at the time, but Lane wondered what was under them. He consulted officials at the British Museum, and it turned out that in the last 400 years, no one had ever thought to look under the patches.
With the map on a light table researches saw a large square symbol under one patch. The square resembles the fort symbol on other period maps. A circle on the map matched symbols of Native American villages. Experts analyzed the pigments and paper to ensure that they matched those for the rest of the map, and they did. In ultraviolet light, other markings appeared on top of the patch - markings made with some type of organic invisible ink, possibly lemon juice or urine, which was also a common practice at the time.
Experts hypothesize that these fort markings are either the location where the colonists went (and it was hidden on the map to hide it from the Spanish) or it was the location they intended to go to but never reached.
Backing up this location is the fact that when John White left the colony in 1587, he had the understanding that the colony would move 50 miles inland if they had to desert their Roanoke Island location. The Bertie County site is about 50 miles inland. It's possible, experts say, that some of the colonists went to the inland location while others stayed behind to wait for supplies. When the supplies never came, those colonists could have retreated to Hatteras Island, hence the "Croatoan" carving on the tree.
Now that there's this new clue, the only way to prove anything is to collect archaeological evidence. And the archaeologists have to decide where to do their archaeological testing. The fort symbol on the map is too large in scale to give the exact location. But it points toward Scotch Hall Preserve, a golf course and residential community on the Albemarle Sound.
"I think this new discovery has now confirmed that (the Roanoke Colony settlers) went, or intended to go, to this location here," James Horn, vice president of research and historical interpretation at the Colonial Williamsburg Foundation, was quoted as saying.
The story has been covered pretty much all over the place. The Raleigh News and Observer covered the story last week. And Outer Banks-based writer Cate Kozak did a great article in the Outer Banks Voice. Both stories have more details. Whatever comes of this discovery, it's pretty amazing that someone could find a new clue after all these years.
So don't expect a rewrite of The Lost Colony just yet. The 75th anniversary season of the show starts on June 1, and the mystery is still as much fun as it's ever been. Tickets are on sale now, and it's never too early to plan ahead. Be sure to take a Back Stage Tour this year. As someone who's seen the show numerous times, I can say that a Back Stage Tour will definitely give you a renewed appreciation for the show.
So, what's going on this week?
Well, you'd better get those Mother's Day cards in the mail - or, better yet, make those Mother's Day brunch, lunch and dinner reservations. Outer Banks restaurants are offering up special menus and meals in honor of mom, so check out our events listings for details
Speaking of eating, it's Spring Restaurant Week on the Outer Banks. From May 11 through 19, about 20 restaurants are offering special three-course prix fixe menus for one low price. Check the website for details, and get out there and eat!
Saturday is Youth Aviation Day at the Dare County Regional Airport. Kids love this event! They get a chance to see all types of aircraft and meet people in the aviation industry. The best part is that you can take helicopter, airplane and biplane rides for way cheaper than an ordinary tour. Cessna rides (with up to 3 passengers) are $10 per person, Bi-Plane rides (with up to 2 passengers) are $20 per person and helicopter rides (with up to 3 passengers) are $25 per person. Get their early to sign up for a plane or helicopter ride. Hours are 10 a.m. to 4 p.m. and admission is free.
The Yeungling Nags Head Woods 5K is on Saturday. This is such a fun race. Serious racers and weekend warriors alike come out and race together along the woods road, and it's a challenging course with some of the only hills on the Outer Banks. Online registration ends today - Wednesdsay, May 9, so go ahead and enter!
Pirate's Cove Marina's Fishing Tackle Flea Market is on Saturday. This is the place to get stuff like fishing tackle, boat accessories, boats, ATVs, golf carts, marine equipment, hunting gear and more - all the stuff that's required for living on the Outer Banks. Hours are 7 to 10 a.m.
Theatre of Dare's newest show starts this weekend. They're doing Forbidden Broadway, a long-running off-Broadway satire of all things Broadway. Expect spoofs and goofs on Cats, Chicago, Wicked, Les Mis, and more. Sounds like my kind of Broadway! Shows are Friday and Saturday nights at 7:30 p.m. and Sunday at 2 p.m. this weekend and next.
Lots of good nightlife stuff going on this week. Check out our Nightlife listings. But one interesting note is Lukas Nelson and The Promise of the Real performing at Kelly's on Friday night. Lukas is the son of Willie Nelson. Don't go see him just for that, though. Supposedly he's pretty good.
Otherwise, have a look around this site. We've daytime and nightime events, fishing reports, restaurant specials, shopping deals and more. What else do you really need? Free stuff? We've got a great giveaway this week -- $50 worth of tickets to The Lost Colony and a $75 gift certificate to 1587 restaurant in Manteo. Hope you win it!

This week you have a chance to win a $75 gift certicate to 1587 Restaurant plus $50 worth of tickets to The Lost Colony, celebrating their 75th Anniversary Season.
For more information about 1587 Restaurant, check out their website.
For more information about The Lost Colony, check out their website.
Last Week's Winner
Congratulations to Rene Marionl!!!

You won a $25 gift certicate to Mike Dianna's Grill Room plus a two free tickets to the Mustang Spring Jam!
For more information about Mike Dianna's Grill Room, check out their website.
For more information about Mustang Spring Jam, check out their website.