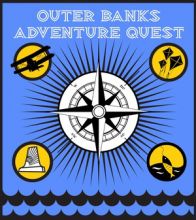 A few blogs ago I was lamenting the geographical illiteracy of the typical American and the way lifestyles and technology insulate so many of us from having to acquire geographical knowledge or develop our prowess as natural explorers. For those insulted by my somewhat general criticism, for the trailblazers who shun the rush hour freeway to drive miles out of your way to carve a less-direct but quicker route home - you know who you are - Outer Banks Adventure Quest is the activity for you. You'll make use of your wits and navigational skills (thereby putting your geographical fluency to the test) to compete against other teams for fabulously tacky prizes, questing glory and, of course, bragging rights as you visit historic sites and Outer Banks hangouts in Kill Devil Hills and Nags Head. Your quest kit will come complete with a handmade pirate map, a trove of clues to decipher and a bag of tricks and gadgets you'll use to find your way. Each quest lasts approximately three hours and costs $25/adult (children younger than 12 are allowed to participate for free). The next two quests are scheduled for Wednesday, September 17 and Wednesday, September 24. Please note, this is not for the physically passive individual - you will be doing a bit of trekking, so dress for the weather, bring water and wear sunscreen! Reservations should be made 24 hours in advance. Contact Adventure Quest organizers at (804) 475-4339 for availability.
Tap Your Inner Artist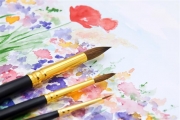 With the transition to Fall many of us look forward to those special autumn sunsets as nature paints Outer Banks skies with almost supernatural displays of saturated colors - juicy purples, cotton candy pinks, sherbet orange glows - and brilliant contrasts between land, sky, water and clouds. Why not use nature's chromatic masterworks as inspiration to tap into your own creativity with a watercolor class taught by local artist Denise Gaskins? Sign up for a class any Thursday night from 5 to 7 p.m. at Kinnakeet Clay Studio and Showroom in Avon and learn the techniques of watercolor magic. The class fee is $35/person with a $5 discount if you bring another participant to the class. The next two classes are scheduled for September 11 and 18. For more information or to book your space, call (252) 995-0101.
Surf and Turf
If you're seeking a competitive challenge this weekend you can still sign up for the Saga Outer Banks Triathlon's Sprint Distance Race scheduled for Sunday, September 14. Although the half distance and Olympic distance events are already sold out, as of press time slots were still available in the Sprint Distance event. The race combines swimming, running and biking over a scenic course weaving through the northern section of Roanoke Island. Visit the event website for entrance registration information and other details.
The Eastern Surfing Association, the world's largest amateur surfing organization, brings the Eastern Surfing Championships to Jennette's Pier in Nags Head from Sunday, September 14 through Saturday, September 20. Competition will begin at 8 a.m. each day. Stop by and see the best surfers go head to head in this grand finale of the amateur season.
OBX Pridefest
As I noted last week, OBX Pridefest returns to the Outer Banks for its fourth year Friday, September 12 through Sunday, September 14. Held on the grounds of the historic First Colony Inn in Nags Head, all of the LGBT-friendly festival's outdoor events are free and open to the public. Activities include a sunset cruise followed by a bonfire beach party with DJ; Saturday night club shows and a dance party at Pamlico Jack's Restaurant; a Saturday afternoon music festival with bands, souvenir vendors, barbecue and pool parties; and a Sunday morning drag brunch. Among the event's highlights will be Saturday's Esther Williams Drag Surfing Competition followed by the Tea By The Sea Beach Party where folks will be dancing to the musical ministrations of DJ Little Betty until sunset. Tickets and up-to-date details on the entire schedule of events are available at the event website and on their Facebook page. If you're interested in accommodations within walking distance of the event, organizers recommend you make your reservations as early as possible. Accommodations listings can be found on the event website.
Looking Ahead
Make plans now for the upcoming fun and educational Day at the Docks in Hatteras Village. Despite the event's name, activities are dispersed over a three-day period beginning Thursday, September 18 through Saturday, September 20. Initiated in 2003 as a celebratory response to Hatteras' recovery from the devastation of Hurricane Isabel, Day at the Docks is a free and fun-filled community recognition day packed with family-friendly events and activities, including a fishing contest, mullet toss, survival suit race, cooking demonstrations, an education tent and more. See the event website for the full schedule of events (make sure to click the Learn More links for access to the most detailed information).

This week you have a chance to win a one-night stay at the Oasis Suites and a $35 gift certificate to the Outer Banks Olive Oil Company!
For more information about Oasis Suites Hotel check out their website.
For more information about Outer Banks Olive Oil Co. check out their website.
Last Week's Winner
Congratulations to Jessica Smith!!!
You won a couples surf lesson from Island Revolution and a restaurant tour from Outer Banks Restaurant Tours!
For more information about Island Revolution check out their website.
For more information about Outer Banks Restaurant Tours check out their website.