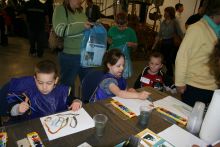 All of the sudden the off-season is back on. The air is warm, the roads are crowded and the bikinis are out of storage. Yup, the beachgoers weren't holding back this past weekend - bikinis were on bods up and down the beach. (I, on the other hand, ain't goin' there yet)...
And then, the sure sign that tourist season has started - communal grocery shoppers. It is carried on by two shoppers, usually women, who are apparently vacationing together and sharing a kitchen, and goes something like this: "Well, my family likes wheat bread but if your family likes white bread, we could get the white-wheat bread." "Or we could get both." "Let's get the white-wheat." "Now, what kind of peanut butter do you guys like?..." * (That's good-natured teasing, visitors, but it sure does hold up the flow in the aisles of the Teeter)...
My favorite scene from the weekend was the return of two guys from New Jersey who have a second home nearby me in Nags Head. They have seven Shih Tzus. This weekend they were babysitting two more Shih Tzus, for a total of nine. There they were, walking in the Village at Nags Head, all nine little perfectly groomed dogs trotting along on their leashes without getting tangled...
Ok, ok, I'll stop my blathering and get on with some news you can use...
The Whalehead Club is sponsoring a cool event on Wednesday - the Pedal-Foot-Paddle Race. It starts with a 7-mile cycle through Corolla followed by a 3-mile run on the beach at low-tide, wrapping up with a 2-mile kayak paddle on the Currituck Sound. There's also the less-strenuous "Light to Land" - climb the Currituck Beach Lighthouse, then stroll through the park ending at the front porch of the historic Whalehead Club. It starts at 8 a.m. The link is on our Outer Banks By Day "Events" page...
Speaking of races, the Flying Pirate Half Marathon is coming up on April 18. Be forewarned - this one has a tough finish! I ran part of the course the other day and those final hills of off-road running through Nags Head Woods are killers (at least for us flat-landers)! Save up some energy for the last mile * If you didn't know, there's also the First Flight 5K on April 17... You can still get info for both at www.outerbanksmarathon.org...
This week, Friday to be exact, marks the beginning of the Land of Beginnings Festival. With nine events, this festival is an annual celebration of the community and it's getting better every year. * It kicks off on Friday (the 9th) with the Children's Faire from 10 a.m. to 2 p.m. at the Wright Brothers National Memorial Pavilion. It's tons of fun, kids (very hands-on), but crowded. Don't even think of bringing that stroller in the door. * Saturday (the 10th) is a story-telling event in Hatteras Village * Next week they've got story-telling in Manteo and Kitty Hawk, the Living Legend Community Luncheon, Create the Future Initiative, Under the Sea Gala and more. Go to www.lostcolony.org to see a full schedule...
Saturday also brings us THE Studio Tour South - the Dare County Arts Council-sponsored tour of local artists' studios and galleries. The "South" tour means Hatteras Island, and there are some very creative folk on Hatteras Island. Go to www.darearts.org to learn more. * THE Studio Tour North is on April 17...
Roanoke Island Festival Park has the UNC Jazz Band playing on Friday at 7 p.m. This is an impressive band, and our chance to see them is FREE! * You can make that show and still get out to do something afterward. * You'd definitely have time to make it up to Outer Banks Brewing Station to catch Ben Taylor, son of James Taylor and Carly Simon, playing acoustic rock. He played here about a year ago to rave reviews, and I, for one, want to see him. 10 p.m. 10 bucks...
On Sunday (11th), Kelly's has something new... A nighttime fashion show for a Relay for Life Team. Local designers, local models, live music by "No... Dreads" and Justin Rudolph, raffle items and more. Sounds like fun...
FYI... if you read this blog last week, I suggested that you go to Corolla to see the shipwreck that was uncovered on the beach this winter. * Update: the ship is in state hands and is expected to be moved this week or next from the beach to a property behind the Currituck Beach Lighthouse on land owned by Outer Banks Conservationists. The wrecked ship could be the oldest ship found in North Carolina - possibly dating to the late 17th century. * Stay tuned for more details...
All right, go get on with your life. But keep checking the site all week as businesses and organizations on the Outer Banks are adding new stuff here every day. I'll be back with a new blog of Outer Banks snippets and events next Tuesday. And if you've got a business or organization that wants to get the word out about something - a sale, a special, an event or a fund-raiser - click on Get Involved just on the right column of this page...
And Please put your 2 cents in. If you'd like to contribute or add your voice to this blog, you can do that below. Keep in mind that the blog comments are moderated so that this site is only putting positive vibes into cyberspace * We'd really love to hear from you...