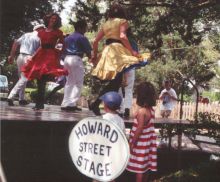 Tourist season seemed to turn on like a fire hose over Memorial Day weekend. I personally could have used a little more of an adjustment period. On the Bypass, on the beach and in the restaurants, there was no smooth transition from sort of busy one weekend to full on packed the next - it seemed to happen all at once.
But I'm not complaining. I welcome all of our visitors, even the ones who don't seem to have a sense of personal space bubbles; you know, the ones who set up camp right beside you on the beach even though there are plenty of more spacious sites to be had. That's OK, because what they don't realize as they're unfolding their chairs and setting up umbrellas is that my kids can out-scream and out-howl and out-whine their kids any day. But sometimes it turns out for the best. I actually met a very nice family of too-close-for-comfort beach campers from Virginia on Monday. And we better get used to the crowds anyway. U.S. News and World Report's travel site named the Outer Banks as the top family-friendly beach destination in the United States. See it here.
So Memorial Day has come and gone and it's officially "in" season on the Outer Banks. I thought you might like to know about some of the new businesses on the Outer Banks. I say "some" because while I have a pretty long list of new things to tell you about, I'm certain that I've missed many others. If you know of one that I missed, please make a comment below on Add Your Voice/Contribute Your Knowledge. So, here's what I know:
Corolla - Corolla has lots of new places to eat, especially if you have a sweet tooth. Dippin' Dots, the store that sells those little beads of ice cream, has opened in Timbuck II. Also in Timbuck II are The Sweet Spot, selling ice cream, coffee, fudge and other sweets; the Outer Banks Popcorn Shoppe, which sells a wild assortment of popcorn flavors; and Distinct Delights - more sweets, this time in the form of chocolates. In Monteray Plaza, there's a new location of Dunkin' Donuts and, coming soon, Agave Roja, a new upscale Mexican and margarita/tequila bar. Also new in Corolla is Beach Road Pizza, which delivers to all of Corolla and even the 4WD area. In Shopping, 158 Surf and Skate has opened a new Corolla location in Timbuck II.
Duck - In the Waterfront Shops, 158 Surf and Skate has opened a new location, and there's also new menswear store called Untucked - Resort Apparel for Men. Sharky's Bait, Tackle and Charters has opened in Barrier Island Station. In Scarborough Faire Shops is a new store called The Screen Door -- A Garden & Flower Shop. In Scarborough Lane are Dekor, specializing in trendy home accents, and Shaffers Old Fashioned Candy and Toys. Village Diva has opened in the Osprey Landing Shops.
Kill Devil Kitty Head - Thrift and consignment are in: The Loft is a relatively new consignment shop in Kitty Hawk, as is Vivi's Five & Dime. OBX Consign is a new place in Gallery Row in Nags Head. Under the Seam is a new dressmaker's shop on the Beach Road in Nags Head. Anna's Attic at Outer Banks Mall is a new store with a little bit of everything, from dresses to Carhartt. Talbott's is opening an outlet at Tanger Outlet Center. Don't know how you could miss it, but there's a new Lowe's in KDH. And a PetsMart is under construction in Nags Head, next to TJMaxx. The Space Station in the Dunes Shops is a new tobacco accessory store. ScootHers is a new scooter rental store in KDH. In the restaurant realm, it seems to be the year of the yogurt. Frozen yogurt, that is. New on the scene are Beach Boys Frozen Yogurt in Kitty Hawk, Wonderberry Frozen Yogurt in Surfside Plaza in Nags Head, Surfin' Spoon Frozen Yogurt on the Beach Road in Nags Head next to Red Drum and seagreen gallery (another new-ish place), a new location of Sweet Frog in Nags Head in the same shopping center as Dunkin' (there's also a new-ish Sweet Frog in Kitty Hawk). Other treats: The Salty Cow ice cream at MP 1 in Kitty Hawk; Zen Pops all-natural popsicles has a storefront in KDH in Sea Gate North; Great Cakes has opened a new bakery at MP 4.5 in Kitty Hawk; Island Snowball is a snow cone shop in Outer Banks Mall. Other new eateries include Armstrong Seafood Market in Pirates Quay Shops in Nags Head; Old Nags Head Café (formerly Jockey's Ribs) on the Beach Road in Nags Head; Sandbar and Grille in Outer Banks Mall; Café Lachine in Outer Banks Mall; Thumpers in the old Beach Road Grill in Nags Head; KDH Deli in the same shopping center as Slice and Rita's at MP 8.5; Café Franco's, a new Italian restaurant in the same shopping center as Belk, in the old Good Life Gourmet, which has moved to the former Beach Bread Co. site; and Sanya, the new sushi place where Asian Bistro used to be.
Roanoke Island/Manteo: Mabel's is a new ice cream store in the Phoenix Shops in downtown Manteo. New in town this year were Duck's Cottage Downtown Books (sister bookstore to Duck's Cottage in Duck) in the old Manteo Booksellers site and Carolina Cupcakery on Budleigh Street. Stripers is back in its former location at Shallowbag Bay Club, and the new ownership has breathed new life into the Shallowbag Bay Marina. Harbor Point Grill has moved over to Pirates Cove, and they are managing Mimi's Tiki Hut on the docks as well. Adrianna's is back open on the waterfront in Manteo too. There's a cool new art gallery in town called Practically, A Gallery. It's over by Magnolia Market, which, by the way, is now an open-air market that is available for rent for events. On summer Thursdays, several artists and artisans are going to sell their wares there. Tuesdays in Manteo is a new event in which the local businesses are doing a lot of fun things to get people over to downtown Manteo for the afternoon and evening. Nature's Harmony of Manns Harbor has opened a second location on the main highway near The Christmas Shop. The Art Village Interactive Art Cooperative is taking over the old Weeping Radish site and promises a lot of exciting opportunities for shopping for local art and taking art classes. Bianca's Tea Leaf Readings, offering Tarot, astrology readings and more, is new in downtown Manteo (and in KDH). Coming soon is the U.S. Fish & Wildlife Service's new Refuges Gateway Visitors Center on the north end of Roanoke Island.
Hatteras Island - Affairs at Austin Creek is a new event location at Hatteras Landing in Hatteras Village. Big Mama's Good Food is a new breakfast and lunch spot on the north end of Hatteras Village. Open Water Grill is a new restaurant on the waterfront in Avon, next to OceanAir Sports. Spa Koru has a new oceanfront events location called The Beach Klub. Sailor Jo Standup Paddleboard Excursions and Eco Tours is a new watersports business in Hatteras Village.
Ocracoke Island - Live Oak Coffee is a new shop in the center of the village, across from the Community Square. The Topless Oyster is a new restaurant on the main highway. Captain Puddle Duck's Steamer Pots is a new biz that will bring the seafood to you - and cook it. Home Grown Hettie's is a new garden shop. The Corner Crepe is a new French creperie at The Back Porch Restaurant. Yum! Eduardo's Taco Truck is another relatively new business - it's in the parking lot of the Variety Store. Negozio is a new little women's boutique on Lighthouse Road.
So that's a lot to digest I know. But I should tell you, before I completely lose you, what's going on around here this weekend. I'll give you a couple of brief highlights, but if you want the whole rundown, you should see our By Day and Nightlife listings.
In Manteo this week, The Lost Colony is holding its opening night on Friday. A special preview for Dare County residents is being held on Thursday night - bring food donations for the food pantry and you'll get in free.
Friday night is also First Friday in downtown Manteo - live music, arts, food and more. Saturday in Manteo is Dare Day. From 9 a.m. to 7 p.m. there is live music, arts and crafts vendors, food, kid stuff and entertainment. It's a Dare County tradition.
The Ocrafolk Festival is this weekend on Ocracoke Island. I love this event with storytellers, tons of live music and arts and crafts vendors set up all throughout the village.
On Monday the Cape Hatteras Lighthouse is hosting its monthly Full Moon Tour. There are two times: 8:30 p.m. and 9:30 p.m. Check the link for all the details. This one sells out early so get you tickets as soon as you can.
Thanks for reading the blog this week. Be sure to enter our Weekly Facebook Giveaway. We've been giving away some great prizes - thanks to the local businesses who are generously sharing their stuff with our readers! Have a great week...

This week you have a chance to win a Free $50 gift certificate to Gray's Family Department Store plus a Free Outer Banks Sounds original CD!
For more information about Gray's Family Department Store, check out their website.
For more information about Dare County Arts Council, check out their website.
Last Week's Winner
Congratulations to Sandra Komoroffl!
You won a Free daytime trip for 2 on the Downeast Rover and a dozen cupcakes from Carolina Cupcakery in Downtown Manteo!
For more information about Downeast Rover, check out their website.
For more information about Carolina Cupcakery, check out their website.