There's a new museum on the Outer Banks, and it's a good one. Celebrating the maritime history and storied boating and hunting traditions of Currituck County, Currituck Maritime Museum opened in July 2021, and it's been a big hit with both locals and visitors. The museum is situated in Historic Corolla Park, right alongside Currituck Beach Lighthouse, Whalehead, Outer Banks Center for Wildlife Education and Corolla Village, so you can park the car once and visit all of these attractions with ease. 
Photo: One of the 11 boats on display in Currituck Maritime Museum.
I got a chance to visit the museum in August and was mightily impressed. The brand-new museum building is gorgeous, and its cavernous interior is filled with well-planned exhibits that tell the rich story of Currituck County's past, not just on the Currituck Outer Banks but also the mainland.
Museum Director Chandler Sawyer, a lifelong mainland Currituck resident, says that visitors are often surprised at what they learn about Currituck's history.
"Many people don't realize what was here before all of this that we see today," Sawyer says.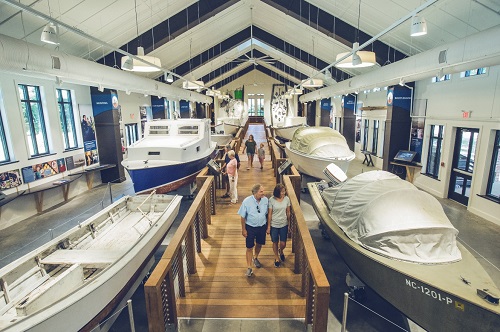 Photo: An interior view of Currituck Maritime Museum
Before the Currituck Outer Banks was a vacation paradise, it was remote and sparsely populated. In the old days, only the lighthouse keepers, lifesaving station personnel and hunting guides and hunt club caretakers were found on the Currituck Banks. In fact, development of the Currituck beaches didn't even begin until the mid-1980s. Most locals lived on the mainland, and the majority of visitors to the Banks were waterfowl hunters.
The 10,000-square-foot, self-interpretive museum tells the story of Currituck's dependence on the water and old ways of life by offering exhibits on navigating the sound, weather, boat building, commercial fishing, hunting, decoy carving, lifesaving, lightkeeping, bootlegging and patrolling the waters. Through the use of hundreds of photographs, more than 25 videos, well-written text, displays of old tools and gear, recipes and more, the story of Currituck's past becomes clear.
At the entrance to the museum is a map table where you can digitally scroll to see the locations of the past and present hunt clubs, shipwrecks, wharves, life-saving stations and historic inlets in Currituck County. There's a game to test your boating skills knowledge and a knot-tying station that gives instructions on how to tie useful maritime knots.
The museum houses 11 restored boats that were built in Currituck County. They're a good representation of the types of boats that were used on Currituck Sound and in the North River: a flat-bottomed sailing skiff, hunting skiffs, a runabout for recreation, gunning skiffs, commercial fishing boats, a shad boat and a game warden's boat. The boats were collected over the years by two lifelong Currituck residents, Travis Morris and Wilson Snowden. Lamenting the loss of the old ways of life, the men starting collecting the boats in the 1990s and dreamed of one day housing them in a museum. They collected 25 old boats and recorded each boat's history then contributed seed money to the museum cause. Currituck County eventually brought the museum to fruition.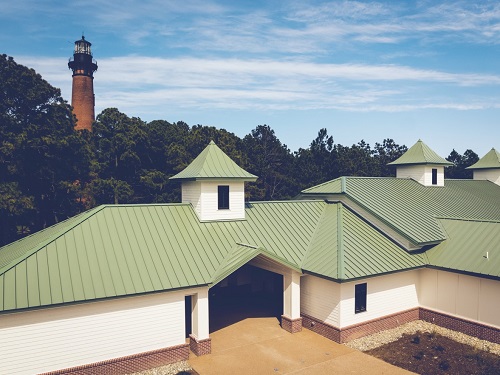 Photo: Currituck Maritime Museum is in Historic Corolla Park, next to Currituck Beach Lighthouse.
Sawyer is Morris's grandson. A former hunt club caretaker and hunting guide, he has spent his whole life on the water and was the perfect person to help bring the museum into being and carry it forward. He and Curator Jill Landen, along with a professional museum exhibit company, helped create the museum, writing about history and life in Currituck and collecting lore, photos and material for the exhibits; Sawyer even pulled from his own stockpile of gear and goods when necessary. He commutes to and from his job at the museum across the sound by boat five days a week.
Currituck Maritime Museum is free to visit. Fully touring the museum takes at least an hour, but you can see a lot in less time. It's open Monday through Friday from 9:30 a.m. to 4 p.m. It will close for six weeks in January and early February. For more information, see their Facebook page. 
For more things to do in Corolla and around the Outer Banks, see our Corolla Guide as well as our Nightlife and Daytime events pages. 
All photos courtesy of Currituck County Department of Travel & Tourism