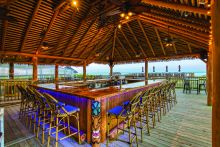 How many of us mindlessly drive by new businesses on the daily, not registering when names change, new buildings appear or your preferred spots change locations? (Raises hand.) I feel out of the loop when I hear people talk about their latest go-to fast-casual eatery, that adorable boutique or the hopping businesses that everyone is now frequenting. Whether you're a local who hasn't caught up on the grapevine gossip or a visitor who finds everything new and unfamiliar, take note of a few of the newcomer shops, restaurants and other businesses on the Outer Banks in 2019.
Photo: Grab a drink at Beachcombers Wood-fired Grille & Tiki Hut, new on the oceanfront in Kill Devil Hills. 
Eat
The local dining scene constantly grows and transitions with new restaurants, coffee shops and an ever-increasing number of sweets shops each year.
The latest addition to the Ramada Plaza by Wyndham in Kill Devil Hills, Beachcombers Wood-fired Grille and Tiki Hut serves breakfast, lunch, dinner and in-between snacks to the hotel's guests and the public. With a full breakfast buffet, diners should come hungry and fuel up before a day of hitting the beach and playing outside. Their outdoor tiki bar overlooks the ocean – in fact, you can access the beach from it – and it's easy to see why it's becoming an increasingly popular spot to hang out for evening bites and beverages.
Keep up with the island vibe, and check out fast-casual option Woo Casa at the Outer Banks Mall in Nags Head. This colorful place – both in their atmosphere and their dishes – takes a fresh and nutritious approach to flavors of Polynesia, Mexico and Central America. They're known for their beautiful, customizable rice bowls, and their creative daily specials cause frequent excitement.
It may not be the islands, but it's still pretty far out at the Manteo pimento cheese bistro, Far Out Foods. For years, this brand garnered quite a following with their wholesale pimento cheese, and they opened a restaurant location in Manteo this past spring. The funky, hip eatery has dairy on the brain with cheesy sandwiches, mac-and-cheese bowls and creative milkshakes.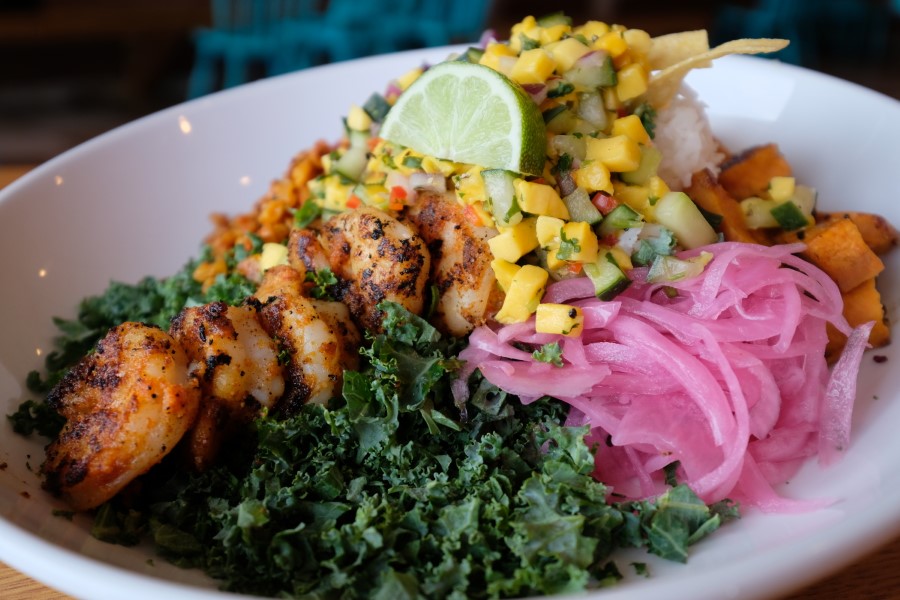 Woo Casa Rice Bowl
Shop
One trend I've seen this past season is businesses opening additional locations for their shops. Sisters Boutique and Gifts in Manteo and SeaGreen Gallery in Nags Head both have new locations in Duck.
Additional developments from the Outer Banks Olive Oil Co. have brought a store branch, Outer Banks Olive Oil, to the Outlets Nags Head (formerly known as the Tanger Outlets). Owned by the same folks as Outer Banks Olive Oil Co. in Duck, and Chip's Wine and Beer Market in Kill Devil Hills, this shop has all the oils, vinegars, spices, cigars and beverages you know from their other locations. But they're incorporating a twist by featuring a bar that serves beer, wine by the glass and cheese plates.
Makeup and cosmetic addicts, rejoice! There's now an ULTA location at Outer Banks Mall in Nags Head. With everything that promises to make you look, smell and feel good, the beauticians on staff can help match you with the perfect foundation or direct you to top-of-the-line hair gel. This location includes salon services too.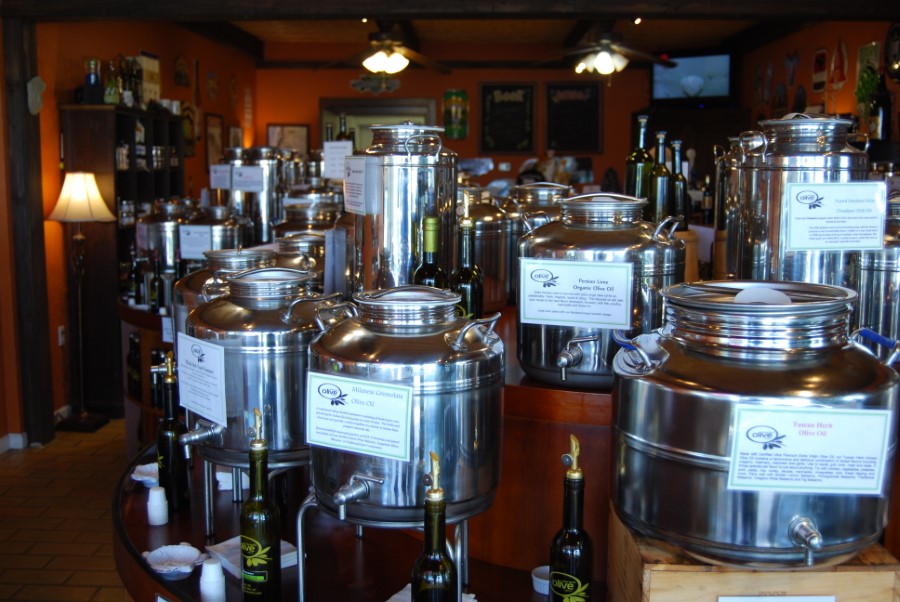 Outer Banks Olive Oil barrels 
Play
Axe throwing is a recent trendy activity that's taking the nation by storm. People get together, head to a location and cheer each other on as individuals hurl axes at targets on the wall. It's like a mainstreaming of Renaissance fairs, and you can now try this activity on the Outer Banks. Jumpmasters Trampoline Park, in Manteo, shares their site with OBX Axe Throwing. With skilled instructors on hand, they'll help you hit the mark with proper throwing techniques.
If you work up a sweat while throwing axes, treat yourself to a rejuvenating and alternative sort of spa treatment at Outer Banks Salt Cave in Kitty Hawk. They specialize in halotherapy, which uses salt's antibacterial, antimicrobial and disinfecting properties to ease tension and improve skin and respiratory health. Round up a few friends, and head to their salt cave. There, visitors can kick back in the spa chairs inside the low-lit space with Himalayan salt crystals covering the ground – almost like sand.  
Continue along the path to wellness at Ascension Studio OBX. This Kitty Hawk business offers a metaphysical approach to massage services, physical (and spiritual) therapy and guidance. Book a Reiki or Body Soul Session. Align your Chakras, or ask for a card reading. They're also known to host incredible events and sessions.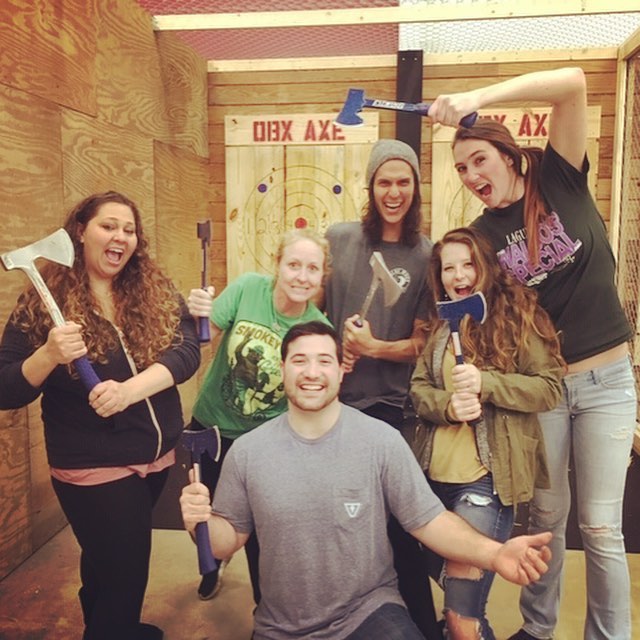 OBX Axe Throwing is a top spot for a group outing.
Stay
For visitors planning their return to the area or locals giving accommodation recommendations to their friends, consider staying at brand-new hotels and inns where the wood floors still smell fresh and mattresses have barely been rotated yet.
For rooms with ocean views, TownePlace Suites by Marriott, in Kill Devil Hills, towers four stories high, enabling visitors to take in views of the ocean and killer sunsets. The spacious, homey suites include those must-have amenities, such as Netflix-capable TVs, ergonomic workstations and fully equipped kitchens. Guests also find themselves in an amazing location to check out the Wright Brothers National Memorial, Jockey's Ridge State Park and the beach.
On the northern beaches, Corolla Village Inn places guests in a plush cedar-shake cottage setting in the heart of Corolla's historic village. With soothing, ocean-inspired colors and Coastal Living-inspired furnishings, it's almost like staying in a beach cottage of your own. Relax on the porch underneath the oak trees or stroll into the village to check out the boutique shops, eateries, Currituck Beach Lighthouse and Whalehead.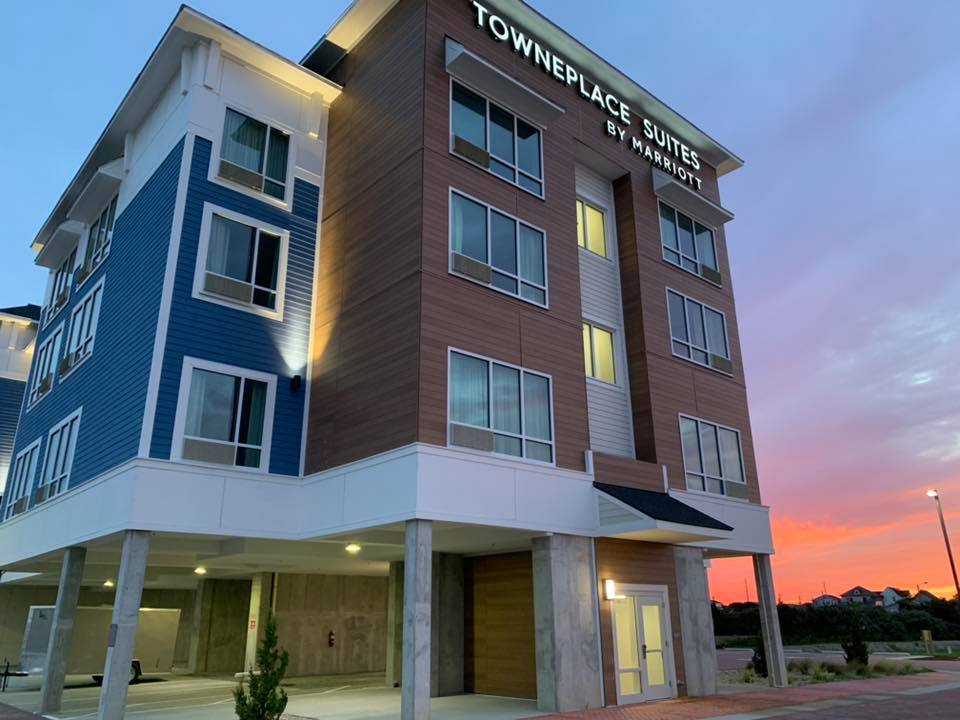 Sit back and take in the views at TownePlace Suites.
---
What new businesses have caught your attention? Share your recommendations with us in our comments section. And to keep up with all the latest information on the Outer Banks, check out the goings-on in our Daytime Events and Nightlife calendars.