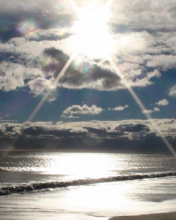 In last week's entry long-time Outer Banks This Week blog writer Molly Harrison said goodbye to her loyal readers and introduced me as the writer to whom she was handing over the reins. But, you may wonder, who am I and how did I arrive at this moment?
My relationship with the Outer Banks began in the autumn of 1993, on a Saturday in mid-November. I was a writer trying to transition into graphic design, and I'd come to interview for the art director position at Insiders' Guides, a then-small publishing company in Manteo and a precursor to OneBoat. After the interview I stopped for carry-out barbeque at Doug Saul's, drove over the Washington Baum Bridge to Nags Head, located a beach access, crossed the dune and settled in between two groups of fishing folk. As I dug my toes into warm sand for the first time since I was a small child, I gazed seaward in wonderment. Everything was beautiful. The fish were running, air and water temperatures were in the 70s, a pod of dolphins surfaced as if on cue. The fishing folk were friendly, and the barbeque was delicious! Back home in Blacksburg it had already snowed three times! But this place...this was paradise! Later that afternoon, when the job offer was made, my answer was an immediate "Thank you!"
Two weeks later I was driving back to the Outer Banks in a rattling old U-Haul containing all my worldly possessions. As I lumbered down the Bypass I began to notice the "Closed for the Season" and "See You in the Spring!" signs. The thought crossed my mind that I had perhaps just made the biggest mistake of my life.
I proceeded to spend a couple of that winter's darkest months in a self-imposed funk but, gradually, the place grew on me. I took weekend drives to Hatteras and Corolla. I found the off-season desolateness strangely energizing. A person could find a certain clarity here. I began to frequent live music venues. My new co-workers (Molly among them) became friends, many remaining friends to this day. Georgia Beach practically adopted me as a little brother, taking me to movies, introducing me to the people she knew (and she knew everyone, it seemed), and teaching me the fine art of hunting sea glass. I learned the hard way the value of a good flotation device when venturing into the ocean. I met the woman I would someday marry, and through her, met dozens of future friends who had come to the Outer Banks over several decades to perform at the Lost Colony, each of them sharing a deep appreciation for this amazing slip of sand.
After moving away in May 1997 to pursue our careers, my wife and I returned as Outer Banks residents the week after 9/11 in 2001. It was another autumn of amazingly beautiful sunsets, only this time the pinks and purples and oranges were criss-crossed with the contrails of fighter jets scouring the coastal skies for threats. Sitting on the beach as I often did that Fall, I was once more struck by the horizon-to-horizon expanse of the Outer Banks sky. Over the next decade I ran a freelance design business. My wife and I became homeowners. We renewed old friendships. Made new friends. We loved and buried three wonderful felines in Outer Banks soil. Lost friends and family members. In 2011, I had a gallery show of my own paintings and graphic work. Became single again. Started over. The Outer Banks has long experience with new starts.
And now, nearly 20 years after first arriving on the Outer Banks, things have come nearly full circle and I find myself following in Molly's footsteps as the writer of this blog. Molly left big shoes to fill and I hope to maintain the quality of writing and level of accuracy you have come to expect over the past few years. I look forward to sharing what the Outer Banks has to offer with you and to hearing your comments and suggestions.
We should take a few moments to acknowledge the impact of Hurricane Sandy on the Outer Banks. Businesses, homes, beaches and infrastructure throughout the Outer Banks from Ocracoke to Corolla received damage from wind, ocean overwash and flooding. All lanes of the Bypass were closed in Kitty Hawk near Milepost 4 due to flooding. Traffic is slowly opening up as lanes are cleared. More details and a map can be found at the Town of Kitty Hawk website. The Beach Road is also closed in several places in Kitty Hawk and Kill Devil Hills. When driving, be alert for road closures, detours, standing water, downed power lines and debris. The Emergency Ferry Route have been activated by NCDOT access by critical personnel, Hatteras Island residents, employees of crucial businesses and non-resident property owners and employees of Hatteras Island businesses. At present there is no visitor access allowed for Hatteras Island. For the most up-to-date information, please visit Dare County's Emergency Incident Information page.
Looking to get out of the house now that Hurricane Sandy has passed? Tonight, shake off the storm and get your ghoul on at Kelly's in Nags Head as part of their Halloween Celebration! Festivities begin at 10 p.m.
If you're a food lover make sure you check out the Fall Outer Banks Restaurant Week, which continues through Saturday. Chefs at participating restaurants throughout the Outer Banks present 3-course, prix fixe lunch and/or dinner menus at a price of either $20 or $35 (sales tax and gratuity not included). Don't miss this opportunity to savor some of the best local cuisine. The Outer Banks Chili Cook-off returns as the featured event of the week-long focus on food. Stop by Coastal Provisions Market in the Southern Shores Crossing Shopping Center on Saturday from noon to 3 p.m. and see who's "bringing back the burn" this year. Chilis will be judged in four categories: Best Beef Chili, Best Non-beef Chili, Best Vegetarian Chili and Best Overall Chili. Admission is $15 for adults and $5 for kids ages 6-14 (kids 6 and younger enter free); tickets are sold at the door. The local band Ask Fester will be playing.
Friday brings the November installment of First Friday in downtown Manteo with activities, art opening and musicians throughout the downtown area.
Like horses? On Saturday, Currituck County 4-H Rural Center and Riders for a Cause will host the Riders for a Cause Horse Show at the Currituck Rural Center located at 184 Milburn Sawyer Road in Powells Point. Participants come together as a group of horse lovers, riders and owners to help support our community and raise money and awareness for Dare Foster Children's Fund, a non-profit organization. Registration begins at 8 a.m. with the event starting at 10 a.m. Entry is $1 per person and $5 per class. There are three age divisions: 12-younger, 13 to 18, and 19-older. Awards will be given in each class for 1st through 6th place finishes. For more information call (252) 573-1114 or (252) 232-2262.
This past summer Guy Fieri and the crew of the Food Network's Diners, Drive-Ins & Dives were on the Outer Banks shooting episodes to feature some of our favorite eating establishments. On Monday night stop by and join the new TV stars of the Outer Banks Brewing Station for a Screening Party of their installment of the show. The Pre-Party begins at 8:30 with the viewing starting at 10 p.m. on the Brewing Station's 12-foot screen.
Bag It!, a film directed by Jeb Berrier, will debut Tuesday, November 6 at 7 p.m. at Roanoke Island Festival Park Theater. The showing is part of the 2012-13 Southern Circuit Film Tour series hosted by the Dare County Arts Council and Roanoke Island Festival Park. For more information call (252) 473-5558 or visit southarts.org or darearts.org.
This coming week also presents the opportunity for all of us to do our civic duty and get out there and vote. Election Day this year is Tuesday, November 6. However, one-stop early voting is also available this week. Details regarding times and locations can be found at the Dare County Board of Elections Office website or by calling (252) 475-5630 between the hours of 8:30 a.m. and 5 p.m.
And, finally, our thoughts go out to Hurricane Mo's, Ocean Boulevard and the other local restaurants and businesses that sustained damage during Hurricane Sandy. We wish you the best of luck as you clean up and make necessary repairs, and we look forward to seeing your doors open again soon.

This week you have a chance to win a two night stay at the Outer Banks Inn & a $35 gift certificate to the Outer Banks Brewing Station!
For more information about Outer Banks Inn, check out their website.
For more information about Outer Banks Brewing Station, check out their website.
Last Week's Winner
Congratulations to Misty Denen‎!!!

You won a $50 Gift Certificate to Ocean Annie's and a $35 Gift Certificate to Tortugas' Lie!
For more information about Ortega'z Southwestern Grill & Wine Bar, check out their website.
For more information about Duck's Cottage Downtown, check out their website.