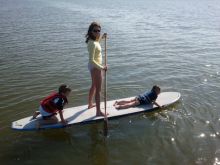 The other night I came home from work with my head in a total computer fog and was thrilled to see that the wind had died and the Roanoke Sound was flat, or "slick calm" as they say around here. That meant one thing for me: paddleboard. As I was running out to grab my board, my four-year-old daughter came running after me, wearing bikini bottoms and wiggling into her rash guard, begging to come along. I had been hoping for a solo paddle, but she was so enthusiastic and cute that I caved and let her come along, as usual.
With her kneeling on the nose (or standing in front of me or sitting underneath me), I paddled in the sound for well over an hour. We stopped by Miller's Waterfront Restaurant's dock to listen to the live music. We paddled down a little mystery creek that led nowhere, stopped by another dock for her to climb on, then headed south toward Sugar Creek Restaurant, where the music was blaring from the gazebo. Close to Sugar Creek we must have seen 50 skates skirting along in the shallows, plus about 200 blue crabs swimming around. We paddled under the Sugar Creek docks, talked to the DJ, then headed back north farther out in the sound. As we navigated around Penguin Islands, bouncing precariously over a few JetSki wakes and dodging crab pots, my daughter was inspired by the numerous jumping mullets to belt out "Summertime" at the top of her lungs. (She knows every word.) That led to "Home on the Range" and "Pearls on a String" and "Fire and Rain." Paddling toward the setting sun, I was the gondolier to a little diva in training, and it was the perfect ending to a summer day.
I'm not a hardcore water sports person - the extent of my exertion on the water has been paddling a canoe or kayak, snorkeling, open-water freestyle or waterskiing. I've never surfed or windsurfed or kiteboarded. But I'm completely obsessed with standup paddleboarding (SUP). It's unintimidating and pretty easy to do, but it has enough challenges and fitness aspects to keep it interesting. And for some reason I'm so much happier standing on a paddleboard that sitting in a kayak. The view is better - you can see deeper into the water and farther around you from up there - and there's more focus on the harmony between the board and your body. Balancing on the board is the main challenge, and it takes some core strength to balance and respond to the waves. And it's interesting to see how much your feet control your movement over wakes and wind-fed waves. I like that fact that the board and your paddle and your body become one, working together as you glide across the water. It's a present-moment practice like yoga: if you're really grounded in your body and responding to the present-moment activity, your mind can go blank.
In the sound, SUP is easy to do if the wind is light. Wind adds a challenge factor. The other day I went out when it was windier than I thought, stupidly going downwind first without a plan to get back upwind. I coursed along great headed south, but when I turned back north it took me about three times as long to get home and each choppy wave I hopped over was a considerable challenge. My arms were burning by the time I made it home.
I went out for my first day paddleboarding in the ocean on a recent calm day and discovered that it's a whole different sport in the ocean. It's so much more unpredictable - and therefore more exciting. The deep water underneath you, the endless area to cover, possible creature encounters, the swells. I considered testing a wave that was rolling over a sandbar, but I have to admit I chickened out looking over the back of the wave. All I could picture was me wiping out and the board bonking me over the head. I think I need some instruction before I venture on to riding waves.
All this is to say: If you've seen the masses out paddleboarding on the Outer Banks and want to try it, go for it. If I can do it, you can do it too. Soundside SUP doesn't require a lot of athleticism, only a sense of balance and core strength and a working knowledge of how to paddle. When you rent a paddleboard, the staff can show you the basics in a couple of minutes before they set you on your way.
Those who already know their way around a wave can go straight to the ocean. Brian Klauser, owner of Ocean Air Sports in Avon, says ocean SUP is very challenging, with a definite element of danger and a hardcore fitness challenge.
"It's an incredible physical fitness test in the ocean," says Brian. "It engages every single muscle. It's a combination of balance, strength, coordination and endurance."
Klauser says he is definitely seeing more and more people interested in SUP, from those who want to leisurely paddle around the sound to those who want to ride ocean waves to those who want to do downwinders - heading in one direction with the wind and getting a ride back home. That's why SUP is so popular on the Outer Banks. Wusses like me can dig the sound and creeks and its sunsets and calmness, while adventurous types can attack waves in the ocean. Just about anyone can do it, including kids and teens. And everyone comes away satisfied.
Ben Eistertz, manager of Island Revolution in Corolla, says paddleboarding is really taking off on the northern beaches.
"It's a great way to see the sound or ocean like never before," Ben says. He says he gets a lot of people who are looking for something that is not extreme. They want sunset SUP tours and lessons. "Once people try it they really like it," he says.
Want to try SUP? Rentals are available at nearly every water sport outfitter on the Outer Banks, from Corolla to Ocracoke. Lessons are available if you want them. Here are a few tips from the pros:
* Your feet should be parallel, about hip-width distance apart, centered between the board edges.
* Keep toes pointed forward, knees bent and your back straight.
* Balance with your hips - not your head.
* Keep your head and shoulders steady and upright, and shift your weight by moving your hips.
* Your gaze should be level at the horizon. Don't stare at your feet.
* It's much like bicycling: When your forward momentum increases, your stability increases as well.
* Stand just behind the center point of the board. The nose (front) of the board shouldn't pop out of the water, and the tail shouldn't dig in.
A few ways to turn a paddleboard:
* Sidestroke: One easy method is to simply to paddle on one side until the nose turns in the direction you want to go. Want to turn right? Paddle on the left. Headed to the left? Paddle on the right.
* Backpaddle: Another fast way to turn or reverse direction is to simply drag the paddle or paddle backwards on either side of the board.
* Sea ("c") stroke: Plant your paddle towards the front of the board and take a long sweeping stroke toward the tail. This is sometimes called a sweep stroke.
More and more SUP guided tours are becoming available, and keep a lookout for yoga and fitness classes on SUP. That's a new trend.
If you want to buy a SUP, expect to pay $1,200 or more. You might be able to find a used board for less money, or you can try one of the new inflatable SUPs that are a little less expensive. Make sure you talk to your salesperson about getting the right size board. Based on what you're using the board for, they'll be able to direct to you the right length for you.
The forecast is for pretty light winds for the next seven days - so you might just catch the perfect learning conditions...
When you're back on land, there is a TON of other stuff going on this week on the Outer Banks. Seriously, our By Day and Nightlife lists go on for miles, but they're divided by day so they're easy to follow. I have to say, if you can't find something to do in our list of events, there's something wrong with you.
I'll just point out a few things for you, and then you'll just need to look around.
Scarborough Faire Shopping Village in Duck has started its weekly Faire Days Festivals every Wednesday from 2 to 7 p.m. There are lots of kid activities - pony rides, a magician, marionettes, etc. - but there are also wine tastings, live music, culinary demos and sales galore for big people.
The merchants in downtown Manteo have also started what's known as Tuesdays in Manteo. On Tuesdays there are special activities in town, like children's story hour, a tapas crawl, art exhibits and demos, sidewalk art contests and much more. This is in addition to all the fun stuff that is already going on in Manteo on a daily basis, from dolphin tours to sailing tours to programs at Roanoke Island Festival Park.
Speaking of, Roanoke Island Festival Park is hosting shows presented by UNC-Greensboro. The kids' show - Pirates for Children is on Wednesdays and Thursday at 10:30 a.m. At night, they're performing Pirates of Penzance in the outdoor pavilion on Wednesday and Thursday at 8 p.m.
A great shopping opportunity presents itself this week at the "Under the Oaks" Arts Festival at Currituck Heritage Park. This is one of the best local art shows, with more than 100 juried artists. It's held Wednesday and Thursday starting at 10 a.m., and there's more than just art. Music, food and kids' activities are there too. I have bought many a Christmas present at this art show. But don't be like me and forget you bought it until after Christmas!
For the literary crowd, Dare County Arts Council is sponsoring a free one-day writing seminar on Saturday. Rick Helms a novelist and forensic psychologist will present the session on character development and plot construction. It's from 9:30 a.m. to 4:30 p.m. at First Flight High School It's free but you need to register. Call (252) 473-5558.
Here's something cool for the kids: Corolla Ocean Rescue's SEALS Ocean Safety Mini Camp. It's a two-hour program for kids ages 6 to 12 who are interested in learning about the ocean, first aid and physical fitness. It's held every Tuesday from either 10:30 to 12:30 or 1:30 to 3:30. Meet on the beach at the Lighthouse. Registration is preferred. (252) 619-2285.
Finally, one of the best ways to eat seafood is when it's prepared by a local. Fish Fry Fundraisers in Hatteras and Avon will give you a true taste of the Outer Banks and also raise funds for the local volunteer fire departments. The menu includes fried fish, cole slaw, hushpuppies, potato salad, baked beans or chips or tea. Cost is $9 for adults and $6 for kids younger than 12.
As I said, keep looking around our site. You'll find so much more to do, see, buy and eat. Have a great week on the Outer Banks. See you on the water...
Hope you can get into some fun this week. There's a lot going on, especially at night. Wait till you see our nightlife listings. Go out and enjoy!

This week you have a chance to win a family 4 pack with Pirate Adventures of The Outer Banks and a $25 gift certificate to Ortega'z Southwestern Grill & Wine Bar!
For more information about Pirate Adventures of the Outer Banks, check out their website.
For more information about Ortega'z Southwestern Grill & Wine Bar, check out their website.
Last Week's Winner
Congratulations to Lydia Brownell!!!

You won a Free Beginner Hang Gliding Lesson from Kitty Hawk Kites and a $25 gift certificate to Old Nags Head Cafe!
For more information about Kitty Hawk Kites, check out their website.
For more information about Old Nags Head Cafe, check out their website.