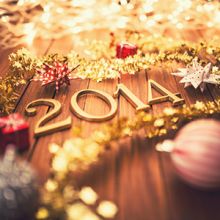 As I write this we have once more arrived at the cusp of a new year. And at this point each year it has become traditional to reflect on the previous year, noting its challenges and its victories, before making our individual statements regarding how we intend to better ourselves in the coming year and how we hope our world becomes a better place.
For me, the past year had been one of deep lows and modest highs. In 2013 I lost my cousin Lee, who had been a fixture of my childhood, to the brain tumors he'd courageously fought for 25 years. And I lost to cancer my great friend Haskell Fitz-Simons, who I'd come to love as family over a period of nearly 20 years. Just days ago, during the Saturday night writing of this blog installment I learned that my friend and talented musician, Eric Snyder, had passed from a sudden illness while home for the holidays in Pennsylvania. During the year both my parents were hospitalized with life-threatening conditions (from which they both ultimately recovered). I watched with sadness as friends I've known for years wandered off to dark places where I will not follow, consumed by anger over grievances often more perceived than real. I worked alongside my mother to pack up and close the Currituck house my grandmother had lived in since she and my late grandfather retired there in 1976.
On the upside, my sister and her family have moved hundreds of miles closer, now living just outside Richmond, VA, and within easy traveling distance. I have great friends and many acquaintances whose company I enjoy. I remain amazed at the amount and diversity of talent that exists just within my own small circle of humanity. I have a job at which I am able to work creatively nearly every day. I inherited several of my grandmother's plants and a perfectly seasoned cast iron skillet that makes the best cornbread anywhere, making her feel close by even though she is now a full day's drive away, living with family in Virginia's stretch of the Blue Ridge Mountains. And I sold a couple of paintings, which is always a boost to the ol' self-esteem.
When I review last year's resolutions they, too, are a mixed bag. I've read more - chalk that one up in the plus column - but have failed miserably at getting more sleep or making the time or space to produce new paintings. Those items will just have to roll over onto the 2014 list.
What would I like to see in the coming year? Less anger. Less fear. More empathy. Yes, empathy. From myself and from others...and for everyone. Sure, there are some who will laugh or maybe roll their eyes at this. But I ask you, as rock legend and songwriter Nick Lowe once rhetorically asked, "(What's So Funny 'Bout) Peace, Love and Understanding?"
The simple truth is that we usually do not know the path by which those we are tempted to judge arrived at the point where we observe them. We see people who are unemployed and have no idea how long or hard they've tried to find another job. We experience the person in front of us in the grocery line paying with food stamps, with prepackaged less-healthy foods, and we might not consider that that food is cheaper than all the fresh veggies and meat we judgingly think they should be buying. My point is, it's sometimes too easy to be in only our own world, with our own experiences, and think that that's THE world rather than just our world. Thus, empathy. May we all open our eyes and hearts even more in 2014 to see what's happening outside our own experiences. And I join with the rest of the folks at OuterBanksThisWeek.com in wishing you all much peace, prosperity and good health in the coming year. Happy New Year!
New Year's Eve
Aqua in Duck joins the ranks of local restaurants offering New Year's Eve celebrations. Aqua's Chef Hester is planning some special additions to Aqua's already popular dinner menu. Get there early and watch as the sun sets to live musical accompaniment beginning at 6 p.m. Later, everyone age 21 and older can ring in the New Year with a complimentary glass of bubbly while enjoying delicious culinary creations paired with wine, cocktails or beer. Reservations are not required but recommended. Call (252) 261-9700 to reserve your seating or book online.
Friday, Jan. 3 will see Aqua's first $5 Friday of 2014. Held each Friday night from 6 to 9 p.m., $5 Fridays feature $5 Tapas, $5 wines, $5 cocktails, beer specials and live entertainment by Monty Hooker. Pre-register at the Aqua website.
Fishing, Sunsets and Other Happenings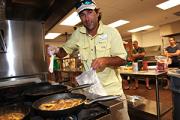 End your year with a morning of fishing under the tutelage of expert angler Chris Crockett during the Catch-it Clean-it Cook-it class at Jennette's Pier in Nags Head on Tuesday, Dec. 31 from 9 a.m. to 12 p.m. Then learn how to clean and cook your catch in a cooking lesson that ends with a fried fish lunch. Suitable for ages 12 and older, the price is $30/person and children between the ages of 12 and 17 must be accompanied by a paying adult. Pre-registration is required.
On the first Friday of each month OBX Artspace at Scarborough Lane Shoppes in Duck holds its Bubbles 'n' Sudz event featuring wine, beer and great art! The first Bubbles 'n' Sudz of 2014 will take place this Friday, Jan. 3 from 5 to 8 p.m.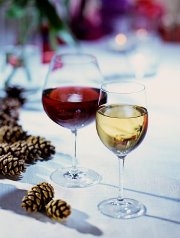 Winter sunsets on the Outer Banks can be just as spectacular as those of spring, summer or fall, they just come a little earlier in the evening. You can witness them yourself each Friday evening from 5:30 to 9:30 p.m. as Sanctuary Vineyards hosts its Winter Sunsets gatherings. Held at the Sanctuary Vineyards winery in Jarvisburg (a quarter-mile south of The Cotton Gin) on the Currituck mainland, the free event features local wine and live music.
If you fancy yourself a bit of a cardsharp and find yourself on Ocracoke Island on a Monday night this winter, make sure you stop in for a hand or two at Gaffer's Sports Pub. All winter long Gaffer's will host a free poker league on Monday nights beginning at 6 p.m. Play some cards, meet friends or make new ones and enjoy a good meal - not a bad way to spend a winter evening on the Outer Banks.