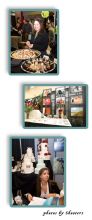 Greetings 2011! Even though I'm inexplicably partial to even-numbered years, I have a feeling that you're going to be a good one, 2011...
I ate the traditional black-eyed peas and collards for good luck and prosperity on New Year's Day, so how can it not be a good year, right? * A friend of mine started a hilarious thread on Facebook about collards: She, being a Yankee, is not a fan of the collard. Southerners responded with vehement defense of their collard tradition, admitting to eating them on New Year's Day whether they like them or not, yet the Northerners remain baffled at the tradition. * I, being a Southerner, actually love collards, but I don't boil them to pulp with a ham hock like my grandmother used to do. I use fresh baby collards that my husband grows in our garden, blanch them in boiling water, then sauté them with little bits of country ham, garlic and olive oil. Anyone who says they don't like collards just hasn't had them prepared well...
Speaking of eating well, how about those stripers? They're finally back and they are tasty! The northern beaches boat ramps have been overloaded with anglers, the ocean is full of boats, and charters boats are booked. Anglers are catching their limits and citations are being issued. With epic 60-degree weather on the first weekend of the new year, fishing was not only lucrative but also fun! Thanks, rockfish, for gracing the Outer Banks with your presence this year! * And let me not forget to praise the local oyster. We've been feasting on Crab Hole oysters and they are salty-good! * We've got it good on the Outer Banks, don't we?...
It being January on the Outer Banks, I don't have a lot of events to report to you, but I'll tell you the little bit that I know...
Dare County Arts Council has a new exhibit opening up this month and a lively opening reception to kick it off on Friday night. * The show is called Surface, and it's a collection of work by seven emerging artists on the Outer Banks: Katy Caroline, Cammie Hall, Lindsay Neilson, Kinga Rojek, Louise Sanderlin, Mary John Slaughter and Mary Wickre. Expect to see paintings, jewelry, fiber arts and sculpture. The opening reception is from 6 to 8 p.m. and will include live music, light fare and libations. If you miss that, stop by the gallery Monday through Friday from 10 a.m. to 5 p.m. or Saturday from noon to 4 p.m. through February 1...
The big deal this weekend is the Outer Banks Wedding Association's Wedding Weekend and Expo. The Expo on Sunday will feature more than 170 vendors plus food, drink, music, door prizes, a fashion show and a chance to win a Dream Wedding Giveaway. It's held at First Flight Middle and High Schools in KDH from 10 a.m. to 5 p.m. * The weekend also includes The Outer Banks Wedding Tour on Saturday from 10 a.m. to 5 p.m. It's a self-guided tour of reception and ceremony sites, spas, accommodations and more from Corolla to Hatteras. * Saturday night there's a Meet and Greet Reception at Pirate's Cove Pavilion from 7 to 10 p.m. * Tickets for the Wedding Weekend are $25 and include the Wedding Tour, the reception and the expo. Tickets for the Wedding Expo only cost $15...
A lot of people will be hitting the gyms this week in an effort to meet their New Year's resolutions to lose weight. The Outer Banks has a lot of options for working out, so good luck to anyone who is starting a new workout plan this year. * Check out our By Day section, Programmed Events tab, for workout ideas...
Do you have any resolutions? I don't really make New Year's resolutions per se, but I do have a new focus: No complaining. Not that I'm a big complainer, but I do catch myself needlessly griping sometimes. So any time I catch myself complaining, I'm making an effort to switch to appreciation mode. * For instance, this morning I complained about my cell phone dropping a call. In appreciation mode, I came up with this: "Wow! I actually have a cell phone that works 99.9 percent of the time, beaming my voice and the voice of my loved ones across hundreds of miles in a single second. Why don't I appreciate that more? It's actually miraculous!" When I griped about the price of gas the other day, my husband told me that we pay less for gas than most any other country in the world. So I'm just appreciating that I can afford to pay for the $3-a-gallon gas. * I've been trying this switch for a while and I'm actually astounded by how many times a day I make even a minor complaint when, really, I have nothing to complain about. Life is way more fun when you're appreciating rather than complaining...
Well, that's it from me for this first week of 2011. * Keep looking around the site for ideas of things to do, places to eat and deals to be had...