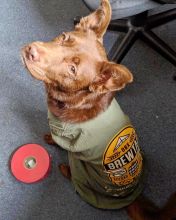 ---
If you're on the northern Outer Banks this weekend, boredom will not be an option. (Not that boredom is really ever an option anytime or anywhere on the Outer Banks.) This weekend is especially full of fun things to do – so full, in fact, that you're going to have some tough decisions to make. You just might find yourself with Too Many Options Syndrome. 
Don't be immobilized with FOMO. We're here to help you sort out a few of your options by day and night. Pick a couple, or several, of these events and just go. We promise you'll have fun wherever you are.
Photo: This pooch named Pilot enjoys Brewtag, and you will too! Photo: Facebook
Friday Night
Theatre of Dare's first show of its 29th season is Nightfall, featuring the haunting tales of Edgar Allan Poe. This show is a perfect fit for getting you in a Halloween state of mind. "It's a challenging and entertaining view of the dark corners of the human psyche by an author who was ahead of his time," says Daniel Ziegler, the actor who plays Poe in the production. The show runs Friday and Saturday, October 25 and 26, at 7:30 p.m. and Sunday, October 27, at 2 p.m. at the Sound State Theater at The Lost Colony. Tickets are $12 for adults and $6 for students. Get more information here.
Another option for the artsy set is a Sugar Skulls Painting Party at New York Pizza Pub on Friday at 6:30 p.m. Local Color OBX will lead the group in painting Day of the Dead-style skulls. All ages are welcome, and the cost is $25 or $35 depending on what you choose to paint. Click here to register.

The Elizabethan Gardens' Harvest HayDay is fun for all ages.
Saturday
Start your day off with a good deed at Surfrider Foundation's Outer Banks Beach Sweep. Starting at 9 a.m. you can pick up cleanup gear and data cards at these locations: Kitty Hawk Kayaks and Surf School, Byrd Street, Kitty Hawk Bath House, Avalon Pier, KDH Bath House, Bonnett Street and Jennette's Pier. Clean up as much as you can for as long as you can. Any little bit helps. At noon, head to Outer Banks Brewing Station for the Trashfest After Party with free food, live music and drinks. More details can be found here.
You runners out there may prefer the Dare to Scare5K and Sweet Treat Fun Run at 9 a.m. The starting line is at the Coastal Studies Institute in Wanchese, and the finish is at the Dare County Center in Manteo. The course is a hidden mix of residential roads, footbridges and trails. If you haven't been on the Marshall and Gussie Collins Walkway, this is your chance to see it. The race is from 9 a.m. to noon. Register here.
Families will not want to miss The Elizabethan Gardens' Harvest HayDay on Saturday from 10 a.m. to 1 p.m. This fall season tradition includes hay rides, a hay bale maze, crafts, a cupcake walk, scarecrow stuffing, a bonfire, a bake sale and so much more. Get the details you need here.
Sure to be less crowded but also full of autumn fun is the Pumpkin Patch at Island Farm. Crafts, photos, farm animals, hayrides and pumpkin picking are just some of the fun activities. The event goes on from 10 a.m. to 4 p.m. Get more information here.
Also on Roanoke Island this weekend is the Wooden Boat Show at Roanoke Island Maritime Museum. Wooden boats will be on display in the Creef Boathouse and park and in the water at the town docks. Stop by and see the handcrafted boats before or after lunch or dinner in downtown Manteo. The show lasts from 9 a.m. to 5 p.m., and it's free to attend. Here are some details. 
Over in Nags Head, Saturday brings Brewtag, a much-loved flight-themed craft beer festival. Held from 12 to 6 p.m. at Soundside Event Site, the festival features live music, a beer garden, food trucks, a kids zone, costume contests and a keg-flying competition that's really fun to watch.  Get all the details you need here.

Haunts Against Hunger Ghost Tour comes to Manteo all weekend and early next week.
Saturday Night
If you love the thought of the dance hall days on the Outer Banks, see if you can score tickets to the Dare County Arts Council fundraiser Swing! It's a gala-type event with music, food and auctions at Pirates Cove Pavilion in Manteo.  Tickets are on sale through Thursday, October 24, so act fast! Get information here. 
Bluegrass fans will enjoy food, music, a costume contest and more fun at the BOOgrass Halloween Bash on Saturday from 7 to 9 p.m. Bring chairs, blankets and coolers and set up on the lawn at Bluegrass Island in Manteo. Click here for more information. 
In Kill Devil Hills, Outer Banks Brewing Station is hosting the Beer & Margarita Monster Mile on Saturday night from 7 to 9 p.m. For a $33 entry fee you get run four quarter-mile distances interspersed with four drinks of your choice (plus you get some swag). Here is your link for everything happening at OBBS this weekend, including the Monster Mile. 
To get you in the Halloween spirit, take a Haunts Against Hunger Ghost Tour with Outer Banks Tastes & Tales and Ghost Tours of the Outer Banks in Manteo.  You'll learn about Manteo's haunted homes and buildings while helping to restock the Roanoke Island Food Pantry. This event is held Friday and Saturday nights at 8 p.m. as well as Monday, Tuesday and Wednesday nights of next week. Click here for the info. 
If you're looking for a serious fright, be sure to head to Wanchese Woods. This haunted woods tour has moved to East Lake, where it might be even scarier than it was in Wanchese. It's held from dark until 11 p.m. and costs $15. The address is 18766 U.S. Highway 64 East. Find the details here.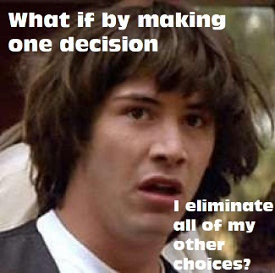 Sunday
Keep your Halloween vibes rolling at the Outer Banks Halloween Parade of Costumes on Sunday in Aviation Park in Kill Devil Hills. Trick or treating is at 2 p.m., and the parade starts at 3 p.m., followed by an awards ceremony for the best costumes. The details can be found here.
That is actually not even a fraction of everything there is to do this weekend. Just wait until you see the lineup of Halloween events and so much more in our Daytime Events and Nightlife listings. If you didn't have Decision Paralysis before seeing those lists of choices, then you'll certainly have it now!