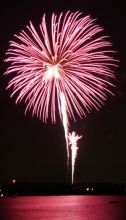 This blog is from 2013. Click here to see the 2014, 4th of July blog!
The Fourth of July week is typically the visitation pinnacle of the Outer Banks summer, and with good reason. Straddling that all-too-brief zone of relaxation between the end of one school year and preparations for the next, by early July the beach's refreshing breezes and cooling surf are beckoning all those seeking respite from the baking summer heat found inland. In addition, the very geography of the Outer Banks, with its wide open horizon-to-horizon views, is perfectly suited to a summer holiday dominated by fireworks displays.
For the upcoming Independence Week you'll find a variety of holiday-related activities and celebratory events, including several fireworks displays from Corolla to Hatteras. But don't let the celebratory mood tempt you to hold your own fireworks display. North Carolina and Dare County prohibit the possession of any pyrotechnics (read "fireworks") that launch or propel into the air or that explode making a sound or "report." Some municipalities allow sparklers and ground displays, but you should make certain of the regulations specific to your township before engaging in these activities (consult the links found here for more information on your locality).
But why run the risk at all when there are conveniently located, much bigger, much better, professionally prepared fireworks shows within easy traveling distance? Below is a description of community fireworks displays and related activities to consider during the holiday week:
Island Farm on Roanoke Island will be celebrating Independence Day 1850s-style! On Thursday, July 4 form 10 a.m. to 4 p.m. bring a picnic lunch to enjoy on the lawn and commemorate the nation's birth with musket-fire, games, ox wagon rides and a reading of the Declaration of Independence. Enjoy refreshing watermelon served at the farmhouse. Musket firings will take place at 1 p.m. and 3 p.m. Ox wagon rides run from 10:30 a.m. until 12:30 p.m. The reading of the Declaration of Independence will take place at 2 p.m. Admission is $6/person; children 5 and younger admitted free.
Duck recognizes our nation's founding with its 4th of July Parade, a one-mile procession that begins at 9 a.m. at the crest of the hill on Scarborough Lane going toward the ocean, continues down Ocean Way, and then turning onto Christopher Drive. Come early to get the best parade viewing spot. After the parade gather at Duck Town Park for a free community social featuring live music, refreshments and the awarding of parade trophies. For more information visit the Town of Duck website.
The Town of Nags Head July 4th Fireworks Spectacular blasts off at 9:25 p.m. from the Nags Head Fishing Pier at MP 11.5 in Nags Head. Fireworks over the Atlantic are a sight to behold!
The 4th of July festivities on Roanoke Island begin at 3 p.m. with the singing of the National Anthem and performances by The Lost Colony Choir, a cappella group Echoes of Heritage and dance troupe Rhythm-n-Grooves, followed by an apple pie contest, decorated bike contest and wacky hat contest. At 6 p.m. local band Old Enough to Know Better will entertain with their popular blend of classic rock and R&B favorites. Later the traditional fireworks spectacle (sponsored by the Town of Manteo) takes place at the Outdoor Pavilion at Roanoke Island Festival Park beginning with a patriotic concert at 8 p.m. followed after sunset by a fireworks display that is always impressive whether viewed from the Park, from your favorite vantage point in downtown Manteo or out on the waters of Shallowbag Bay or the Roanoke Sound. So, pack up the lawn chairs, blankets and picnic baskets and join family, old friends, new friends and friends you haven't met yet for an evening of beautifully vivid blasts and thunderous booms along the Manteo Waterfront.
Up in Corolla the 21st Annual Independence Day Celebration & Fireworks begins at Currituck Heritage Park at 5 p.m. with great food, family-friendly activities and fabulous music! Bring your blanket or lawn chairs and spread out for one of the best fireworks shows around! Admission and parking are free, and the fireworks will begin at dusk. For more information visit the Currituck Outer Banks website.
On Hatteras Island you'll find the official celebration of the Avon Fireworks taking place off the Avon Pier. The event begins at 7:30 p.m. with the fireworks display beginning at dusk. Also in Avon, the Koru Beach Klub will host a free Fourth Celebration from 6 p.m. to 10 p.m. complete with beer, wine, hot dogs and hamburgers with musical entertainment provided by the fiery contemporary blues sounds of Kirsten Thien and her band. Parking at the Beach Klub will be $20/car; parking at Koru Village will be $10/car. Parking onsite is not required to attend the free event, but those who do park onsite will be eligible for a raffle to win VIP seating on the Beach Klub's observation deck for Avon's fireworks display.
Other Happenings
The fun continues in Manteo the day after the big Fourth celebration with July's First Friday festivities from 6 p.m. to 8 p.m. or maybe even later. There's always live music, street performers and art openings plus extended hours at downtown shops and galleries, not to mention a selection of restaurants appealing to a variety of tastes and budgets. As always, the Dare County Arts Council will host its Artist-of-the-Month reception. After dinner, take a leisurely walk along the waterfront's picturesque boardwalk, one of the best treats of Roanoke Island.
Movies on the Sound continues its free outdoor screenings this week with that classic, fractured fairy tale The Princess Bride showing at dusk at the Outer Banks Event Site in Nags Head. Gates open at 7 p.m. and concessions are available. Don't forget your blankets or chairs! Parking is $10/car. Concessions are available each evening. Call (252) 261-0290 for weather updates and cancellations. Visit the website for more information and the list of upcoming movies.
On Saturday, July 6 from 8 a.m. to 12 p.m. the Manteo Farmers Market, located in George Washington Creef Park in downtown Manteo, will be full of local vendors selling home grown, home baked and homemade products. For more information call (252) 473-2133 or visit the website.
Finally, get your tickets and mark your calendars now for Sunday, July 7 at 7 p.m. as two American legends come together when Ralph Stanley brings his Clinch Mountain Boys to Roanoke Island's historic Waterside Theatre, home of recent Tony Award recipient The Lost Colony. Tickets are $25/person and can be purchased online through The Lost Colony's website.