I don't want to rub it in for those readers who aren't actually on the Outer Banks, but the weather here is off the charts wonderful right now. Both the air and water temperatures are in the mid to high 70s, and with a light NE wind, the humidity is low.
It's the best time of year to play outside on the Outer Banks, and if your favorite form of outside play is fishing, then you need to get here. Fall fishing has been exceptional inshore, offshore, in the surf and on the piers. Here's what's happening on the fishing scene.
A New Pier
Good news for pier anglers and inlet fishers is that the Bonner Bridge Pier, the only remaining section of the Bonner Bridge, opened for fishing on October 1. On the northernmost tip of Hatteras Island, the pier stretches 1,046 feet into the inlet, offering fishing opportunities on two sides and from the end. It's open 24 hours a day and is free to use. There's parking for 70 vehicles plus porta-potties and trash bins. The pier was pretty busy this weekend, with anglers catching stripers, sheepshead, black drum and more. Learn more here.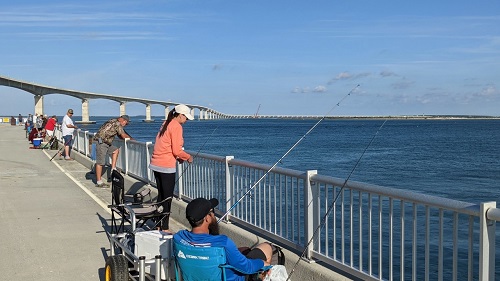 Anglers fishing on the new Bonner Bridge Pier at Oregon Inlet. Photo courtesy of NCDOT.
Pier Fishing
With warm ocean temperatures thanks to the NE winds, pier anglers at Avalon Pier, Nags Head Fishing Pier, Jennette's Pier, Outer Banks Pier, Rodanthe Pier and Avon Fishing Pier have been having great luck. Catches of puppy drum, spot, sea mullet, croaker and bluefish are common, and on the ends of the piers anglers have had some catches of king mackerel, cobia, false albacore and Spanish mackerel. 
Bridge Fishing
From the Little Bridge in Nags Head, anglers are catching mostly speckled trout. Around the Manns Harbor bridges and Baum bridge, anglers are catching stripers and a few sheepshead. Around the Basnight Bridge over Oregon Inlet, anglers are catching sheepshead, stripers, sea bass and more.
Surf Fishing
This week the Nags Head Surf Fishing Tournament is going on, so the beaches in Nags Head are pretty busy with surf anglers and their vehicles. It might be worth heading north to KDH or south to Hatteras Island if you're surf fishing on Thursday or Friday. Thanks to an abundance of baitfish, surf anglers on the northern beaches are catching puppy drum, sea mullet, spot, blue fish, pompano, black drum and Spanish mackerel. Some the big drum are biting on the beaches as well. Down around Cape Hatteras, the fall fishing is great, as always, and anglers are catching Spanish mackerel, puppy drum, pompano and blues. Surf fishing has been pretty hot on Ocracoke as well.
Inshore Fishing
Sound fishing is on fire right now. The soundside of Oregon Inlet has been a hotspot for red drum fishing, both slot size and the monsters. Both sides of the inlet are producing blue fish, flounder, stripers, drum, trout and more. The head boats are catching croaker, sea mullet and sea bass.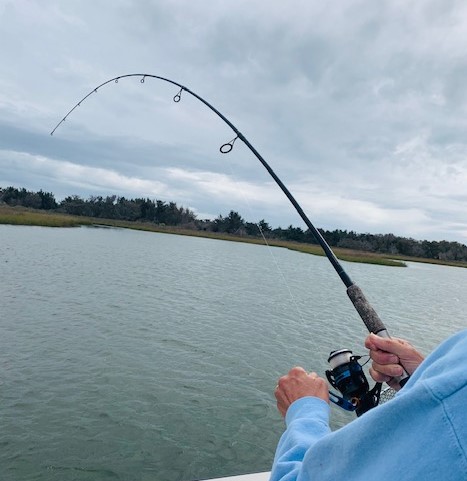 Nearshore Fishing
Nearshore ocean anglers are catching false albacore, Spanish and king mackerel, ribbon fish and blue fish.
Offshore Fishing
Blackfin tuna is the hot catch offshore right now, with boats reporting big numbers. There are also some catches of big eye tuna, yellowfin tuna, wahoo and mahi. The Hatteras offshore boats are catching blackfin tuna, some wahoo and mahi.
Fly Fishing
The guides at OBX On the Fly say they're ridiculously busy because the sound fishing is so good. They're catching mostly red drum and speckled trout in the sound. They use electric-powered kayaks to get into remote water that most boats can't reach, and it's been going very well, they say. OBX on the Fly is the only hub for fly-fishing advice, gear and tips on the Outer Banks. They offer fly tying and casting lessons, materials, rods, reels and more.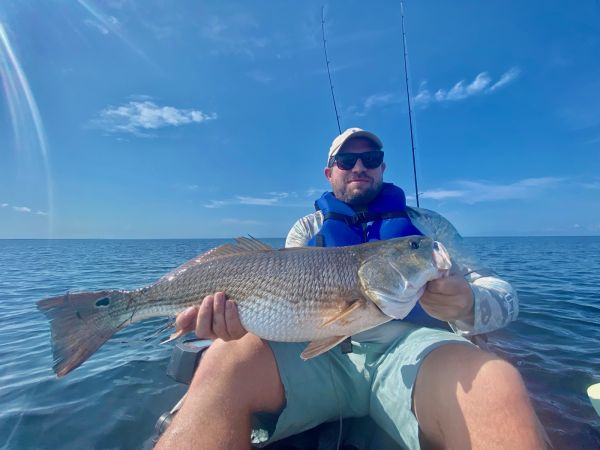 Photo: Fly anglers and kayak anglers are loving these fall conditions. Photo courtesy OBX On the Fly
Speckled Trout Tournament
TW's Bait & Tackle is hosting a speckled trout fishing tournament through November 11. The 2021 Fish for the Fallen tournament honors the sacrifices of America's service members. It costs $20 to sign up, and the largest weighing speckled trout, caught anywhere in the Outer Banks region, wins. The winner will be announced at their annual oyster roast on November 15. All entry proceeds will be donated to the family of a fallen or injured serviceman or woman, with up to $2,500 matched by TW's. Find more info here.
Be sure your N.C. Coastal Recreational Fishing License is up to date; click here to get one if you need it or stop by a tackle shop. If you're on a charter, you'll most likely be covered, but be sure to ask. Also make sure you're up-to-date on the current size and bag limits; you can find those here.
Be sure to check our daily fishing reports as well, sent in from some of the best Outer Banks tackle shops and guides.
I hope you can get out there and enjoy some of this great fall fishing! By the way, that's me up there in the top photo with a drum I caught near Portsmouth Island. Tight lines!