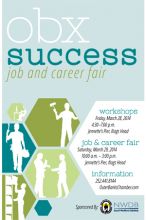 Frequent readers of this blog know that I often end the piece with a "Looking Ahead" segment, typically for an event occurring beyond the blog's weekly timeframe. Such advance coverage gives the public a little more lead time for events that require advance planning, reservations or ticket purchases. This week, I'm leading with what would normally be an end of the blog "Looking Ahead" segment because, after several years of economic challenges, this is an event that has the potential to benefit many of our fellow Outer Bankers, both employers and prospective employees.
On Saturday, March 29 from 10 a.m. to 3 p.m. the Outer Banks Chamber of Commerce and the Northeastern North Carolina Workforce Development Board are joining forces to sponsor the OBX Success Job and Career Fair at Jennette's Pier in Nags Head. Nearly 50 Outer Banks businesses have committed to appearing at the job fair to present job openings and career opportunities and accept applications and resumes. Employer booths will be set up on both the first and second floors of Jennette's Pier. Admission is free for those applying for jobs.
At press time the event organizers were still accepting registration forms from local businesses wishing to participate in the fair. Employer/vendor tables are available at just $50 and $75 depending on size and location. To reserve a table, call the Chamber office at (252) 441-8144.
Local businesses registered to participate include Outer Banks Hospital, Kellogg Supply Co./The Cottage Shop, The Fresh Market, Exercise and Healthy Eating, Village Realty, The Outer Banks Inn & Colonial Inn, Front Porch Café, Sanderling Resort, Sunset Grille, Kitty Hawk Kites, Seaside Vacations, Moneysworth Beach Rentals and Linen Rentals, Gray's Outer Banks Lifestyle Clothing Company, Davis Cleaning of the OBX, Inc., T-Tops Superstore, Tanger Outlets and many others! For more information on participating businesses and their specific job openings visit the Outer Banks Chamber of Commerce website.
Although the Dare County Library will not be accepting applications at the job fair, they WILL be present exhibiting the many resources available at the library to assist with a job search, including books on resume writing and job interview skills and public computers where you can search online job listings and employment resources or type a resume and cover letter. Make sure to ask about Cypress Resume, an online resume builder and Learning Express Library, an online resource for practicing interviewing skills!
Special Note: The Dare County Department of Public Health will be on hand providing information about the Affordable Care Act. With the ACA's March 31 deadline coming up fast, this is the perfect opportunity to learn what you need to apply for health care coverage. The Public Health Department will not be taking applications for health department or county jobs during the job fair.
Other Happenings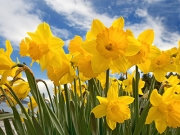 Nothing says Spring like the appearance of daffodils, bright and perky, emerging from the warming soil. Are ya listening, Spring?! Anyway, for those of you who, like me, relish the daffodil's vibrant colors and numerous varieties, here is a must-attend event. The Northeast North Carolina Daffodil Society has joined with the Currituck County Cooperative Extension Office to host the 2014 Daffodil Show on Saturday, March 22 from 1 to 5 p.m. at the Currituck Extension facility in Barco on the Currituck County mainland. Anyone with an interest in daffodils, gardening, arranging flowers and nature will find much of interest at the show. Admission is free. Visit the Currituck Extension Office website for more information and directions.
Having trouble finding a novel and creative activity for your young artist? Check out Fun Friday at Deja New in Kitty Hawk. Each Friday from 3:30 to 5 p.m. the folks at Deja New host a class for boys and girls aged five to ten with the goal of making something creative and unique. Projects change with each class. Classes are $20/child; call (252) 207-6914 to register.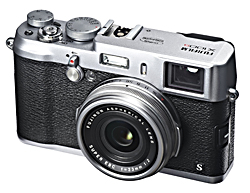 Do you ever wonder what you could actually do with your camera if you ever had the nerve to switch it from auto mode to a manual setting? C'mon, you know you have. And the Dare County Arts Council has just the class to help you break out of your auto mode rut. On Saturday, March 22 from 10:30 a.m. to 4 p.m. award-winning photographer Shirley Whitenack will hold a class at the Dare County Arts Council Gallery in downtown Manteo to teach you the many amazing things your camera can do that you never knew were possible! During this hands-on class the operation of your camera and its components will be fully explained. Workshop topics include camera mechanics, metering modes, exposure, composition, point of focus, seeing light, depth of field and the basics of using a flash. Classroom instruction will be supplemented with an outdoor photography session. Both technical and artistic aspects of photography will be covered and each participant will receive a binder of photography handouts to keep for future reference. The class is $65/DCAC members and $75/non-members. Class size is limited to 10 students. Call DCAC at (252) 473-5558 to register or for more information. Bring your camera, instruction manual, film/digital media and a brown bag lunch.
The Outer Banks Center for Wildlife Education in Corolla has been offering a wealth of fascinating programming lately, and they continue the trend with several more programs in the coming week. Beach Explorations takes place Saturday, March 22 at 2 p.m., and the class is exactly what the name implies - a walking exploration of the beach. Specific content will be governed by what is discovered along the way, from shells, shore birds, types of sand to dolphin sightings and more. The free class meets at the public beach access on E. Corolla Village Rd. across from the Currituck Lighthouse.
Nuts for Nature is a youth-oriented class scheduled for Monday, March 24 at 11 a.m. in which participants use their writing, drawing and collecting skills to document the movements of animals, growth of plants and changes in the weather. All ages are welcome but the free class is recommended for children aged 3 and older.
Your powers of observation will be tested in the Search a Maritime Forest for Tracks and Traces class. The class will meet Wednesday, March 26 at 1 p.m. at the Wildlife Center. There you'll be joined by Center educators before traveling to the four-wheel-drive area and entering the Currituck Banks National Estuarine Research Reserve. During the two-hour class participants will learn the techniques used to track and identify local wildlife and then use those new skills to track animals through the maritime forest and identify common traces of animals that are often overlooked by the untrained eye.
Pre-registration is required for each free class. Book online or by calling (252) 453-0221 ext. 1.
The folks at Jockey's Ridge State Park in Nags Head are keeping things interesting with their own programming. Take part in their free Dune Hike and learn what makes a sand dune grow, what keeps it from completely blowing away and how and why certain animals make their homes on the dune. The low-intensity walk, which takes place Tuesday, March 25, begins at the visitor center and lasts approximately 45 minutes. All ages are welcome.
Dune Critters is a free 30-minute discussion led by park staff focusing on the variety of animals commonly found in the park. From 2 to 2:30 p.m. Thursday, March 27 you'll learn about the unique adaptations and behaviors that help them survive in this sometimes harsh environment. Specific topics vary from session to session. All ages are welcome. Class meets at the visitor center.

This week you have a chance to win a week family pass to Outer Banks Family YMCA & a $35 gift certificate to Gray's Outer Banks!
For more information about Outer Banks Family YMCA, check out their website.
For more information about Gray's Outer Banks check out their website.
Last Week's Winner
Congratulations to Sue Beech!!!
You won a $35 gift certificate to Kinnakeet Clay Works & a $35 gift certificate to Gidget's Pizza & Pasta!
For more information about Kinnakeet Clay Works, check out their website.
For more information about Gidget's Pizza & Pasta check out their website.