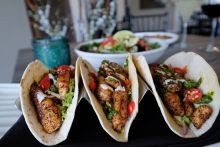 Everyone loves tacos. Whether you're a meat-eater, vegetarian, vegan, pescatarian, gluten-free or an omnivore, there is a taco for you. 
In the old days the most popular meal at Outer Banks restaurants was fried fish or crab cakes with cole slaw and hushpuppies. These days, most restaurateurs will tell you it's fish tacos. Crab cakes are still high on the list for restaurants that serve them, of course. But fish tacos are on just about every restaurant's menu, and they are often the top choice of diners. 
"Our fish tacos and pork belly tacos are our top sellers, next to margaritas and beer," confirms Rob Robinson, chef/owner at Bad Bean Baja Grill. Bad Bean was one of the early restaurants to bring fish tacos to the Outer Banks. Since fish tacos originated in Baja California in Mexico, this makes sense. 
Tacos go way beyond Mexican- and Baja-themed restaurants, however. Even an eclectic, chef-driven restaurant like NC Coast in Duck has a fish taco offering on its menu. 
Most everyone agrees that tacos are tasty, but how you like yours is subjective. Each restaurant has its own unique techniques and recipes, which makes it fun to try them at a variety of restaurants. Some restaurants serve them with grilled fish, while others serve them with fried fish, and some restaurants offer a choice of both. Some offer them as a meal and others more like a street-style snack. Some serve them with traditional Baja accompaniments while others play with more creative flavors.
So I'm offering up a Taco Tasting Tour for you. Here are seven places from Corolla to Manteo where you can try and compare tacos, from traditional Mexican to fish and seafood tacos to pork belly tacos.

Uncle Ike's Sandbar and Grill
Uncle Ike's Sandbar and Grille in Corolla serves their Ike's Famous Fish Tacos with the blackened, grilled or fried fish of the day, salsa, remoulade, shredded cheddar and mozzarella with black beans and Spanish rice on the side. Seen above, Uncle Ike's Shrimp and Scallop Tacos.

NC Coast Grill & Bar
NC Coast Grill & Bar in Duck serves Pescado Street Tacos with cilantro-stung and chargrilled fish of the day, house slaw, sliced avocado, queso fresca and pico de gallo on griddled white corn tortillas. That's them, above. They're on the lunch menu.

Bad Bean Baja Grill
Bad Bean Baja Grill in Kitty Hawk serves their fish or shrimp tacos with pan-seared local fish. And it's truly local. They've used everything from flounder to mahi to ribbonfish in their tacos, depending on what's available. They present them with jicama slaw, cilantro chimichurri and salsa fresca, all of it homemade (even the mayonnaise in the slaw). Bad Bean's Pork Belly Tacos are ridiculously good, made with NC Heritage Farm Pork Belly and a preparation that changes daily. That's them on the left, next to their Grilled Anchiote Chicken Tacos.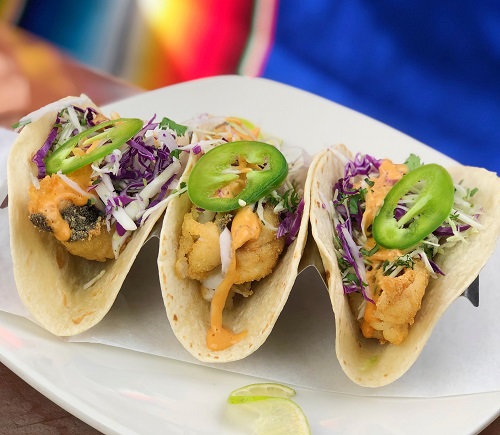 La Fogata Mexican Restaurant Kitty Hawk
La Fogata in Kitty Hawk is a traditional Mexican restaurant, so you know they have tacos on the menu. Their fried fish tacos are served with the traditional sides of rice, salad and pico de gallo, and you can also get beef, chicken and vegetarian tacos. 

Bonzer Shack Bar and Grill
Bonzer Shack in Kill Devil Hills has the perfect laid-back surf vibe to go with your tacos. The fish tacos are loaded with cheddar, cabbage and spicy lime sour cream. They also have chicken tacos with cucumber salad and mixed greens, queso steak tacos, shrimp tacos and veggie tacos. All of their taco plates come with their coconut rice and red beans or plantains. Pictured above, Bonzer's Shrimp Tacos.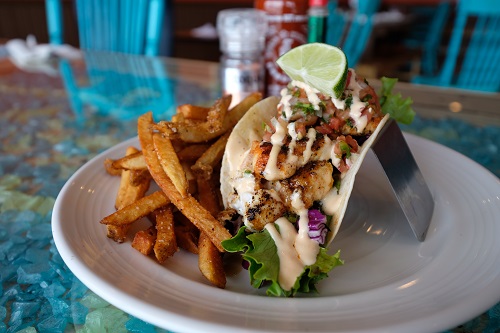 Woo Casa Kitchen
Woo Casa Kitchen in Nags Head serves beef, chicken, shrimp and fish tacos with traditional fixings. Everything they cook at Woo Casa is loaded with flavor and fresh ingredients. Their specials board always has a taco special. Recently on the board were Buffalo Tacos with ground bison and Banh Mi Tacos with roasted pork and shrimp plus pickled veggies. They serve their tacos with fries, as you'll see above.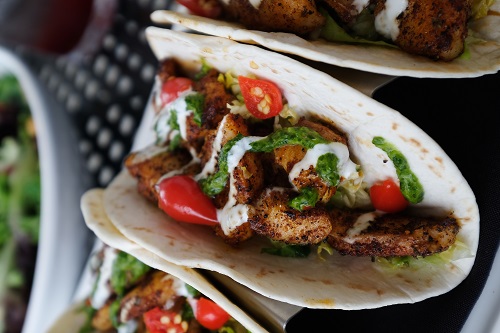 Avenue Waterfront Grille
Avenue Waterfront Grille in Manteo offers fish tacos with the fresh catch that's been blackened, pan-seared or fried. They add Napa slaw, lime cream, chimichurri and teardrop peppers. They also serve vegetarian or vegan tacos with blackened tofu or sauteed veggies. Avenue's fish tacos are shown above and in the lead photo for this blog.
I hope you get to try all seven of these Outer Banks' restaurants tacos. There should be a prize for getting to all seven in one day! That would be an awesome day. If you're washing down your tacos with cervezas and margaritas, please drink responsibly and catch a ride home with someone else. Enjoy!
All photos by Edible Photography & Marketing OBX