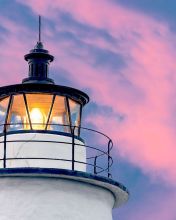 Those are the three words that Ocracoke business owners want you to know.
It seems there is some confusion out there beyond the Banks about the visitation status of Ocracoke Island. And that's understandable because the island has seen some hard times in the past year. Ocracoke was closed for visitors last fall and winter following the damage from Hurricane Dorian last September, and just about the time it opened up, it was shut down again due to government orders for COVID-19.
But make no mistake: Visitors are now welcome on Ocracoke Island! The ferries are running, the shops and restaurants are open, accommodations are welcoming guests and recreational activities are happening. Best of all, those beautiful beaches await.
While recovery is ongoing, Ocracoke Island has recovered remarkably from the major flooding damage of Hurricane Dorian.
"Looking around Ocracoke, you wouldn't know there had been a recent hurricane," says Lauren Nelson, who recently visited Ocracoke from Nags Head. "They've got it cleaned up very well."
Nelson points out that frequent visitors will notice the changes that the hurricane wrought – buildings and homes that have been torn down, rebuilt or lifted higher off the ground, businesses moving and a few places that are still trying their best to get back open. But new visitors may not even realize there was a hurricane here less than a year ago. The island is functioning as a favorite Outer Banks tourism destination once again.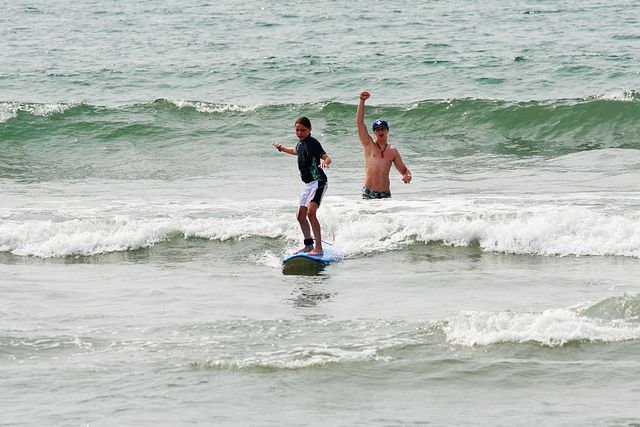 Surfing is a favorite thing to do in the warm Ocracoke waters. Photo: Ride the Wind Surf Shop
"There are options for places to eat, stay, shop and play," says Helena Stevens, director of Ocracoke Civic and Business Association. The association maintains a list of open businesses on its website.
Due to state and local COVID-19 restrictions, of course, nothing is 100 percent normal. Restaurants are limiting the number of people dining inside and are offering more options for outdoor dining and take-out. Shops are limiting the number of people inside, and accommodations must follow extra cleaning and disinfecting precautions, so check-in/check-out times have been altered. Everything is in flux and changing frequently, so the best way to stay on top of it all is to check visitocracokenc.com for the latest updates. The online Ocracoke Observer is also a good place to check for updates about COVID-19 and other island-wide news.
All visitors are encouraged to practice the three Ws: wash your hands frequently, wear your mask and wait/stay at least 6 feet away from people. Reports from the island are that most visitors are following these rules and wearing masks, but some people are getting a little lax, maybe thinking that an island vacation is a vacation from the pandemic. It's not. Follow safety precautions so that we can all enjoy being out and about instead of in quarantine.
The Good News
The great thing about Ocracoke Island is that most people's favorite parts are outdoors and are naturally socially distant. Fifteen miles of beach offer plenty of space for spreading out. Dr. Stephen Leatherman, aka Dr. Beach, just named Ocracoke Lifeguard Beach as the #2 on his list of America's Top 10 beaches. ORV permits for beach driving can be purchased online. Ocracoke has two lifeguarded beaches this year (Lifeguard Beach and the NPS campground beach), and there's a new soundside access point called Devil Shoals Road (across from the NPS campground and no ORV permit needed).
Other outdoor activities that people love – camping, riding bikes and golf carts, hiking on nature trails, stargazing, watersports, birding, boating and fishing – are all available.
North Carolina Coastal Land Trust has great news about Springers Point Preserve. A recent acquisition has saved an additional 2 acres in the preserve, bringing Springers Point to 124 acres of forever-protected land adjacent to Cape Hatteras National Seashore.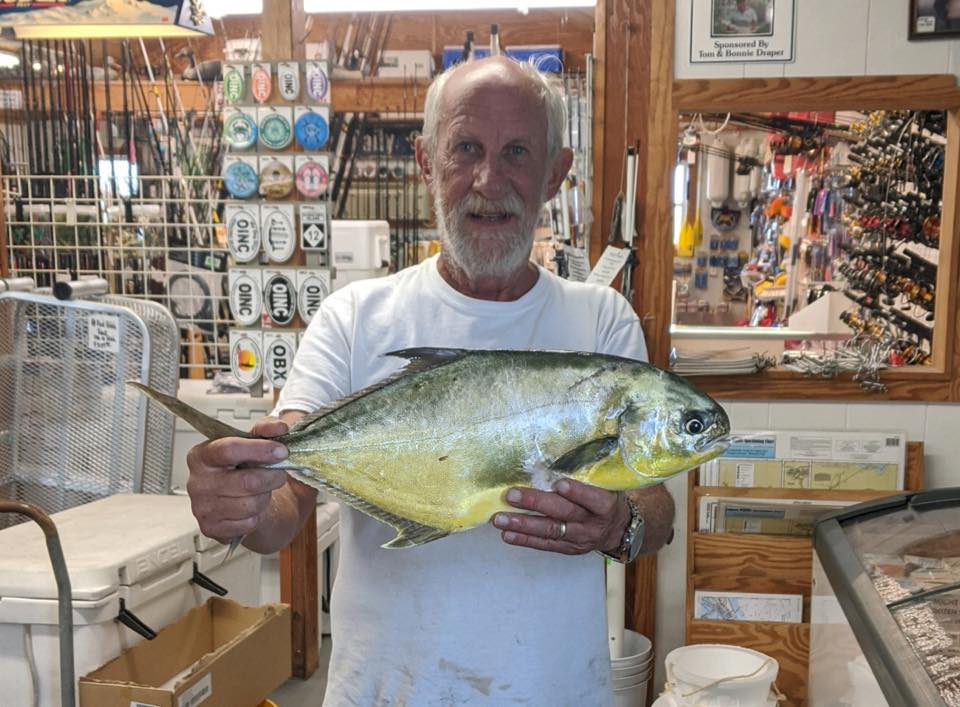 Local resident Bob Toth with a citation pompano. Photo: Tradewinds Tackle Facebook
The fishing report from Ocracoke is stellar. Anglers are bringing in cobia, yellowfin tuna, blackfin tuna, mahi, speckled trout, red drum, pompano and more! See pictures online at Tradewinds Tackle.
A couple of new businesses have opened: Jerniman's Campground (in place of the old Beachcomber Campground) and Sea Break Gift Shop in Community Square.
The Not So Good News
The Hatteras-Ocracoke Ferry is running, but it has fewer runs this summer. Trips run every hour, but starting Tuesday, June 16, more runs are being added. Click here for the upcoming schedule. The passenger ferry has been canceled for the summer. This means there have been waits to get on and off the island (mostly on weekend check-in days). Factor wait times into your travel plans, get there early and be patient! If you're making a daytrip, get to the ferry docks early. The Cedar Island and Swan Quarter ferries are running from the mainland. See the full lineup of ferry schedules here.  
Some sad news: Fourth of July celebrations are canceled. Ocracoke is known for its days-long celebrations, but due to limits in crowd size, all summer events are off. If all goes well, upcoming events may happen: The Fig Festival (August 7 and 8), Blackbeard's Pirate Jamboree (October 29 to November 1) Festival Latino de Ocracoke (November 6 to 8,), Ocracoke Island Jolly Roger 5K, Queen Anne's Revenge 10K & Blackbeard's Half Marathon (November 14 and 15). Stay tuned to visitocracokenc.com for updates. More sad news: Live music, for which Ocracoke is so well known, is canceled too, at least for now. We can only hope the local musicians can get back to it very soon!
A couple of Ocracoke businesses are not returning this year: Graceful Bakery and Gaffers have closed their Ocracoke doors for good. Jolly Roger won't be open until next year, and Crew's Inn is closed through the summer. Some businesses are still working to reopen, some businesses are limiting their hours due to COVID-19 and some are not yet allowed to open (gyms and yoga studios). The status as of June 5 can be found here. 
Plan a Visit
Ocracoke residents have had an extremely difficult year, but they are thrilled to welcome visitors back to the island. They are ready to restart their economy and to see all their returning visitors and make new friends. Remember that the business owners and the local residents are still dealing with many changes, so be nice, be patient, smile and have fun! Explore around our Ocracoke site to discover the many ways to have fun on the island.