There's much buzz circulating around Ocracoke Island's recent reopening to the public. On December 2, visitors were ferried onto the island and allowed to experience it, post Hurricane Dorian, for the first time since September 16, 2019.
Those of us familiar with Ocracoke know things are quiet this time of year – the summer season's bustle quietens to a subdued hum, and many businesses tend to close until the spring. With that in mind and in the wake of the hurricane's devastation, it's not outrageous to wonder, "Why should I visit Ocracoke right now?"
If you know Ocracoke, consider the features you love most about it:
Many of us love the natural beauty, the feeling of being totally removed from it all and the way our internal clocks switch to island time the minute we step foot on this little island. The off-season is the best time of year to revel in all of these elements to the utmost extent. In the winter Ocracoke turns into the sort of place where you feel like you're at the ends of the earth.
If you go right now, all of these qualities characterize the experience that awaits in Ocracoke. While your go-to vacation rental home or cottage may be under repairs or gone completely, there are other Ocracoke homes and accommodations: the Anchorage Inn, Berkley Manor Suites, Blue Heron Realty, Bluff Shoal Motel, the Castle Bed & Breakfast and Courtyard Villas, Ocracoke Harbor Inn, Ocracoke Island Realty, Ocracoke Lightship Realty and Pony Island Motel and Cottages.
Right after the evacuation ban lifted, Outer Banks This Week President Michael McOwen made a trip to Ocracoke to lay eyes on both the island and friends who live there.
When he returned, I expected dramatic stories of devastation. But no: "I had a very nice stay at Anchorage Inn. After meetings with people and visiting friends, 1718 Brewing was open, so I had dinner and a beer."
It sounds so normal – so much like any other stay on the island during December!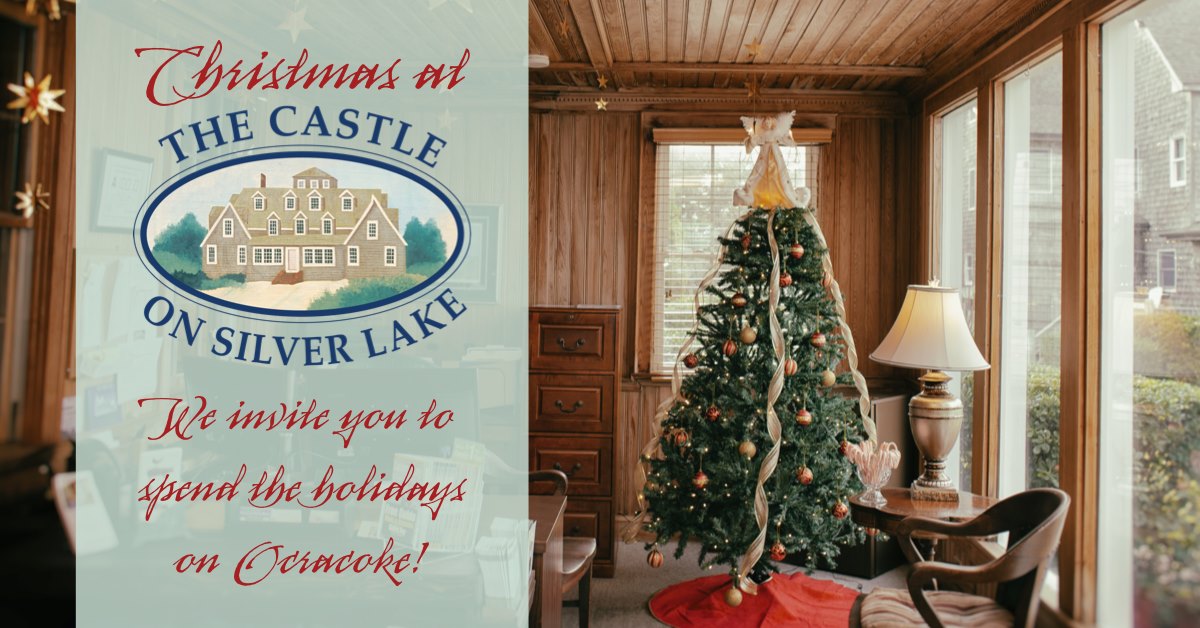 Photo: The Castle Bed & Breakfast welcomes folks back to the island with month-long Christmas festivities.
Not everyone fared as well, however. Numerous businesses and folks are still getting back on their feet.
"There are many layers of disruption," Michael described. "People spend their days rebuilding their businesses. Then they go home and spend their nights rebuilding their homes and maybe their parents' homes too."
Hearing about our Ocracoke neighbors' struggle, it's impossible to resist helping in some way. Alicia Peele, the administrative assistant for Ocracoke Interfaith Disaster Relief that spearheads the volunteer and relief efforts on the island, urges the following methods:
Communicate: Find out the best way you can lend a hand by simply emailing ocracokedisasterrelief@gmail.com. The needs change regularly, and they'll let you know how you can help at the time.
Needs-List Donations: Help out an individual or family on Ocracoke with things they're currently trying to replace or acquire. Emailing ocracokedisasterrelief@gmail.com will match you with a needs list based on your budget.
Monetary Donations: For your contributions to immediately benefit an Ocracoke household with whatever they need most at the time, mail in monetary donations to Lifesaving Church (P.O. Box 68 Ocracoke, NC, 27960), Ocracoke United Methodist Church (P.O. Box 278 Ocracoke, NC, 27960) or NCCUMC (700 Waterfield Ridge Place, Garner, NC, 27529), or donate online here.
Community Outreach: Various organizations and groups formed to help Ocracoke. Joining one of these groups gives your time and efforts the furthest and most effective reach. Find existing groups by emailing the Ocracoke Disaster Relief organization (ocracokedisasterrelief@gmail.com).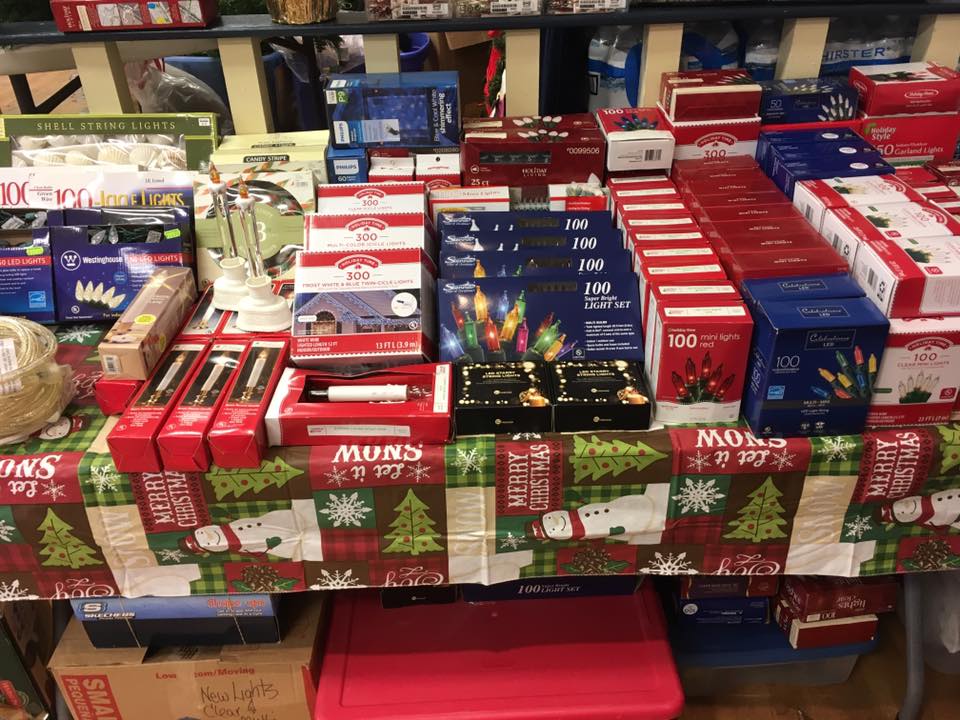 A free Christmas shop, organized by Cape Hatteras Secondary School students, gives Ocracoke residents holiday cheer.
Working through various organizations leading the charge in Ocracoke's recovery ensures efficient and effective use of your time, energy and resources. For more information about what the island does and doesn't need, check out this article in the Ocracoke Current.
However, with the recent approval of FEMA funding, most people expect to have the Ocracoke's commercial operation fully restored in March – around the time places would normally be reopening for the season. "Thanks to the support and work of this close community on the Outer Banks, we're currently ahead of schedule in our recovery work," Alicia said.
Celebrate the island's hardiness and comeback with a visit this winter or in the spring. Stay in that inn your friend owns, or find a new vacation rental to call home if your old one was lost to the storm. Dine at the restaurants on the Back Road and explore the shops surrounding the Ocracoke Village. Treat yourself to that nice bottle of wine, and pick up souvenirs to gift to friends. Pour a little love back into these independent businesses and the community.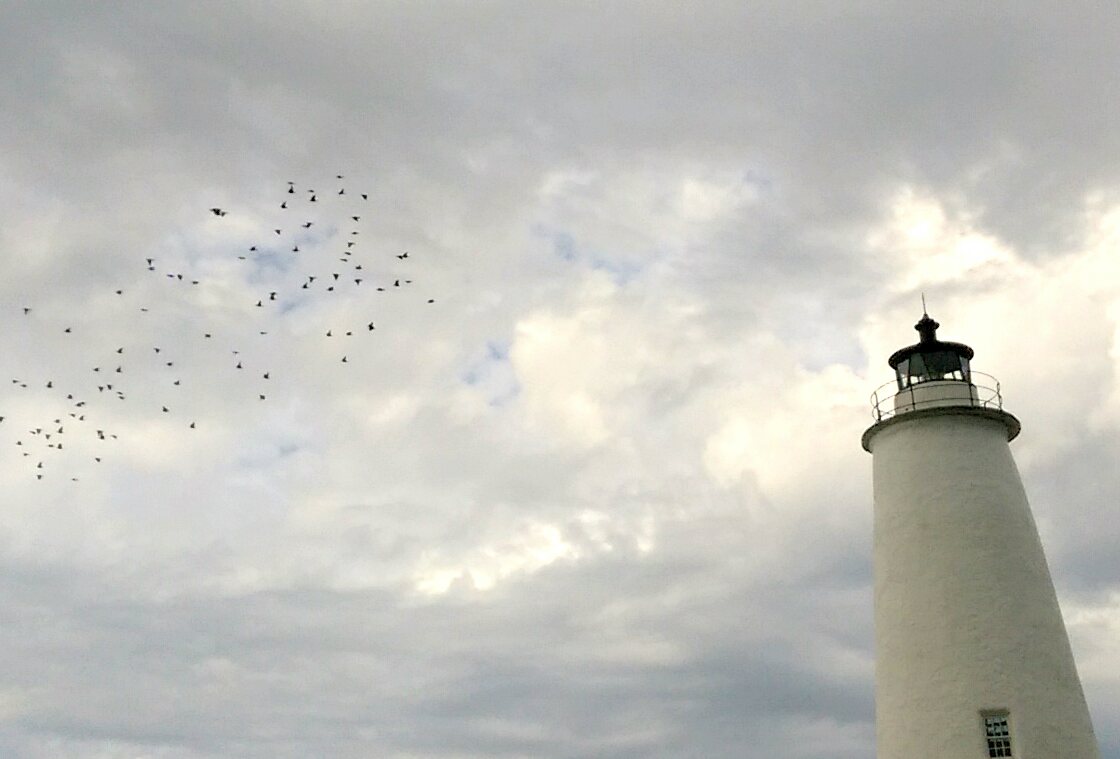 Photo by Ann Eringhaus
Current Ocracoke businesses open include:
Eat: 1718 Brewing Ocracoke, Helios Hideaway, Sorella's Pizza & Pasta and Zillie's. Reopening December 16, Back Porch will be taking dinner take-out orders and offering cocktails, beer and appetizers inside.
Shop: ABC Store, Bella Fiore, Books to be Red, Down Creek Gallery, Island Artworks, Kitty Hawk Kites, Moonraker Tea Shop, Ocracoke Cigars, Ocracoke Variety Store, Over the Moon, Ride the Wind Surf Shop and Village Craftsmen
Play: Angie's Gym, Beach Ride Rentals, Deep Blue Bodywork, OBX Rentals & Shuttle Services, Ocean Atlantic Event Rentals, Ocracoke Alive, Ocracoke Island Yoga and Stillwater Spa and Wellness.
Fish: Dream Girl Sportfishing, Drumstick Sportfishing, Fish Tales Charter Fishing, Gecko Sportfishing and Tradewinds Tackle.
For up-to-date information about re-openings, see the OcracokeCurrent's website.