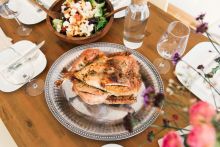 For me Thanksgiving is synonymous with eating out at an Outer Banks restaurant. While I know that the holiday is traditionally depicted as families gathering in a cozy home and everyone preparing their signature dish (including the weird stuff), I always prefer going out. Why? For starters there's no stress to meal plan, cook or clean up. If the restaurant we choose features a Thanksgiving buffet, we stuff ourselves with the essential sweet potatoes and turkey in addition to Outer Banks delicacies (oyster dressing, I'm looking at you). While some families battle for the right to host the annual Thanksgiving meal – or maybe the right to not host it – you could save everyone the squabble by celebrating Thanksgiving at an Outer Banks restaurant. Several eateries invite you to spend Thanksgiving Day with them. Here are a few of the restaurants having special menus or buffets for the event. After all, it's already time to start making reservations.
Northern Outer Banks
For an area of concentrated dining options, you'll have plenty of choices when selecting your Thanksgiving meal in the northern Outer Banks. If you're traveling to the Outer Banks for the holiday and want to dine near your accommodation, you'll feel thankful for the convenience and quality that you get from staying at the Sanderling Resort and dining at the Lifesaving Station Restaurant in Duck. Their four-course Thanksgiving menu lets you design a meal prepared with fine seasonal ingredients, such as Rockingham County free-range roasted turkey or seared sea scallops. After the final bite of pie, it's a quick waddle back to your hotel room, where you can slip into that food coma. The price is $55 per adult and $25 for ages 4 through 12.
If you'd rather feast at a buffet, Thanksgiving at Duck's Red Sky Café lets you get your fill of surf and turf dishes, including the restaurant's signature shrimp and grits and artichoke-asiago dip. There's even a Bloody Mary bar for the adults. Plan your meal any time between 10:30 a.m. and 4 p.m. Prices are $27.95 for adults and $12.95 for ages 12 and younger.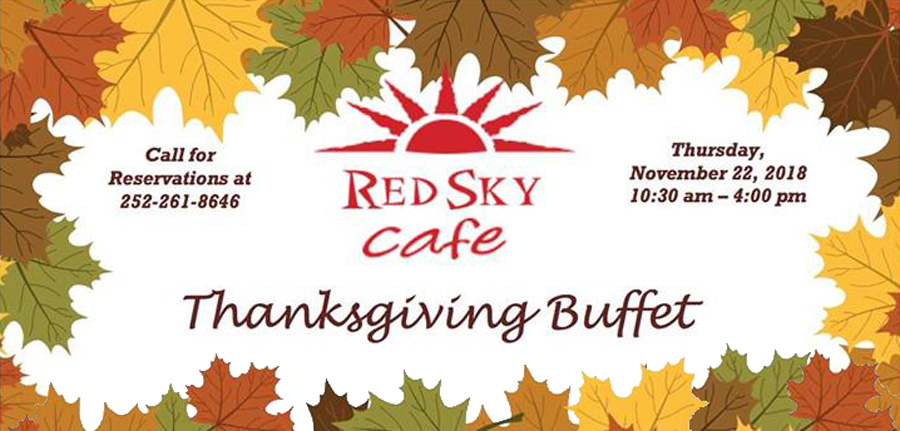 Middle Outer Banks
If you want to spend Thanksgiving in Kitty Hawk, Kill Devil Hills or Nags Head, the numerous tempting choices make deciding which Outer Banks restaurant will host your Thanksgiving dinner a challenge.
A big crew is oftentimes part of Thanksgiving – it's a holiday for family and friends after all! Ocean Boulevard in Kitty Hawk accepts parties for up to 20 people, and diners can expect the restaurant's characteristic upscale cuisine, including the chefs' innovative twists on the standard turkey and pecan pie. They offer an impressive blend of seafood, game and seasonal produce on their four-course menu … and you'll feel extra thankful with one of their signature martinis in hand. The price is $65 per person, and children younger than 12 receive a three-course menu for $20.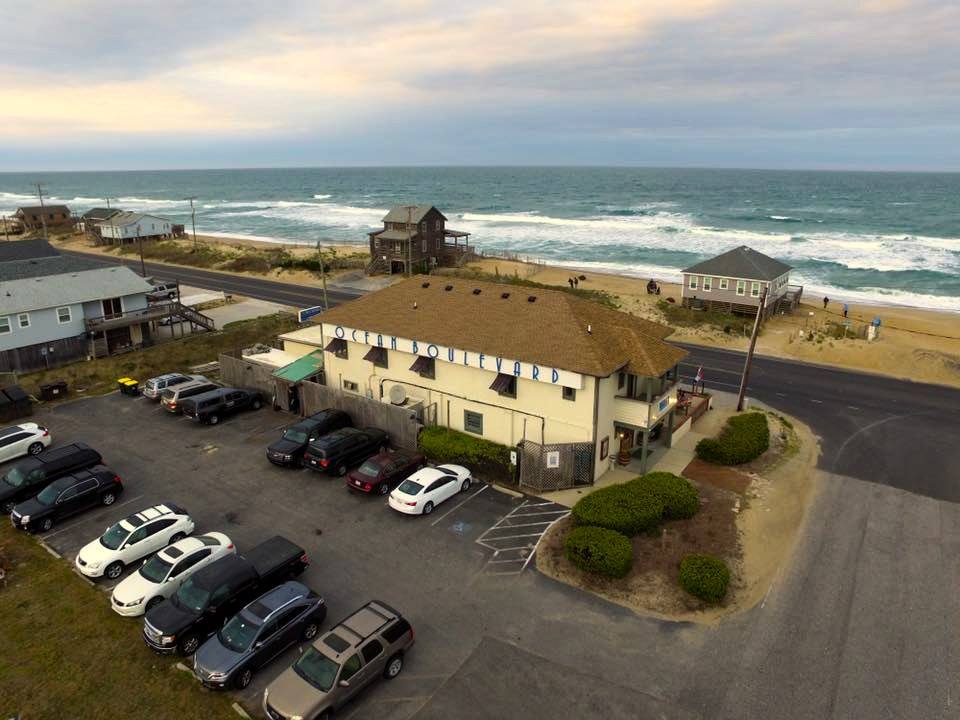 For a home-style Thanksgiving meal that tastes like going to your Southern grandmother's homestead, Rooster's Southern Kitchen hosts a Thanksgiving buffet in addition to their regular menu. Get your fill of sweet potato biscuits, collards, bourbon-molasses-glazed pork loin, apple pie and pumpkin brandy cheesecake, plus lots of seafood comfort food. This Kill Devil Hills restaurant will be open from 11 a.m. to 8 p.m. All tickets for the buffet are $26 each.  
Feeling thankful for our beautiful beach is always on the brain when spending Thanksgiving at a restaurant that boasts amazing ocean or sound views. Food and scenery frequently vie for attention at Nags Head restaurants' Thanksgiving occasions. Pamlico Jack's annual Thanksgiving buffet lets you pair seafood and Thanksgiving favorites with breathtaking views of the sound. Stuff yourself with Kelly's famous sweet potato biscuits and get your roasted turkey with a side of oyster dressing.

If you're one of those families that forgets to make reservations in advance, Basnight's Lone Cedar Café's annual Thanksgiving Feast welcomes walk-ins. Not only will your eyes feast on the sweeping views of the sound, but also you'll feast on their buffet of top-notch seafood, turkey and the fixings plus assorted desserts. Keep in mind, though, that reservations guarantee you a spot while walking-in often includes a wait. Prices are $36 for adults, $18 for ages 12 and younger, and free for children younger than 5.
Southern Outer Banks
If you're spending Thanksgiving in the more remote regions of the area, you can still elect to eat in a restaurant on Turkey Day. Join Cafe Pamlico in Buxton for their Thanksgiving buffet, designed to keep your holiday rich with relaxation, good food and even better company. Can't decide between roasted or fried turkey and pumpkin or apple desserts? I suggest settling for a bit of everything. They seat parties at 1, 4 and 7 p.m.; call (252) 995-7030 to reserve your spot now for your preferred time. Prices are $35 for adults and $15 for children.
Outer Banks restaurants serving Thanksgiving dinner extend well beyond this list. If your favorite restaurant wasn't included here, simply call them up and ask about their Thanksgiving plans.