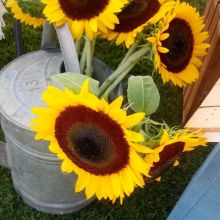 All is not canceled. The Outer Banks still has a few outdoor events going on, including farmers markets and arts markets. Almost every day of the week there's a little market going on in some corner of the Outer Banks. Growers, makers, crafters and artists set up tents and sell their wares, and it's so great to just get out and buy a little something. It's always a feel-good moment when you buy something directly from the person who created or grew it, whether it's a cookie, a bar of soap, a tomato, a watermelon, a jar of honey, a new ring or a painting – or all of the above.
This particular time of year is such a good time to pick up delicious summer produce. Melons, tomatoes, cucumbers, eggplant, peppers, okra, squash, zucchini, corn, potatoes, figs, herbs and more await.
Remember to wear a mask and stand at a distance of at least 6 feet from others. Some of these markets have hand sanitizer on site, so be sure to use it, or bring your own and use it often.
Muse Originals OBX Market
Sundays, Thursdays and Fridays, 5:30 to 8:30 p.m.
Rundown Cafe, 5218 N. Virginia Dare Trail, Kitty Hawk
Muse Originals OBX, once a storefront gallery, has gone mobile inside a restored school bus. They pull up in the yard at Rundown Café three times a week with a selection of their local artwork from a variety of local artists. Other artists and makers set up alongside the bus as well, making this a worthwhile stop to meet artists and buy local stuff. Stop in Rundown for drinks and dinner afterward. Get more info here.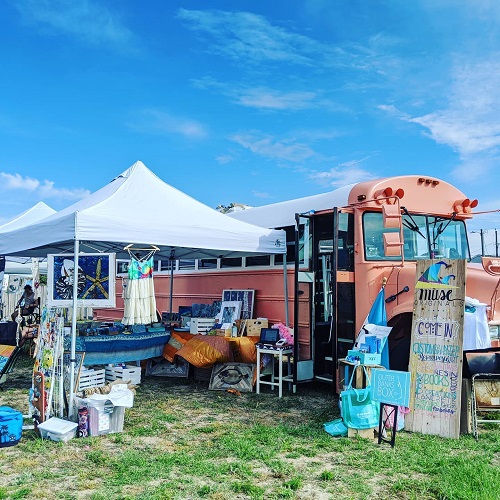 Brew & Arts
Mondays, 5:30 to 8:30 p.m.
Outer Banks Brewing Station, 600 S. Croatan Highway, Kill Devil Hills
Brew & Arts brings artists to the Outer Banks Brewing Station backyard every Monday evening through September. You'll meet a variety of local artists selling paintings, ceramics, jewelry, crafts and more. The backyard at the Brewing Station will invite you to linger for a while. There's a nice playground for the littles, and there's a ton of seating so you can sit down and relax with a beer and appetizers or dinner. Find more info here.
Avon Farmers Market
Tuesdays, 9 a.m. to 1 p.m.
Avon Pier/Beach Klub, 41001 N.C. Highway 12, Avon
Avon Farmers Market features locally grown produce and local crafts, including jewelry, fiber art, ceramics, paintings, metalwork and more. A playground for the kids means you'll be able to shop a little longer. After your shopping, take a walk or fish on Avon Pier. More info is available here.

Dowdy Park Farmers Market
Thursdays, 9 a.m. to 1 p.m.
Dowdy Park, 3005 S. Croatan Highway, Nags Head
You could spend all morning at this market. Shop for locally grown produce, all-natural meats, baked goods, kombucha, pickles and art and crafts while the kids play in the park. Dowdy Park has playground equipment, an exercise trail, sports courts and a big open field for playing in the grass. There are several restaurants nearby for enjoying lunch after your day in the park. Find more details here.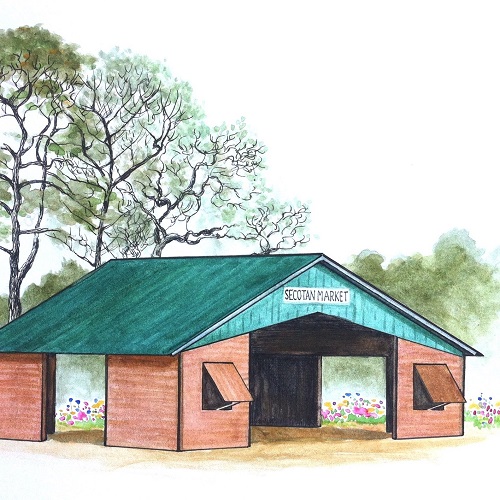 Secotan Market
Saturdays, 8 a.m. to noon
2868 N.C. Highway 345, Wanchese
This is a small, covered market, but its vendors pack a huge punch. You'll find locally and regionally grown produce, all-natural meats and eggs, bread and baked goods, kombucha and ferments, honey, salsa, artists, bath and body products, fiber art and so much more. The ride down to Wanchese takes about 15 minutes from Nags Head and is a beautiful drive with not too much traffic. You might as well drive around Wanchese after, maybe scope out the seafood markets or grab lunch in one of the local restaurants. Find more info here.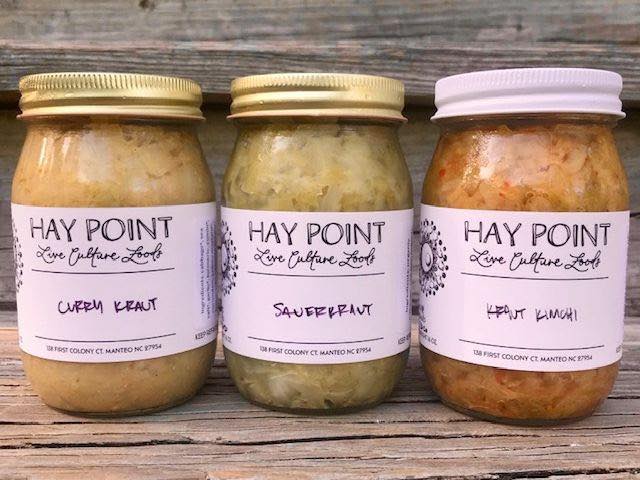 Are you looking for other things to do? Check our Daytime and Nightlife pages for a rundown of a few other events that are still going on around town. Always practice social distancing out there!
Photos: Courtesy of Muse Originals OBX, Secotan Market and Dowdy Park Farmers Market.