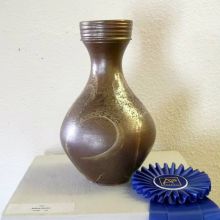 Winter Storm Octavia has come and gone, leaving Outer Bankers wondering, for the most part, what all the fuss was about (but that brief snowfall on Wednesday night was pretty). While those west and north of us got pummeled by wind-driven ice and deep snow, it was, for us, a relatively underwhelming experience. And for those of us still in regular communication with our excitement-seeking inner 8-year old, it was deeply disappointing. Despite the wild-eyed warnings of the Weather Channel, on the Outer Banks we are, so far, relatively unaffected by the predations of Winter 2015. This is not to say that we are completely unscathed. High winds, pounding surf, ocean overwash and flooding have resulted in erosion, property damage and transportation issues. The Rodanthe pier had approximately a third of its length amputated by the raging Atlantic. But, hey, this is life on the Outer Banks…every winter. Whereas other places have weather, we have capricious 800-lb. gorilla WEATHER. Today may be 55 degrees and sunny, but tomorrow may dawn 30 degrees and blowing a 60-knot gale.
Still, like folks everywhere, we keep a sharp eye out for signs of spring, for the green shoots of emerging daffodils, the purple of crocus blossoms, the first osprey sightings. A quick glance at a calendar shows that Daylight Savings Time is scheduled to return on March 8. Ah, Spring. It won't be long now. Right?
37th Annual Frank Stick Memorial Art Show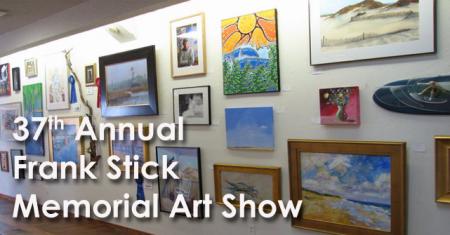 The 37th Annual Frank Stick Memorial Art Show returns for 2015 with it opening reception and awards ceremony at Glenn Eure's Ghost Fleet Gallery in Nags Head this Saturday, February 21 from 6 to 8 p.m. The show, Dare County's longest-running annual art exhibition, has a well-earned reputation for presenting a stunning array of original works in painting, drawing, sculpture, metals, fiber, wood and mixed media. More than $2,500 in cash awards will be offered including recognition for Best in Show, Excellence and Honorable Mention. A People's Choice award winner will be selected by public ballot during Saturday night's opening reception. The Frank Stick exhibit will run from Saturday, February 21 through Friday, March 20. For more information call (252) 473-5558 or visit the Arts Council website.
Meet The Author!
Front Porch Café in Nags Head hosts a meet-the-author/booksigning event for local author Richard McEwan, the creative mind behind children's picture book The Adventures of Sir Buddy and Mr. Pupples...The Rescue, this Saturday, February 21 from 10 a.m. to 1 p.m. McEwan's book tells the story of a lost puppy and his ultimate rescue, along the way introducing the concept of saving strays and fostering homeless pets, themes that reflect McEwan's firm belief that learning to care for animals is the first step in learning to care for others.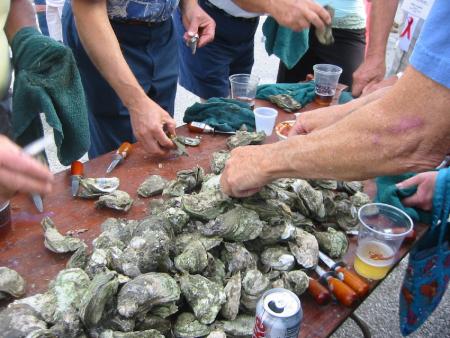 Hatteras Island Oyster Roast
If you missed last weekend's Stumpy Point Oyster Feast you'll be glad to learn that fate, or rather, the North Carolina Coastal Federation, is presenting you with another opportunity to belly up to the shucking tables at the Hatteras Island Oyster Roast this Saturday, February 21 from 2 to 5 p.m. Gather around the fire at Oden's Dock in Hatteras Village for an old-fashioned oyster roast featuring fresh local oysters, seafood chowder, fried fish, refreshments and live music by local band Dragonfly. A $15 standard ticket includes all-you-can-eat oysters, one serving of chowder, one serving of fish and a non-alcoholic beverage. Heavy hitters at the oyster bar (you know who you are) are encouraged to purchase a $20 ticket. Seems only fair considering that for some of us the concept of all-you-can-eat oysters is different by orders of magnitude compared to the expectations of regular folk. How many oysters can we eat? Simple. How many do you have? Finish with something sweet —for an additional donation, help yourself to a homemade dessert from the on-site bake sale. This is an outdoor event, so please dress accordingly. In the event of extremely bad weather, activities will be relocated to Hatteras Village Civic Center.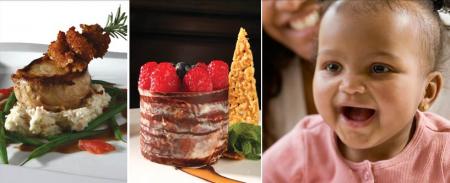 March of Dimes Signature Chef's Auction
Over the past several years Outer Bankers and our visitors have come to recognize and appreciate the local culinary talent producing so much of the food we love here. Bring together a group of these respected local chefs showcasing their culinary masterpieces with a generous sampling of fine wines, fabulous entertainment, a lively auction featuring one-of-a-kind offerings and wrap it all together in a fundraiser for a good cause and you've got the March of Dimes Signature Chef's Auction. During the event, taking place this Sunday, February 22 at 6 p.m. at Hilton Garden Inn in Kitty Hawk, a number of the Outer Banks top chefs will present tastings of their signature dishes and each donate a unique package to the live auction. Auction packages may include fine dining, resort stays, spa vacations and much more. General admission tickets are $65/person; contact March of Dimes community director Stephanie Baker at (252) 573-9035 or e-mail sbaker@marchofdimes.org.
Live Local Music

Jonny Waters & Company opens the week of live music at Trio Wine and Cheese in Kitty Hawk this Thursday night at 7:30 p.m.
Things get into high gear Friday night with Low Pressure playing favorites from the 60s to today at Poor Richard's in Manteo at 8 p.m., Nat's Trio (Natalie Wolfe, Doug Dino and Monte Hooker) at Trio at 7:30 p.m., and Ty Fleming a 9 p.m. at Basnight's Lone Cedar on the Nags Head/Manteo Causeway. Moonshine Band combines original songs with its country roots with rock energy at Kelly's in Nags Head at 10 p.m. and The Hot Signals, an energetic Brit-rock power trio with influences ranging from David Bowie to The Buzzcocks, fire things up at Ocean Boulevard in Kitty Hawk at 10 p.m.
Saturday night sees BC at Aqua in Duck at 6 p.m., Pairadocs at Poor Richard's in Manteo from 8 to 11 p.m., Jeremy Russell at Basnight's Lone Cedar on the Nags Head/Manteo Causeway at 9 p.m., and Sean Olds and the Church of the Eternal rolling into The Brewing Station in Kill Devil Hills at 10:30 p.m. with their folk/Americana blend of influences ranging from Neil Young to Ryan Adams.
On Tuesday Trio hosts Birddog, an acoustic duo composed of Outer Banks favorites Laura and Dan Martier, from 6:30 to 11 p.m.
And finally, at 7:30 p.m. on Thursday, February 26 Virginia-based Mercy Creek brings their original "aggressive" folk rock (combining elements of modern folk, world beat, rock, blues and bluegrass) to Trio.

This time you have a chance to win a one-night stay & a $35 gift certificate to Basnight's Lone Cedar Cafe!
For more information about Oasis Suites check out their website.
For more information about Basnight's Lone Cedar Cafe check out their website.
Last Week's Winner
Congratulations to Laura Overcash!!!
You won a Turtle Pendent from Studio 12 & a $35 gift certificate to Hatterasman Restaurant!
For more information about Studio 12 check out their website.