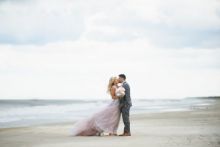 ---
Have you ever dreamed of a beach wedding? Many of us have. You know, toes in the sand, veil lifting in the wind, exchanging I Dos with the ocean or sound providing a breathtaking backdrop? Ahh, can you taste the romance? There are few better places for this than the Outer Banks. Even better, there's no shortage of wedding planners, caterers, photographers, entertainers, venues and more to facilitate your special day. Let's talk plans: Do you want your wedding to be outdoors or in? Heavy hors d'oeuvres or a sit-down meal? DJ or a band? How far should accommodations be from the venue? Overwhelmed? We get it – on the Outer Banks, so many skilled services practically lie at your fingertips, and it can be hard to decide almost anything.
Photo: Outer Banks Wedding Association
The Outer Banks Wedding Weekend, January 19 to 20, is here to save the day (the wedding day, that is). This weekend-long crash course gives grooms and brides-to-be the savvy they need for planning a wedding on the Outer Banks. This annual event rounds up local vendors with wedding services and gives you a rundown of everything each one offers. In the course of two days, you'll meet more than 130 different wedding vendors and visit numerous potential venues to hold the event.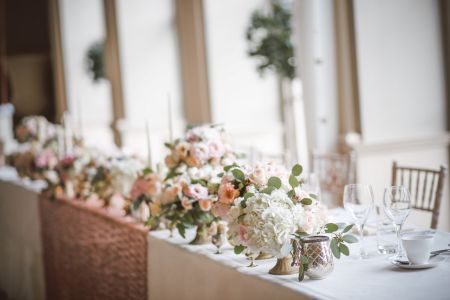 Photo: Carolina Catering and Events
There are two parts to the wedding weekend: the wedding expo and the wedding tour. Admission to both sections of the event is included with general tickets. There's also a VIP ticket, which is specifically for future brides and includes a tank top, wedding weekend swag and a VIP lanyard to increase your chances of winning during the giveaway drawings.
The wedding expo will be held Saturday from 9 a.m. to 2 p.m. and Sunday from 10 a.m. to 2 p.m. at First Flight High School. It's a riveting compilation of various local wedding vendors and every way they can enhance your special day. From photo booths to DJ stations to caterers' open bar examples and wedding planners' mock-reception displays, you'll feel like you're surrounded by samples of weddings for every taste and style. A number of your favorite Outer Banks restaurants will be represented at the expo, and you'll learn how their yummy talents can be incorporated into your own event.
Next up is your chance to experience an assortment of weddings happening across the Outer Banks – and all in one afternoon! With the immersive wedding tour experience, you'll explore the best locations and services in the area, from the vineyards of Currituck to the off-road beaches of Carova, the picturesque downtown streets and storefronts of Manteo's waterfront to the oceanfront hotels in between and beyond. The self-guided tour runs from 3 to 8 p.m. It's a wonderful way to discover different venues and see where the vibe matches your wedding day vision.
Photo: Sanderling Resort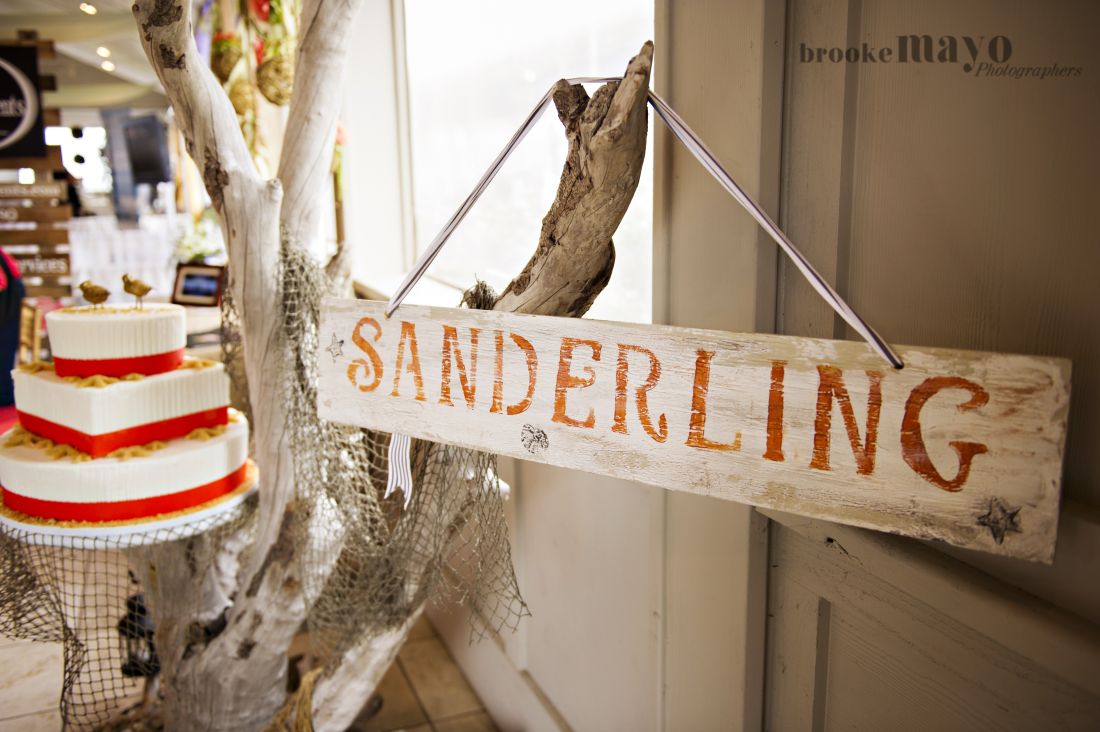 The tour's stops – in addition to the secondary local vendors featured at select locations – cover every potential aspect of a wedding. Visiting them gives you a fun and pampered way to scope out the scene. For example, the Sanderling Resort in Duck presents itself as an accommodation-venue-dining-spa spot to rest, prep and wed, all next to breathtaking ocean views. Come see it for yourself and enjoy adult slushies, appetizers from their kitchen and bakers' samples of cakes and confections. You can also admire the skills of local wedding photographers and get a pulse on DJ styles.
To get the feel of how one business can help you plan, host or cater your wedding reception, look no further than the mock wedding reception at Sandtrap Tavern. You arrive, and it's like walking into three weddings at once. Check out their outdoor event space on Sea Scape Golf Course, decorated as it could be for a real reception and complete with live music from local DJs, acoustic musicians and multi-piece bands. Carolina Catering and Events will also be onsite, showing off their rentals, food and beverage catering services and more.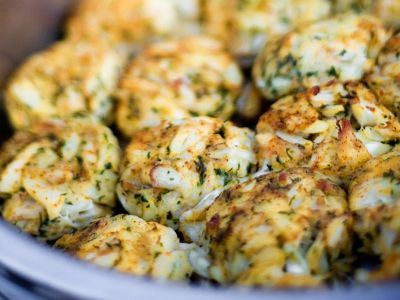 If you're having a beach wedding, you're going to need the food to match. Basnight's Lone Cedar Catering will cater events, offsite and on, with menus designed to emphasize fresh and local seafood. Check out their style in the form of light hors d'oeuvres and refreshing mixed drinks at Basnight's Lone Cedar Cafe in Nags Head. Live music paired with amazing views of Roanoke Sound creates a sophisticated yet relaxing environment. Other vendors onsite will display their photography, wedding planning, rental, entertainment and cake-baking services.
Photo: Mary Basnight Photography
No matter who caters your wedding reception or where it's held on the Outer Banks, you know that it's not complete without the appropriate beverages. And what could be a better way to toast an Outer Banks wedding than with an Outer Banks wine? Sanctuary Vineyards in Currituck opens its doors during the wedding tour for each bride to participate in a reserve tasting and tour of the vineyard, helping them select the perfect wine for each event. Each bride will also be entered in a raffle for one of the vineyard's French oak wine barrels.
These stops are just a selection of the many wonderful places and vendors to see and meet during the 2019 Outer Banks Wedding Weekend. The Outer Banks Wedding Association provides a comprehensive guide of all the participating vendors at the expo and all of the tour's stops and vendors. General admission tickets cost $20 each, and VIP tickets cost $40. Wedding planning is notoriously daunting, but listen: It doesn't have to be! The Outer Banks Wedding Weekend is your opportunity to plan your special day, all in a weekend and while having a blast.