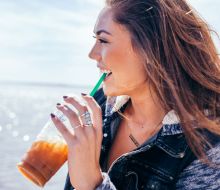 Some people are addicted to coffee. I'm addicted to coffee shops. I love the scent of freshly ground espresso mingled with the aroma of baked goods, the laid-back music, the mismatched furniture (the funkier the better), the environments that lend themselves to both a casual and relaxed meeting ground or a productive oasis when you need to crank out some laptop work. All of these elements come together within a good coffee shop. It seems our society craves coffee and worships the coffee shop culture. Thankfully for us, there's no shortage of coffee shops on the Outer Banks.
There's a place for every caffeine-related occasion, whether it's meeting with friends, working remotely in an interruption-free zone, consuming caffeine with a yummy meal or, of course, getting in and out with a damn fine cup of coffee in hand. Here's my personal guide to a few of my favorite Outer Banks coffee shops. See if your favorite made the list or use it to inform your next outing!
Brew for the Beach
Morning View Coffee
For a coffee shop where the line blurs between the beach and the shop itself, try the Morning View Coffee in Nags Head. Its massive burlap bags of coffee beans, rainbow-colored palette, surf-inspired wall art and drinks aptly named for the beach, such as the Nor'easter or the South Swell, create a fun and relaxing environment. This is the sort of coffee shop that welcomes beachgoers with bare, sandy feet. It has a large following: Vacationers rub elbows with locals heading to work, and the Ocean Rescue guards swing by for a caffeine fix before heading to the stands. Well-behaved dogs get to hang out with their owners at the shop, and I go see them when I need puppy-loving.
Most popular: Samoan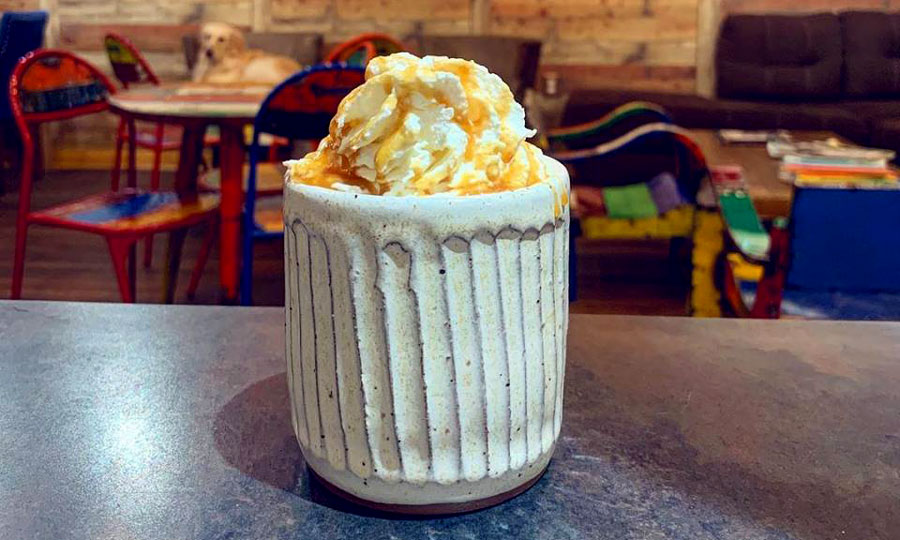 Photo: Morning View Coffee House & Roastery, Facebook
The Meeting Grounds
Front Porch Cafe
It's honestly hard to think of an Outer Banks coffee shop that wouldn't make a good meeting place. But for most locals, the go-to meet-up place is Front Porch Cafe. After all, with locations in Kill Devil Hills, Nags Head and Manteo, Front Porch Cafe is never far away. With knowledgeable baristas, at least three different drip coffees always on offer and array of cushy seats mixed with productivity-inducing tabletops, Front Porch Cafe is a mainstay for those getting together with friends or conducting a casual business meeting. They're known for their large offering of Outer Banks-inspired coffees, all roasted in-house, and for carrying products from local artists.
Most popular: Dawn Patrol drip coffee
Food and Fuel
Waveriders Coffee, Deli and Pub
When I need coffee, which is pretty much always, but I also have a growling stomach to quiet, I go to Waveriders Coffee, Deli and Pub (commonly known as Waveriders) in Nags Head. This bright and open space has a substantial breakfast and lunch menu in addition to the expected coffees, espresso drinks, smoothies and bakery items. Their deli meats and cheeses enable them to offer quite the selection of sandwiches, wraps, breakfast sandwiches and other items, and many of them are named after local customers. Try Bruce's Breakfast Burrito for a brunch item that packs a punch or choose a light bite with the soup or salad special. In a rush? You can even call in an order to grab on the go.
Most Popular: The Hawaiian Mocha

Photo: Waveriders Coffee Deli Pub, Facebook
Ambiance is Key
Duck's Cottage Coffee & Books
If you're hunting for a coffee shop with that feels cozy, inviting and thought-provoking all at once, check out Duck's Cottage in Duck. A century-old converted hunting lodge houses this coffee shop/bookstore, situated at the water's edge on the Currituck Sound. It's lovely whether you're inside the building or out. Grab a cup of their wildly popular Coconut Crunch Coffee or their specialty Mucky Duck latte, if you're feeling indulgent, and sip as you browse the indie bookstore's shelves. Or kick back on the front porch's chairs and take in the breeze and view of the sound.
Most Popular: Coconut Crunch drip coffee.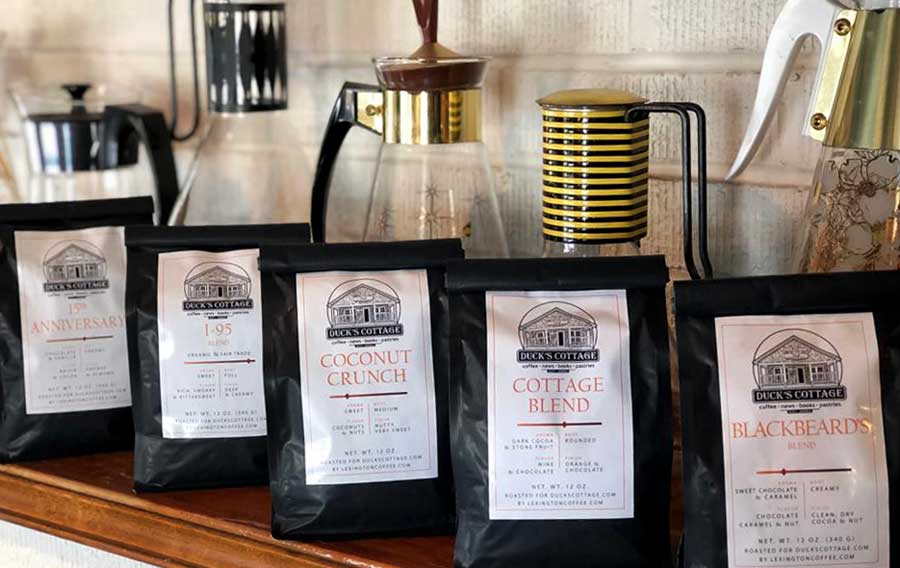 Photo: Duck's Cottage Coffee & Books, Facebook
Worth the Drive
Ocracoke Coffee Company
Would you travel for an exceptional coffee experience? Um, yes, especially if it's to Ocracoke Coffee Company. This adorable little island house has been brewing coffee for O'cokers since 1995, back when then-owners Iva and Monk Garrish lived there. The smell of hot coffee, Iva's fresh-baked treats and the inviting front porch drew people there, giving them a spot to relax and catch up on the island's latest happenings. Since then the place has changed ownership, undergone renovations and expanded their menu, but the friendly, communal vibe remains unchanged. They have four daily roasts in addition to espresso drinks, teas and smoothies. You can still sit on that famous porch or kick back in the Adirondack chairs arranged in the front yard. Locals and visitors alike frequent the coffee shop, many knowing they'll bump into friends or acquaintances here. They go for the consistently good coffee and smoothies, the delicious baked goods, the face time and because relaxing with a beverage while enjoying the fresh air is about as Ocracoke Island as it gets. They're open 7 a.m. to 12 p.m. every day in season.
Most Popular: Trail Mix Latte or cinnamon bun
---
What's your coffee shop of choice? Did your favorite place (or favorite drink) make the list? Let us know in the comments section. For more information about every coffee shop on the Outer Banks, check out the Coffeehouses and Smoothies section of our Restaurants listings.