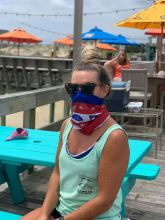 One month in on the re-opening of the Outer Banks, and these islands are nearing capacity. Since the bridges opened on May 22, carloads of visitors have been streaming in from all over the country. I've seen a ton of plates from all of those places that are easy to drive from – Ohio, Pennsylvania, Virginia, West Virginia, Maryland, Connecticut and New York – this past month. Rental companies and campgrounds are reporting that they're way ahead on bookings, and grocery stores are reporting epic, 4th-of-July-type sales in mid-June.
Photo: Doing the right thing at Fish Heads Bar and Grill in Nags Head.
People who already know and love the Outer Banks are flocking to their favorite places, and new visitors are checking out the scene as well (maybe it's because they don't want to fly anywhere or maybe it's because Forbes.com recommended the Outer Banks as the #1 place in the country to vacation during the pandemic).
The Outer Banks is a hot destination right now for reasons besides the beautiful, wide-open beaches. Not all states have allowed accommodations, restaurants and shops to open, but North Carolina has. Eating seafood in a restaurant, shopping for new summer clothes in a boutique, riding a Jet Ski, going on a dolphin watch tour or charter fishing trip – all that fun stuff and more is available here, with COVID-safe restrictions, of course.
Outer Banks businesses are thrilled to welcome visitors and see the economy rebounding, but here's the thing: The Outer Banks is maxing out in visitation, but local businesses are struggling to keep up in terms of staffing.
Staffing shortages are real this summer. For one thing, every year the Outer Banks welcomes around 1,800 international student workers in the J-1 program. According to Karen Brown, president and CEO of the Outer Banks Chamber of Commerce, most of these students work at least two jobs, so that's around 3,400 full- or part-time jobs that they fill every year. Due to COVID-19, the numbers of these J-1 workers has trickled down to barely a handful; a few are here, but not nearly in the numbers as before. Another reason there are so few workers is that the Outer Banks housing market is expensive, so many workers just can't afford to move here.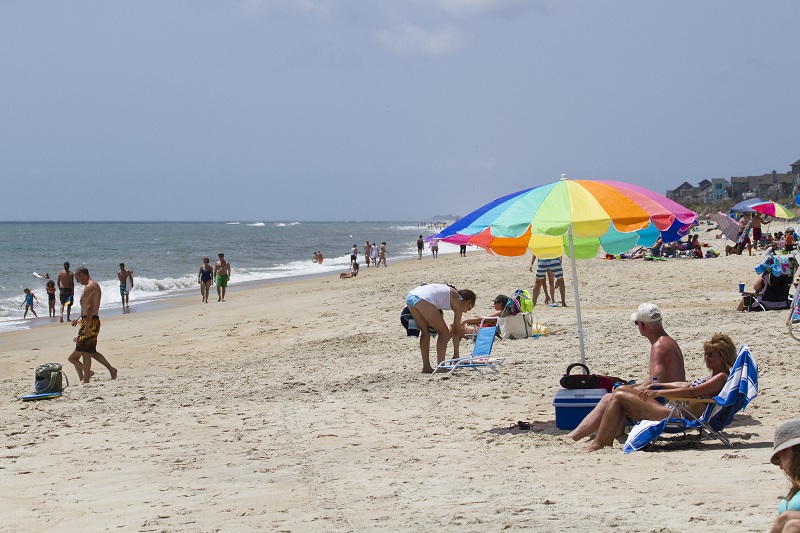 Just about every tourism-related business is working short-staffed – and at the same time dealing with all the new rules and regulations for COVID-19.
Here's just a sample of the regulations:
Restaurants: Can operate at 50 percent capacity. They must rearrange tables for social distancing. Staff has to wear masks and gloves (and servers change gloves after visiting every table). Cleaning protocols are lengthy. For example, says Vicky Basnight at Basnight's Lone Cedar Cafe, the trays are sanitized between each visit to the table to deliver food or pick up plates.
Stores: Can operate at 50 percent capacity. Most stores require workers to wear masks for their entire shift. Extra cleaning protocols are in place. Some stores do not allow trying on clothes or allow returns or exchanges.
Vacation rentals/hotels: Cleaning protocols are vastly strengthened. Maintenance staff have little to no interaction with guests.
With all this in mind, I decided to check in with the service industry pros to see how things are going. Here are some of the reports I got.  
The good: Waiters, counter staff and delivery drivers reporting super-generous tips. Diners eating quickly and heading out so that others diners can sit down. People taking advantage of take-out fare. Bed and breakfast visitors happily staggering their morning meal times. Renters patiently waiting to check in while their cottage is cleaned. People waiting in line at 6 feet apart.  
The bad: Diners not leaving tips for servers or delivery drivers based on slow service. Customers complaining loudly about not being able to sit where they want because of distancing issues. Businesses not requiring masks. Stores not following 50% capacity rules. Renters scowling in the driveway while the cleaners hurry to sanitize their cottage for check in. Shoppers complaining about stores being out of things.
The ugly: People refusing to wear masks. Diners leaving negative reviews on social media and review platforms based on slower than normal service or the inability to change food orders (one we read was from woman complaining that she couldn't get fried fish on a broiled seafood platter!). Drivers yelling at the ferry staff because the line is long.
The main thing that Outer Banks businesses want customers to know?  "Please be patient; we're doing the best we can."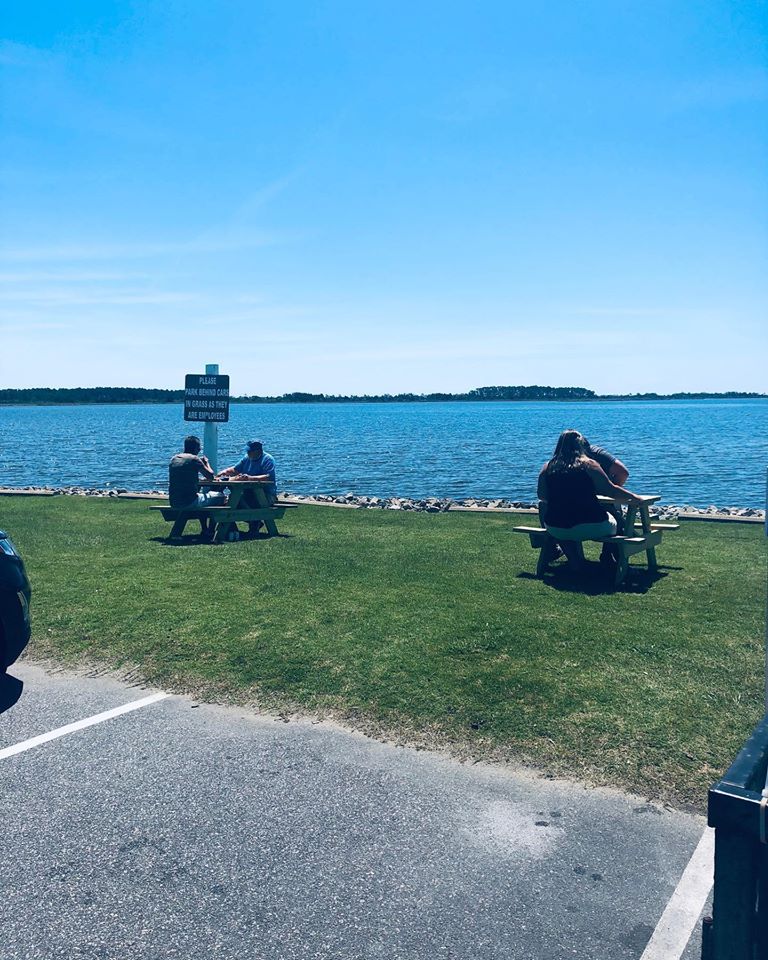 Photo: Makeshift outdoor dining at Basnight's Lone Cedar Cafe.
"This really is a time when patience is a virtue," Brown says. "Businesses are doing a great job, but they have so much to deal with in terms of staffing and rules and regulations."
Brown says she's getting a lot of calls from potential visitors who are concerned about local COVID protocols. "Most of them are coming with the mindset that, yes, things are going to be different and they are going to have to be patient. Many are just happy because where they're coming from they can't even go to a restaurant."
But frustrations can escalate once people get here and actually have to put their patience in practice. Visitors are often coming from stressful situations, and workers are tired and can get testy. Tensions may escalate on both sides, but Brown urges people to resist complaining on social media in the heat of the moment.
"Rating sites and social media just seem to make things worse," she says.  
What she knows for sure is that businesses are really happy that people are here in such big numbers and are willing to spend their money locally. "Now it's just about making everybody happy," she says.
Of course, making everybody happy is difficult these days. Lee Nettles, executive director of the Outer Banks Visitors Bureau, puts it well when he says, "We're in the same conflict as the rest of the country. We've got to keep those economic wheels turning, and thank goodness our businesses can recover and make some money. But at the same time, people are anxious about what's going to happen and if there will be a rise in cases. So, it's frustrating to see people not wearing masks. It's a simple thing you can do to stop the spread. It's very important for people to have a sense of responsibility and do their own part, regardless of what others are doing."
Do you want to contribute to the happiness and sunny disposition of the Outer Banks? Here are a few tips that can make things go smoother.
Wear the mask. Wash your hands. Keep your distance.
No mask jokes with servers and front-line workers. They don't have a choice about wearing it, and they're actually doing you a big favor by doing so. Return the favor by wearing yours too.
Restaurants are operating at 50 percent capacity, so if you're dining out, enjoy your meal but don't linger afterward. They need to refill that table.
Tip well, whether it's the server, the counter worker, the delivery driver or the person cleaning your cottage or hotel room.
Remind your kids about social distancing too. Rein them in to stay 6 feet away from others.
When shopping, prepare to wait outside your chosen store if the store is already at 50 percent capacity.
Do your best to stay calm and kind, even when others around you aren't.
Make a plan for slower travel times. The roads are congested with the cars of so many visitors.
If you absolutely need it, consider bringing it from home. Staples sold out of printers and ink one week because of all the people working from their vacation house. Walmart sold out of bath towels last week, the home-goods stores are really low on comforters and pillows, and sometimes the grocery stores sell out of toilet paper (though the supply seems to be up).
We know these are difficult times. We know that there are a few locals who are being nasty to visitors too (but we also know that these people are the exception). The overwhelming majority of people – both locals and visitors – are being kind and patient, and we appreciate those people.
Spread the kindness not the virus, and let's all have a great summer!