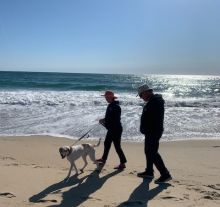 Does it seem like there are more dogs than ever on the Outer Banks now? Maybe more locals got new pets during the pandemic, or maybe more visitors are finding a way to bring their dogs with them to the beach; either way, the beaches are positively populous with pets. It's a dog party out there every day.
My dog, Cedar, and I love meeting all these new friends on the beach in Nags Head every morning. Today Cedar sniffed the rears of a Labradoodle (of course), a pit bull, a couple of Shih Tzus and a sweet little mutt named Cello. He ran in the surf for a bit with his old friends Buddy and Shadow, two springer spaniels who live near our usual beach access, and looked longingly at a couple of passing retrievers who weren't allowed to stop and play. Judging by the number of times I had to urge him along, apparently Cedar also found many, many traces of the dogs who were there before us.
All this four-legged activity usually goes pretty smoothly. Most people follow the rules of keeping the beach clean and keeping their dogs from bothering others. As summer is approaching and the beaches are filling up, let's revisit the local leash laws.
Outer Banks Beach Leash Laws
The National Park Service and local towns and county have leash laws in place on the local beaches. Here's what you need to know.
Corolla/Currituck County
Dogs are allowed on the beach year round as long as they're on a leash.
Duck
Dogs may be on the beach year round without a leash as long as they remain under the watchful eye of their owner and return when called.
Southern Shores
Pets can be on the beach year round as long as they are leashed. From May 15 to September 15, dogs are not allowed on the beach from 9 a.m. to 6 p.m. but can come before or after those times. The rest of the year dogs are allowed anytime.
Kitty Hawk
Dogs are allowed on the beach year round. From Memorial Day to Labor Day, dogs must be leashed. From 10 a.m. to 6 p.m. the leash must be no longer than 6 feet. From 6 p.m. to 10 a.m. the leash can be up to 12 feet long. The rest of the year dogs can run leash-free as long as the dog is within 30 feet of its owner and will come when called.
Kill Devil Hills
Dogs on leashes are welcome on the beach year round, any time of day in the off-season. From Memorial Day to Labor Day, dogs are only allowed on the beach before 9 a.m. and after 6 p.m.
Nags Head
Dogs are allowed on the Nags Head beaches year round but must be on a leash of 10 feet or less at all times.
Cape Hatteras National Seashore (Hatteras and Ocracoke islands)
Dogs are allowed on the beach year round, but they must be on a leash of 6 feet or less at all times.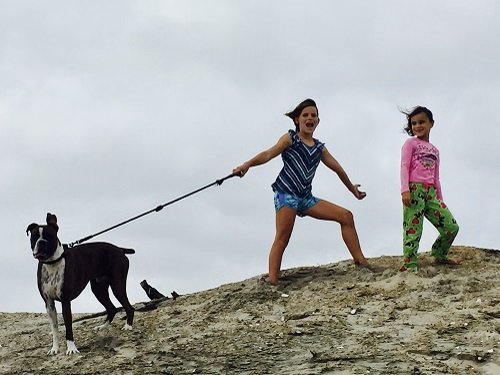 Dogs on the Beach Etiquette
Keep your pet on a leash. In the winter, when local leash laws are more relaxed and there's no one to enforce them anyway, a few people allow their dogs off-leash and it always seems to go fine, with exceptions (that day Daisy ran over the dunes and down the Beach Road …). Now that it's warm and more people are here and the turtles will soon be nesting, the leash laws are a necessity.
 
Always clean up your pet's waste. If you have the bags, you might as well clean up the waste of other pets too. You'll find pet waste bags at most public beach accesses in the local towns. Nags Head in particular is so great about keeping all the beach accesses well-stocked with biodegradable waste bags – even in the winter. However, always be on the safe side and bring your own. The National Park Service does not provide these bags in Cape Hatteras National Seashore, so if you're walking there, always remember to bring bags with you. One thing I see a lot of is bags of dog poop that have been tied, left on the beach to pick up on the return and forgotten about. (Oops! Yes, I am guilty of having done this myself.) Hopefully, this issue will be resolved now that the towns are bringing trash cans back to the beaches.
 
Keep your pets away from others, even if your dog is friendly. Remember, not everyone loves dogs, especially ones that are running toward them or peeing on their cooler. Some people are very afraid of dogs, even sweet ones.
 
As the turtle and bird nesting seasons begin, it's very important to keep dogs away from the nests, which are usually well-marked.
 
Always ask before you approach and touch someone else's dog or let your dog approach another dog.
 
If your dog digs a hole, fill it in before you leave.
 
Don't let your dog chase birds. Birds on the beach are resting and eating, and being chased by a big creature is stressful.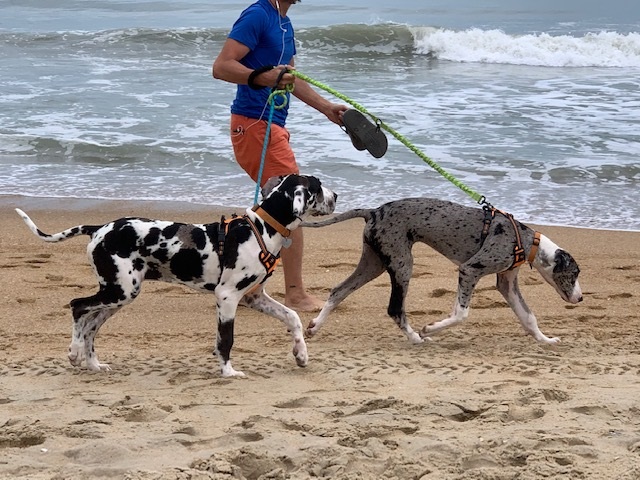 Pet Safety Tips for the Beach
In summer, go to the beach during the cooler hours before 10 a.m. and after 5 or 6 p.m.
 
Protect your dog's feet from the hot sand. If you must go out in the middle of a hot, sunny day, protect your dog's feet with booties. If the sand is too hot for your feet, it's also too hot for your pet's.
 
Bring shade like an umbrella or tent if you plan to have your dog on the beach for very long on a hot day.
 
Stay hydrated. If you're planning a long beach excursion, bring fresh water or a bowl to fill up at a foot wash. Make sure your dog does not resort to drinking saltwater.
 
Never leave your dog in a hot car, even with the windows open or even for a short time while you pack up your things.
 
Watch your dog closely if it's his first time swimming in the ocean. Swim with them the first time if you're not sure about their abilities (watch those claws!).
Have fun out there!