During the glorious fall months on the Outer Banks, the local community is known for coming out to support great causes while having a good old time. Here's a look at some of the festivals and fundraisers coming up on the Outer Banks through the end of October. This is only a sampling, so for a full list of events click here.
Photo: Enjoy locally harvested seafood at the Oink & Oyster Roast in Kitty Hawk on October 7 and at the Outer Banks Seafood Festival in Nags Head on October 23.


Roanoke Island Native American Heritage Festival and Powwow
September 22 to 24 - Manteo
Algonquian Indians of North Carolina, Inc. and Roanoke-Hatteras & Mattamuskeet-Machapunga Indians of Dare and Hyde counties are hosting this festival with music, dancing, food, vendors, educational exhibits and information and more. Events will be held at Manteo High School's athletic fields on Friday from 3 to 5 p.m. and Saturday and Sunday from 10:30 a.m. to 5 p.m. Admission is by donation (suggested $10 adults, $3 children). Go to ncalgonquians.com for information.
Community Care Clinic of Dare Billfish Tournament
September 23 - Oregon Inlet Fishing Center
Go fishing to help raise money for the Community Care Clinic of Dare, a clinic that provides primary care, dental care, chronic disease management and pharmacy services for the uninsured and underinsured in Dare County. The one-day offshore fishing tournament welcomes private boats, or you can secure a six-angler charter through the tournament organization committee. Email lynnjenkins@dareclinic.org or click here.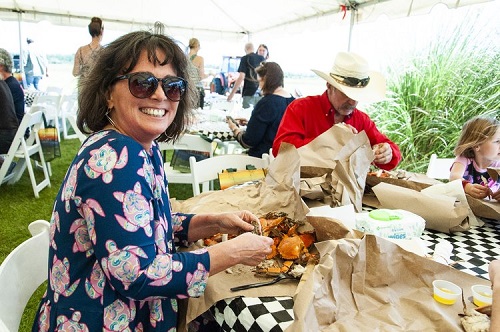 All-you-can-eat steamed crabs and wine are the highlights at the Crabdaddy Seafood & Wine Festival at Sanctuary Vineyards.
Crabdaddy Seafood & Wine Festival
October 7 - Jarvisburg
Experience the ultimate fusion of seafood and wine at Sanctuary Vineyards, just a short drive north of Kitty Hawk in Currituck County. You'll enjoy fresh steamed crabs, an old-school fish fry, barbecue and sides along with Sanctuary Vineyard's award-winning wines. Live music and the Crabdaddy Olympics (Great C-Tuck Grape Stomp, Crab Pot Shuffle, Crab Crawl Race and more) round out the fun. Tickets are $60 for adults and $30 for kids, and it's best to get them early for this popular event. This is held from 11:30 a.m. to 4:30 p.m. Get info and tickets here.
Oink & Oyster Roast
October 7 - Kitty Hawk
First Flight Rotary Club's 22nd annual event raises funds to support Dare County charities. Held from noon to 4 p.m., this event offers North Carolina barbecue, steamed oyster, all the fixin's, beverages, door prizes, music and family fun. It's held next to Longboards Restaurant in Kitty Hawk. Admission is $50 in advance and $55 at the door. Info is available here.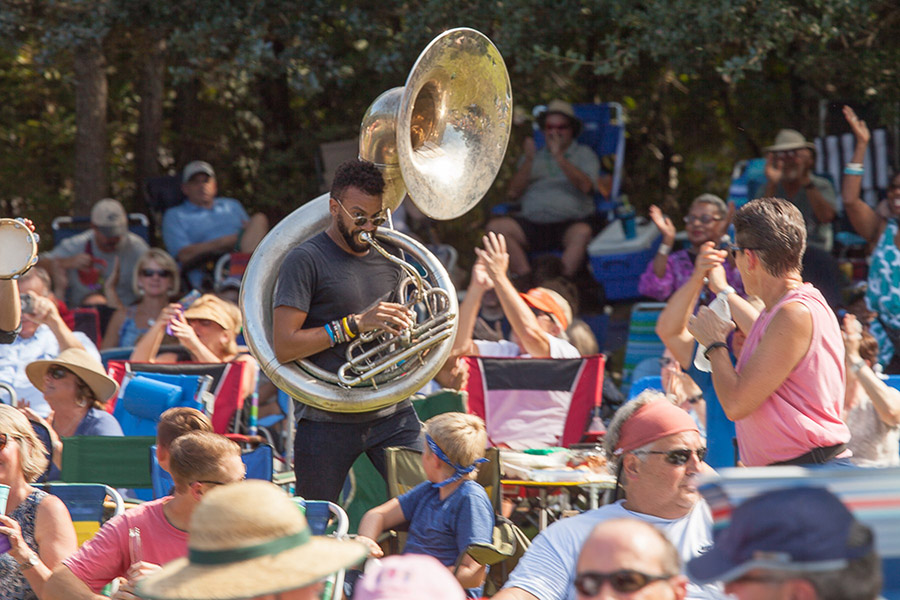 Photo: Duck Jazz Festival is a full day of free music in Duck Town Park.
October 8 - Duck
Duck Jazz Festival, a free day of jazz performances on two stages in Duck Town Park, is an annual event held on the Sunday of Columbus Day weekend. Participants sit on the lawn, so bring lawn chairs and blankets, or rent chairs when you get there. Picnics and coolers are welcome, or there are food and beverages available for purchase on site. Leashed dogs are welcome. This festival fun spills over into the Duck community all weekend, with a jazz movie on the lawn on Friday (La La Land) and special performances and events around town. Sunday's music starts at 11 a.m., but the gates open at 10 a.m. for getting set up in a great spot. Click here for information.
Wings Over Water Wildlife Festival
October 17 to 22, December 8 to 10 - Various locations
Registration is open for the 25th annual Wings Over Water Wildlife Festival, an annual fundraising event held in support of the local National Wildlife Refuges (there are 11 on this region!). More than 60 nature-oriented trips and programs are available, including paddling, photography, art and natural history. The main festival is in October, with an encore festival in December when more migratory waterfowl are present. Keynote speaker for the October event is Julie Zickefoose speaking on "Baby Birds: An Artist Looks into the Nests." For more information and registration click here.
Bluegrass Island Music Festival
October 19 to 21 - Manteo
Music lovers from all over the world flock to this festival at Roanoke Island Festival Park. The lineup includes Sam Bush, Rhonda Vincent, Leftover Salmon, The Dan Tyminski Band, Breaking Grass and so many more. For tickets and information, go here.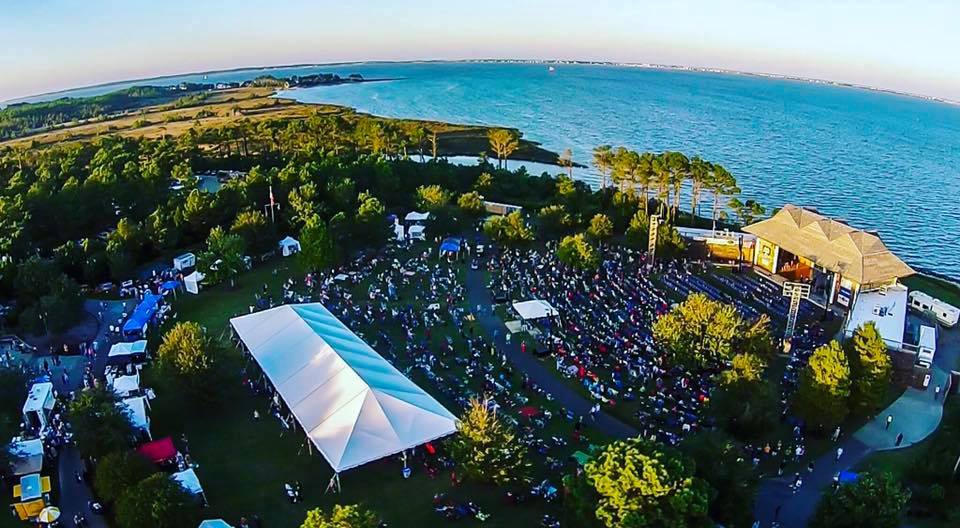 Photo: The beautiful waterfront Roanoke Island Festival Park is the setting for Bluegrass Island in October.
Outer Banks Seafood Festival
October 21 - Nags Head
Outer Banks Seafood Festival promotes, honors and celebrates the Outer Banks' seafood heritage and community. It's a place to enjoy seafood, of course, and other great foods and beverages, plus dance to live music, shop in the arts and crafts village and meet Outer Banks watermen and learn about the seafood industry and conservation. Admission is $20 for ages 13 and older, which includes $10 in Beverage/Merchandise Bucks. Tickets are available online in advance. Food vendors will take their own payments. Festival hours are 10 a.m. to 6 p.m. There is no onsite parking, but shuttles are available to the event site from First Flight High School. Find info here.
Kelly's Hospitality Group Charity Golf Classic
October 23 - Kitty Hawk
This 29th annual golf tournament benefits Outer Banks Community Foundation, which in turn supports the Outer Banks community through grants to a huge variety of organizations. This is the longest-running charitable golf tournament on the Outer Banks and has raised almost $400,000 to date. Four-player teams, captain's choice, will play at Seascape Golf Links in Kitty Hawk. Team sponsorships include an after-party at Sandtrap Tavern with food provided by Kelly's OBX Catering. For information call Mike or Jeff at 252-441-4116 or click here.
Outer Banks Brewtag
October 28 - Nags Head
This event, presented by Kitty Hawk Kites and the Rogallo Foundation, is a celebration of flight and beer that raises funds for the Rogallo Foundation. Brewtag teams compete to see who launch and fly an empty 1/6 keg barrel the farthest. Plus there's live music, food vendors and lots of local and regional craft breweries to keep the good times rolling. A Kid Zone is available as well. Hours are 12 to 6 p.m., and admission is free. Info is available here.