The summer's biggest holiday is a big deal on the Outer Banks. We're talking six major fireworks shows, two parades, a sand sculpture contest, live music, an apple pie contest, a road race, a beer run and so much more over the weekend and into Monday, July 5.
Since we didn't get to party for the 4th in 2020, we all feel like we need to double up on the fun for 2021. And that's entirely possible on the Outer Banks. Events and celebrations are going on all weekend, so be sure to check our Daytime and Nightlife events pages.
The beaches are going to be crowded, and there are going to be tons of boats on the water. Be sure to keep safety in mind as you celebrate. Keep an eye on kids when they're near the water or around traffic, stay hydrated, reapply your sunscreen, be extra cautious crossing the roads and designate a sober driver for all vehicles and boats. Remember: Personal fireworks are illegal in North Carolina, so leave them to the professionals.
Keep in mind that you can see fireworks for miles, so you don't have to right underneath the launching site to enjoy them. Go to the beach a few accesses away to avoid the crowds or watch from your house if possible. Walk or bike if you can to avoid the traffic. If you do walk, bring a flashlight or wear glow sticks. If you're boating for the fireworks, make absolutely certain your running lights are working before you head out. 
This weekend is looking fantastic weather-wise, with light winds and temperatures in the low 80s. It's going to be a great time to celebrate. Be safe and have fun!
July 3
Ocracoke Fireworks Show
When: Saturday, July 3, 8 p.m. DJ Tommy Hutcherson, 9:15 p.m. fireworks
Where: NPS Docks, Irvin Garrish Highway.
You'll be able to see the fireworks from all around the harbor and from many locations in the village. Ocracoke continues its celebrations on the 4th, so see below.
July 4
Sun Realty Freedom 5K and Fun Run
When: Sunday, July 4, 7:30 a.m. 5K, 8:10 a.m. Fun Run
Where: Kill Devil Hills Town Hall, 102 Town Hall Drive, Kill Devil Hills
Register: Click here for the link to preregister. 
Start your day off right with a race for a good cause. This one benefits Elizabeth City Hero Operations. Runners/walkers get a t-shirt and a medal.
Kill Devil Hills Fireworks Show
When: Sunday, July 4, dusk (rain date July 5)
Where: Avalon Pier, 2111 N. Virginia Dare Trail, MP 6, Kill Devil Hills
Nags Head Fireworks Show
When: Sunday, July 4, 9:25 p.m. (rain date July 5)
Where: Nags Head Fishing Pier, 3335 S. Virginia Dare Trail, MP 11.5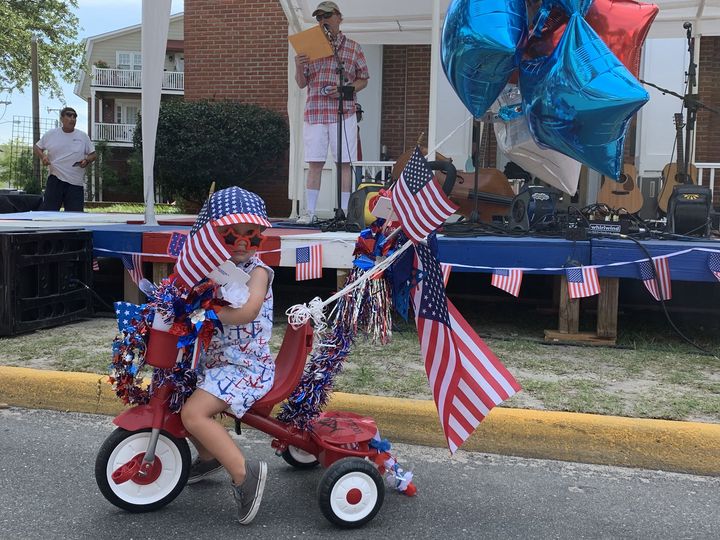 The Town of Manteo Fourth of July Bike Parade, photo courtesy Town of Manteo.
Manteo 4th of July Celebration & Fireworks
When: Sunday, July 4, 3 to 8 p.m.
Where: Downtown Manteo. Entertainment at Old Courthouse and Roanoke Island Maritime Museum. Fun and games for the whole family across from the Courthouse.
Entertainment Lineup:
3 p.m. National Anthem, wacky hat contest, decorated bike contest, apple pie contest
4:30 p.m. Live music with Formula at Courthouse Stage
7 p.m. Silver Bullets at Boathouse Stage
8 p.m. Jonny Waters & Co. Concert at Roanoke Island Festival Park
9 p.m. Fireworks
Spend the day downtown then head to Roanoke Island Festival Park, across from the Manteo waterfront. Rock band Jonny Waters & Co. will perform starting at 8 p.m. until the fireworks begin. Concessions will be available from OBX Frozen Yogurt. Gates at Festival Park open at 6 p.m. if you want to get a good spot and have a picnic. Fireworks will be visible at Festival Park and throughout downtown.
Avon Fireworks
When: Sunday, July 4, 9 p.m.
Where: Avon Fishing Pier, 41001 N.C. Highway 12, Avon
July 4th in Hatteras Village
When: Sunday, July 4, 6 p.m. Golf Cart Parade, 6:30 p.m. Village Cookout
Where: Parade starts at Teach's Lair Marina; cookout is in the village center.
Hatteras Village celebrates with a golf cart parade along N.C. Highway 12 from Teach's Lair Marina to the village center. After the parade, there's a cookout with hamburgers, hot dogs, chips and drinks.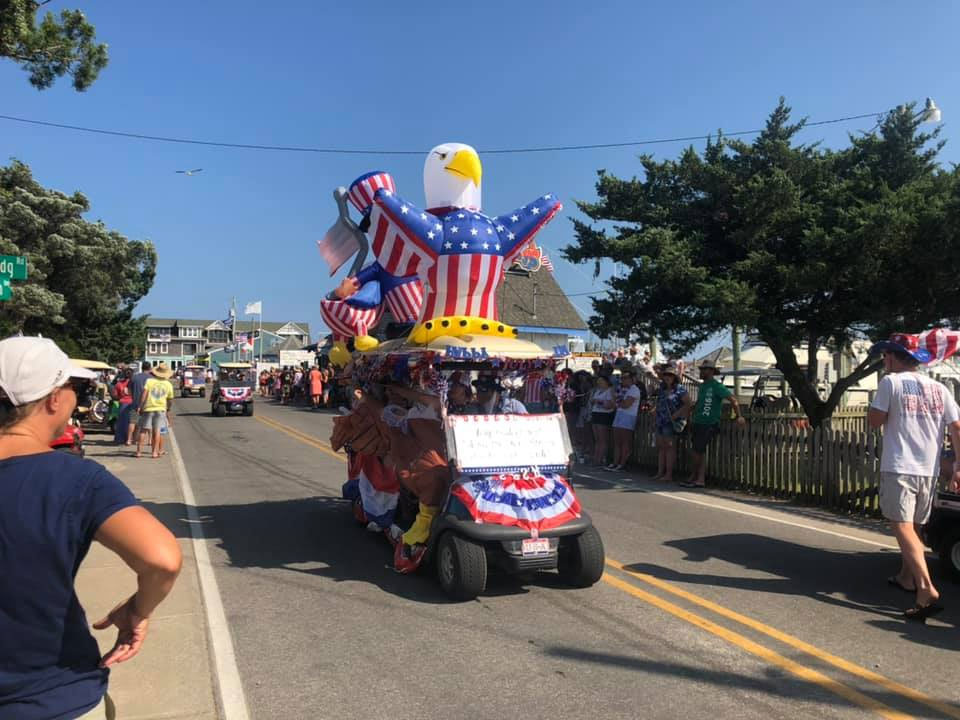 Ocracoke Old Time Independence Parade, photo courtesy Visit Ocracoke
Ocracoke Island 4th of July Celebrations
When: Sunday, July 4, 9:30 a.m. to 10 p.m.
Where: Various locations.
The lineup:
9:30 a.m. to noon 41st annual Sand Sculpture Contest, NPS Lifeguard Beach, cash prizes
10 a.m. to 2 p.m. Ocracoke Lighthouse is open for tours (no climbing)
4 p.m. Old Time Independence Parade. Parade starts at Wheelie Fun Golf Carts, goes down Irvin Garrish Highway, left on Lighthouse Road, right on Creek Road, right on Silver Lake Drive, left on Irvin Garrish Highway and on through to the NPS docks, where the parade ends
5:30 p.m. Singing of the National Anthem and awards ceremony for parade and Sand Sculpture Contest at Books to Be Red stage. Bring your own lawn chair.
5:45 to 6:30 p.m. Storytelling with Donald Davis at the lawn of Books to Be Red
7 to 10 p.m. Community Beach Bonfire Under the Stars at the Ocracoke Day Use Area/NPS Lifeguard Beach.
July 5
American Independence Beer Mile
When: Monday, July 5
Where: Outer Banks Brewing Station, 600 S. Croatan Highway, Kill Devil Hills
Register: Advance registration is required. Here is the link.
You run ¼ mile, you drink a 10 oz. beer. Do that four times and you're ready to party at the finish line. Of course you get a t-shirt for your efforts!
Corolla Independence Day Celebration
When: Monday, July 5, 5 to 9 p.m.
Where: Historic Corolla Park, 1100 Hunt Club Road, Corolla
Food trucks Forket Me Not, Tull's Creek Concessions, McGrath's Burger Shack will be on hand as well.

Entertainment Lineup:
5 p.m. Mark Lippard live music
6 p.m. Watermelon Eating Contest
6:30 p.m. Black & Blue Experience live music
7 p.m. Kids' Dance Contest
8:45 p.m. Fireworks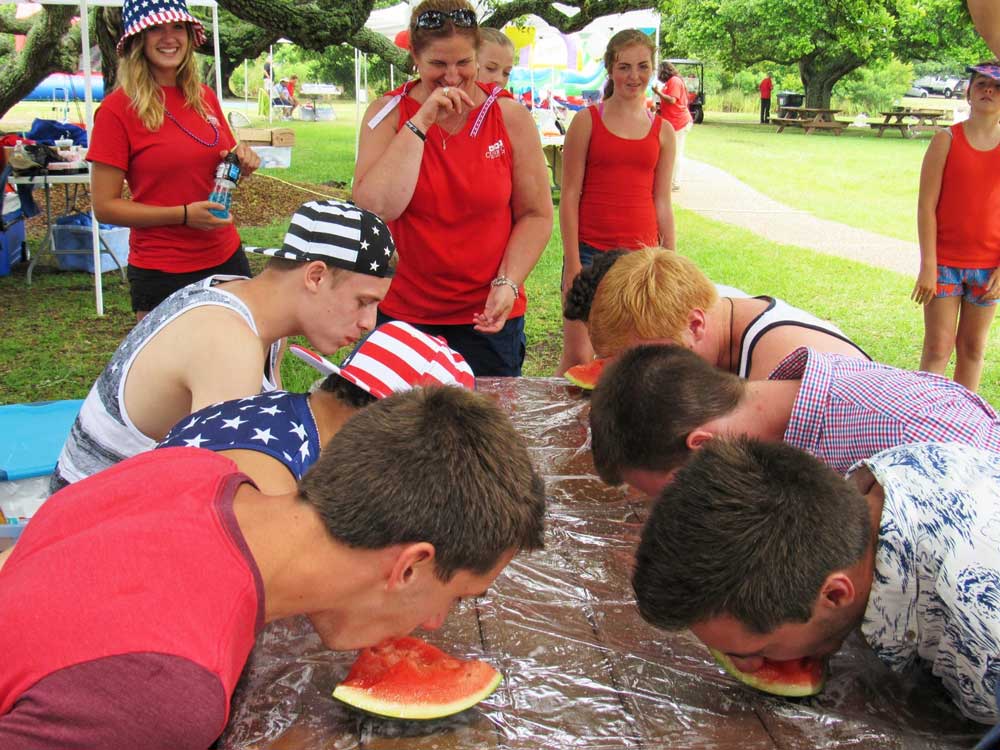 Watermelon Eating Contest at Historic Corolla Park, photo courtesy of Currituck County Dept. of Travel and Tourism