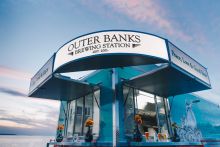 An endless variety of food and drink from your favorite restaurants in one convenient location, killer tunes and a heck of a backdrop – what more could anyone possibly want on a Sunday? That's what the Outer Banks Food Truck Showdown at the Soundside Event Site will have you asking this weekend.
The Outer Banks had its first ever Food Truck Showdown back in June. This new event was anticipated to attract maybe a crowd of 750 to 1,000 people, but it ultimately brought about 2,000 locals and visitors eager to check out this different scene and support the local food culture. Whether it was dedication to their favorite falafel vendor or the stir caused by this one-of-a-kind event's introduction on the Outer Banks, attendees met the hours of long lines and pouring rain with laid-back optimism.
"Even when it rained, the lines stayed long with people just drinking their beers, chatting with those around them. Everyone with an umbrella became your friend. People were just amazingly happy," remembers Kirstin Everhart. She never had a chance to get in the lines, though, as cooking tacos, kabobs, ginger-encrusted salmon and Philly cheese steak balls at Fork'et Me Not Food Truck (from South Beach Take Out and Catering) kept her constantly busy. So busy, in fact, that she couldn't step away when Fork'et Me Not was announced the winner of the Food Truck Showdown.
Due to the unanticipated level of support and popularity, the Outer Banks Food Truck Showdown is returning this Sunday for a second event! Considering the last event's turnout, the Outer Banks Visitors Bureau is bringing even more excitement at the Soundside Event Site this weekend. If you attended the in June, imagine it now with more food trucks, more live performances from local bands and even outdoor games.
The food trucks in attendance range from food trucks from local vendors to newcomers from around northeastern North Carolina, including Urban Street Eats from Cedar Point and Poblano's Tacos from Knightdale. The increase of food trucks not only brings more variety to the food scene, but also aims to keep the lines shorter for those ordering and receiving food. Word on the street is that the event is preparing for about 2,500 people.
Since this is an outdoor event where street food is the theme, you can munch on your favorite sorts of cheap eats, like crispy tacos cradled over a paper napkin, in addition to gourmet cuisine offerings, including poke bowls and upscale seafood creations. Many of the vendors are blending the best of both worlds. Sooey's BBQ and Rib Shack, for example, is cooking up their famous fried chicken and barbecue sandwiches and also varying the standard barbecue offerings with items like white cheddar smoked brisket egg rolls.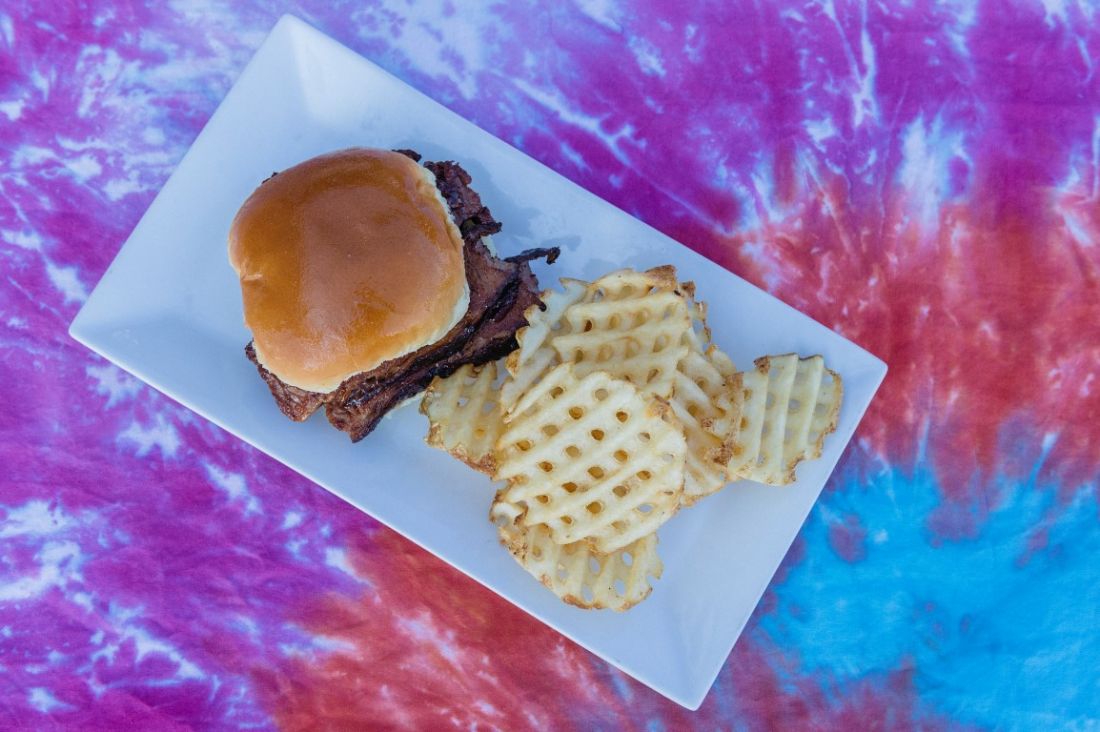 Photo: Sooey's BBQ and Rib Shack
The event runs from 11 a.m. to 5 p.m., making it a great spot for brunch, lunch, dinner, dessert or anything in between. What are you hungry for? One of Mike Kelly's famous sweet potato ham biscuits that will make a special public appearance for the Showdown? Or a more substantial dish, like a fried fish sandwich? You'll need something sweet to finish it off, like a bowl of frozen yogurt. And don't forget to grab a drink to wash it all down – a craft beer from the Outer Banks Brewing Station will do the trick. But don't forget to sample their amazing food as well. With tempting sights and smells at every turn, it's going to be hard to decide what to eat as the chefs and cooks compete to be named the Showdown's winner.
There's more to the event than food and drink. Local bands Formula, Ruth Wyand & The Tribe of One, Blurky's Quirky Friends and Mosquito Net will be performing live throughout the day. There will also be additional performances from student bands with the Mustang Outreach Program.
Admission to the event is free so you only need to bring money for any food and drink that you plan to purchase. Don't forget your picnic blanket or beach chairs if you want a place to sit and picnic. Parking is available at the Soundside Event Site, Pamlico Jack's parking lot and the Nags Head Town Hall (a free shuttle will take you to the site).
As everyone makes their last-minute preparations for the Outer Banks Food Truck Showdown, keep a pulse on the updates and participants with the event's website. Round up your foodie friends and get ready to meet new ones and create new memories at Sunday's exciting event.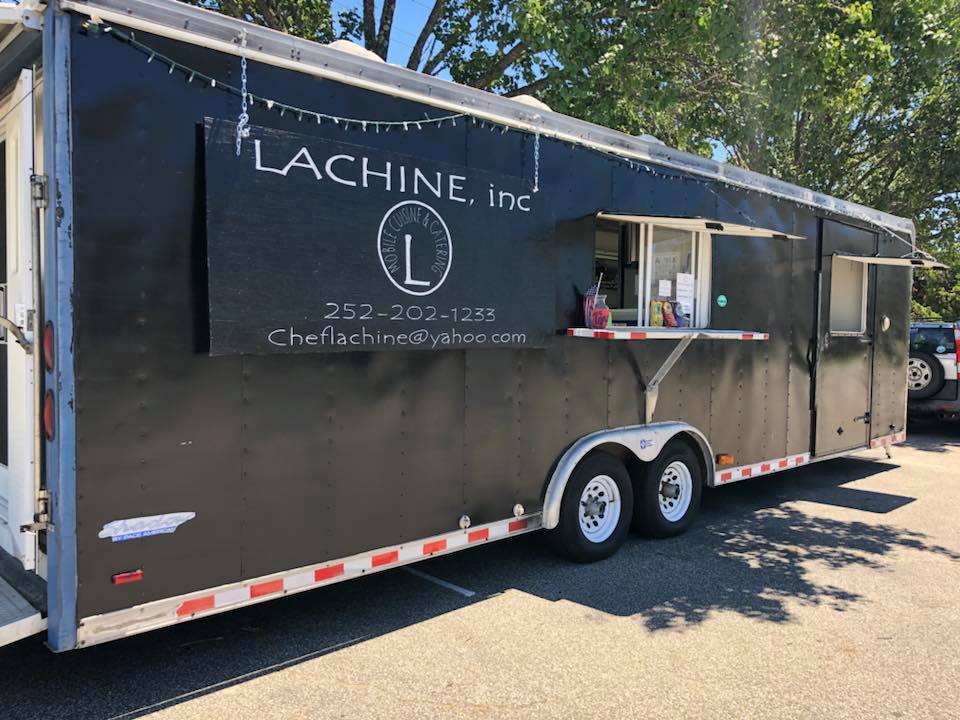 Photo: Lachine Cuisine