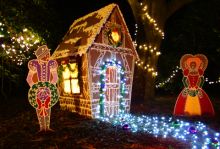 Do you remember the sensation of being a child at Christmastime? For many of us, it's a season of magic and wonder. The season still sparkles in my memories of it. As we get older, it seems a lot of unnecessary stress accompanies the holidays as we strive to make it perfect. How does a stress-free Christmas sound to you? Perfect? Heck yes. Impossible? Well, it turns out Christmas wishes have a way of coming true on the Outer Banks. In the midst of your preparations for the surge of visitors, cooking, gift wrapping and more, use these Outer Banks events to stay holly jolly through all of it.
Entertain
The kids have winter break, the family members are rolling in and you've been a busy little elf who should get to enjoy the season too. For a family-friendly activity that delights all ages, take the crew to WinterLights at Elizabethan Gardens. The Elizabethan-era botanical garden is a signature Outer Banks attraction. Although not much blooms this time of year, the light displays and decorations make the garden a kaleidoscopic winter wonderland. WinterLights is held every evening from 6 to 9 p.m. (except for December 24-25).
Take the edge off with an event that lets everyone cut lose and unleash their goofy side. The New York Pizza Pub's Ugly Sweater on Saturday, December 22, invites everyone to don the ugliest piece of seasonal garb they can find and admit that Christmas doesn't have to be perfect. Enthusiasm is encouraged, and there will be cash prizes for the most spirited. DJ J.J. Morales will spin hit music for the event, and there will be pizza and drinks specials served until 2 a.m.
Here's a jackpot question for you: What are you doing New Year's Eve? Forget planning a New Year's Eve party and let festivals and events at Outer Banks restaurants do the entertaining for you.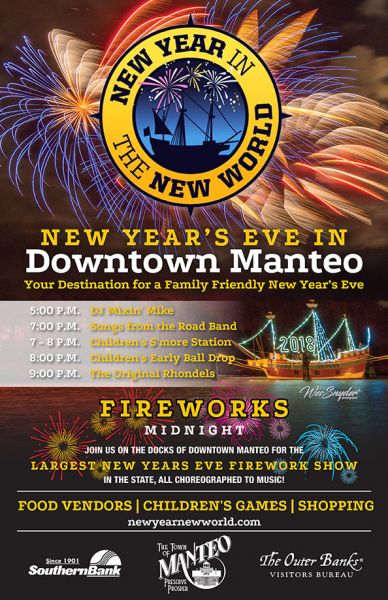 Round up your crew and grab your noisemakers. The New Year in the New World is a town-wide Manteo event that invites everyone to enjoy food, live music and this charming downtown destination as they count down to midnight. This free event is held downtown between the Town Christmas Tree, the Old Courthouse and Magnolia Pavilion so that the fun surrounds you. Live music starts at 5 p.m. and continues until midnight, when 2019 is greeted with a firework display over the Shallowbag Bay.
For some of us, staying up until midnight is not cause for a celebration. Fortunately, they can ring in the 2019 and still get to bed at a reasonable hour when they head to the Old Fart's New Year's Eve Party at Pangea Tavern in Avon. The restaurant at Koru Village Resort opens at 5 p.m. for a festive dinner out, and then they have an anchor drop (because this is the beach, baby) at 10 p.m. accompanied with a complimentary champagne toast.
Have a Cup of Cheer

My favorite party tip is that everything will be fine as long as the hostess always has a glass of wine in her hand … or as the case may be at Trio's Sparkling Soiree on Saturday, December 22: several. They're celebrating all things bubbly with tastings of world-class sparkling wines, ciders and beers. Sip and shop for the perfect beverage to complement your Christmas and New Year's celebrations. And let's be honest, in the midst of the chores, prep and hosting our loved ones, we could all use a glass of wine. This event will happen from 3 to 5 p.m. at Trio's mezzanine bar.
You can also raise a glass to a successful Christmas week with the Holiday Tasting at Zillie's Island Pantry in Ocracoke. They will be pouring generous glasses of five festive wines for you to sample and savor alongside a selection of appetizers. This event is Friday, December 28, at 6 p.m. Get your tickets on the event's website.
That's a Wrap
Not even Santa can do it all by himself, which is why he has elves. Take a cue from the big man and enlist help with your gift wrapping duties at the Sandtrap Tavern. They offer complimentary gift wrapping for any presents that you bring to the restaurant. Head to their Trap Elves at Work event on Thursday evening, starting at 6 p.m. Kick back with a cocktail, catch the sports game on TV and savor a minute of you-time while your chores finish themselves. 
---
Let these Outer Banks events and activities make everything merry and bright. For more information on events going on between now and the New Year, be sure to see our Daytime Events listing as well as our Nightlife listing, where you can learn about all the upcoming holiday parties for your Christmas, New Year and everything-in-between celebrations. This blog will be the final one for the year, and behalf on all of us at Outer Banks This Week, we wish you the holly, jolliest of holidays.