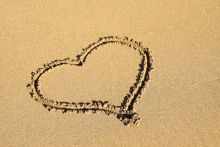 Since it's almost Valentine's Day, I'll reveal my life-long love: the Outer Banks. Let's be honest, an undeniable romance runs through the area. Maybe that's why so many people choose to have Outer Banks weddings, honeymoons and couples' getaways. When you're already on the beach, you may be wondering how to spend your Valentine's Day or what steps you could take to make sure it's extra special. If you're looking for that perfect Valentine's Day festivity for you and your boo, check out these Outer Banks events, restaurants and activities. And who says you need a lover to enjoy Valentine's Day? Make this holiday an opportunity to celebrate friendly love and self-love too!
Recipes for Romance: Outer Banks Restaurants
A romantic dinner is the cornerstone of Valentine's Day celebrations. Whether you decide to cook together or plan a night out, it's a certain way to capture your love for your Valentine – or your love for good food if you're anything like me. These are just a selection of Outer Banks restaurants' events for romantic meals and atmospheres that set the scene for you and your sweetheart: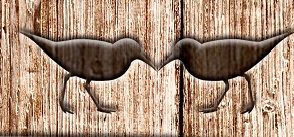 Valentine's Day falling on a Wednesday this year can make it a little difficult to halt the midweek activity and take time to observe it. That's why the Lifesaving Station Restaurant in Duck will host a multi-day Valentine's dinner. Take your pick of days among Friday and Saturday February 9 and 10, Valentine's Day, and Friday and Saturday February 16 and17 for your date. Their prix fixe Valentine's Day menu lets you build a four-course meal, featuring decadent surf and turf options for all palates. Reservations are highly recommended.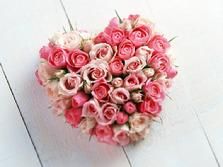 If you love food as much as you love your Valentine, enjoy a meal where you can witness the magic that occurs in the kitchen. Gaze into Ocean Boulevard Bistro and Martini Bar's kitchen while falling in love with their four-course Valentine's Day dinner. Their exclusive Valentine menu includes locally sourced delicacies and suggestions of the perfect wines to complement the flavors of the different dishes. Each year's menu remains a surprise until a few days beforehand, but you can see last year's menu for a sample of what this year may hold in store.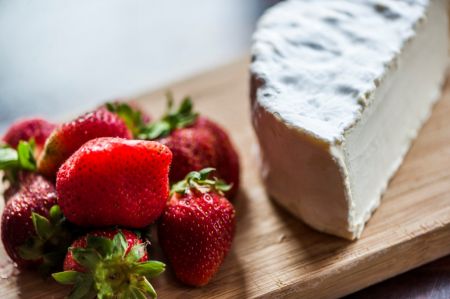 Another option that sets the romantic mood for the evening is Trio's Aphrodisiac Tasting. With the first tasting starting at 6 p.m. and another at 8 p.m., Trio offers you a Valentine's Day evening featuring five of their finest wines for you to swirl, sniff and sip. They pair each wine with a small plate of different aphrodisiacs, perfect for matching that spark in the air.
Love is in the Air: Outdoor Activities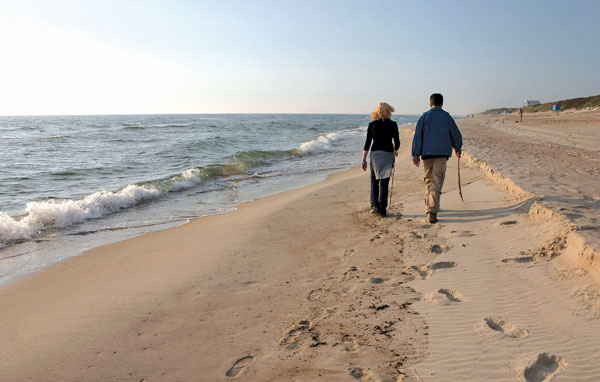 There are many great reasons to spend some time outside on Valentine's Day. Beautiful landscapes inspire feelings of love. That February chill lets you cozy up to your sweetie. The list goes on. Bundle up and take a romantic stroll on the beach. Variations on this classic include waking up early so that you can catch the sunrise or waiting until sunset and grabbing a bottle of wine and a box of chocolates for phenomenal views over the sound.
Put an element of adventure in this romantic day with a horseback ride on the beach. Equine Adventures in Frisco offers year-round trail rides through the maritime forest and along the beach, suitable for all skill levels. It's an experience that'll make you feel like silver-screen worthy lovers.  
Or let your love soar like Cupid's Arrow when you take flight with Kitty Hawk Kites. The purchase of a beginner dune hang-gliding lesson from Saturday, February 10, through Valentine's Day earns you an additional lesson free. Book online using the VALENTINE promo code or call (877) 359-8447.
Gal-entine's Day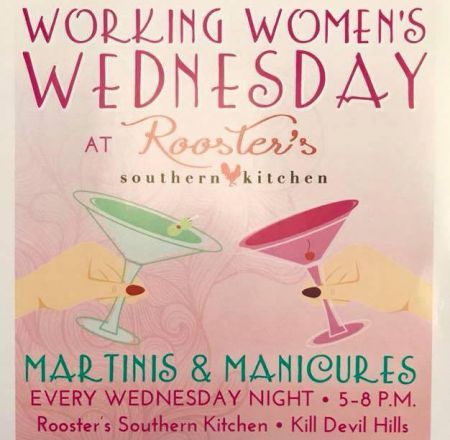 Who says Valentine's Day is only for romantic love? No better day exists to celebrate friendly love too! Ladies, round up your gal pals and head to Working Women's Wednesday at Rooster's Southern Kitchen. Unwind after work with martinis and manicures. While you're there, play some games to win prizes and enjoy snacks from the appetizer bar. This event is a great opportunity to network with other women in the area and a fun way that makes working hard feel like hardly working. For more details about this event call Lori Clark at (252) 441-1024.
---
Hopefully these dining and play options give you an idea or two for tricks to wow your Valentine this year. If you like observing all the holidays, don't forget that Mardi Gras falls on the 13th this year. Head to Sanctuary Vineyards for their Cajun Occasion or eat your fill at Ocean Boulevard's Fat Tuesday Mardi Gras Party. For other events happening during the week, check out our Daytime Events and Nightlife listings.