If you visited the Outer Banks this week or last, let me start with my sympathies. You probably planned your trip for months and spent all year looking forward to it. And did you spend your vacation sunbathing on the beach, playing in the ocean or hiking through the maritime forest? Honestly, probably not because it drizzled a bit . . . oh who am I kidding? It stormed at Noah's Ark levels. That said, I want to commend everyone who weathered it so bravely because the week actually wasn't a total washout. In the midst of the wind and rain, people's creativity exploded as they devised ways to make the best of their Outer Banks vacation. Their result, in all honesty, has been pretty incredible.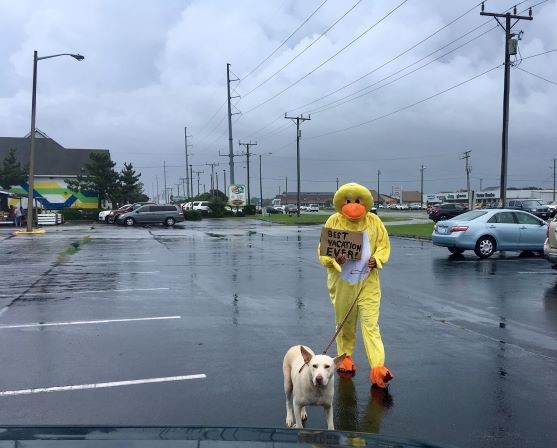 Just check out this guy who took his dog for a walk, sporting the only outfit that could help him navigate the pools of standing water.
Photo at right: Courtesy of Terry Rowell
The primary benefit of the rainy weather was its impact on local businesses. After all, when you can't go to the beach but you're getting cabin (or cottage) fever, why not get a change of (dry) scenery at the local shops and eateries? And these past several days caused a business boom as people explored Outer Banks restaurants, shops and indoor activities.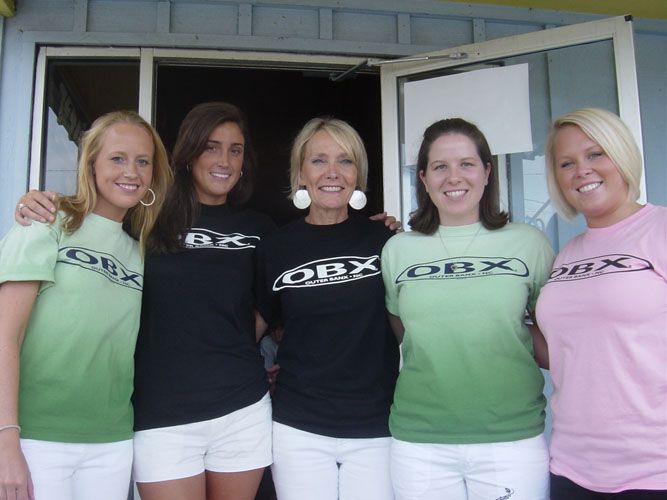 When rain sets in on the Outer Banks, people generally flee from the beach and flock to shops. Birthday Suits, located in Kill Devil Hills, Duck and Corolla, noted an endless stream of activity coming in and out of the store. The shoppers could have been bummed about their beach days being spent indoors, but they warmed Birthday Suits's owner, Jill Bennett, with their overall upbeat attitude at the store. "There was no complaining," Jill says. "Instead people were like, 'You know, I'm here, I'm not at work. I'm at the beach!'" That sort of positivity brightens up even the grayest days on the Outer Banks.
Photo: Courtesy of Birthday Suits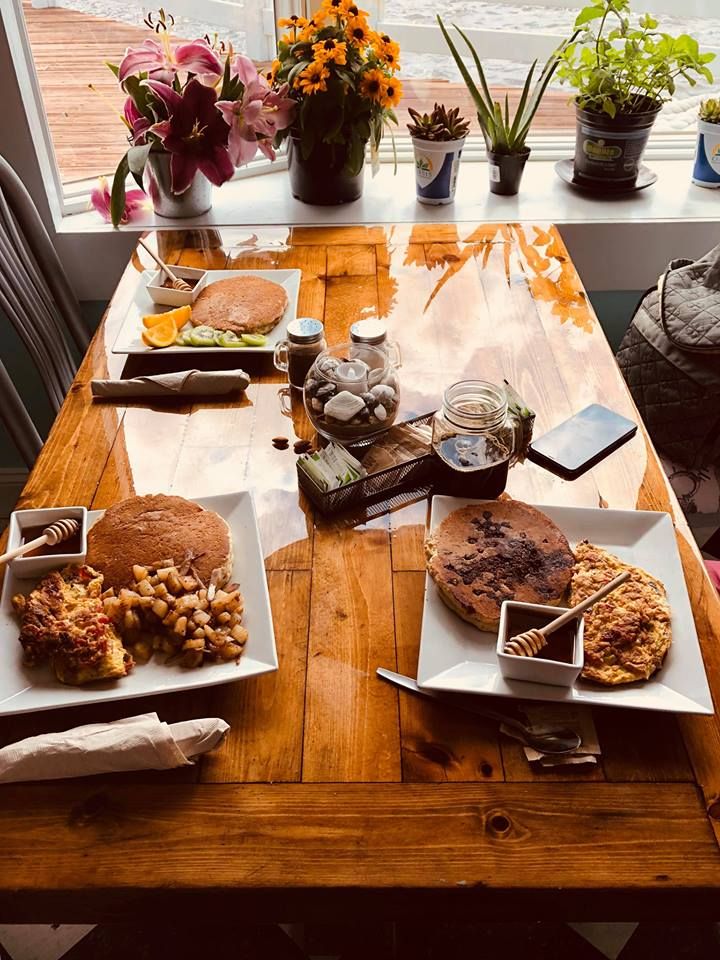 One thing that always entices me out of the house, even in the lousiest weather, is the prospect of a delicious meal and fun environment. Last week I learned that I'm not alone. These rained-out days brought a swell of business to Outer Banks restaurants. Even at our office, George combatted the ennui that accompanies stormy skies by eating out much more than usual. He raved about the breakfast he discovered at Freshfit Cafe in Nags Head, with fresh and wholesome ingredients that put a spring in his rainboot-protected step.
Photo: Courtesy of FreshFit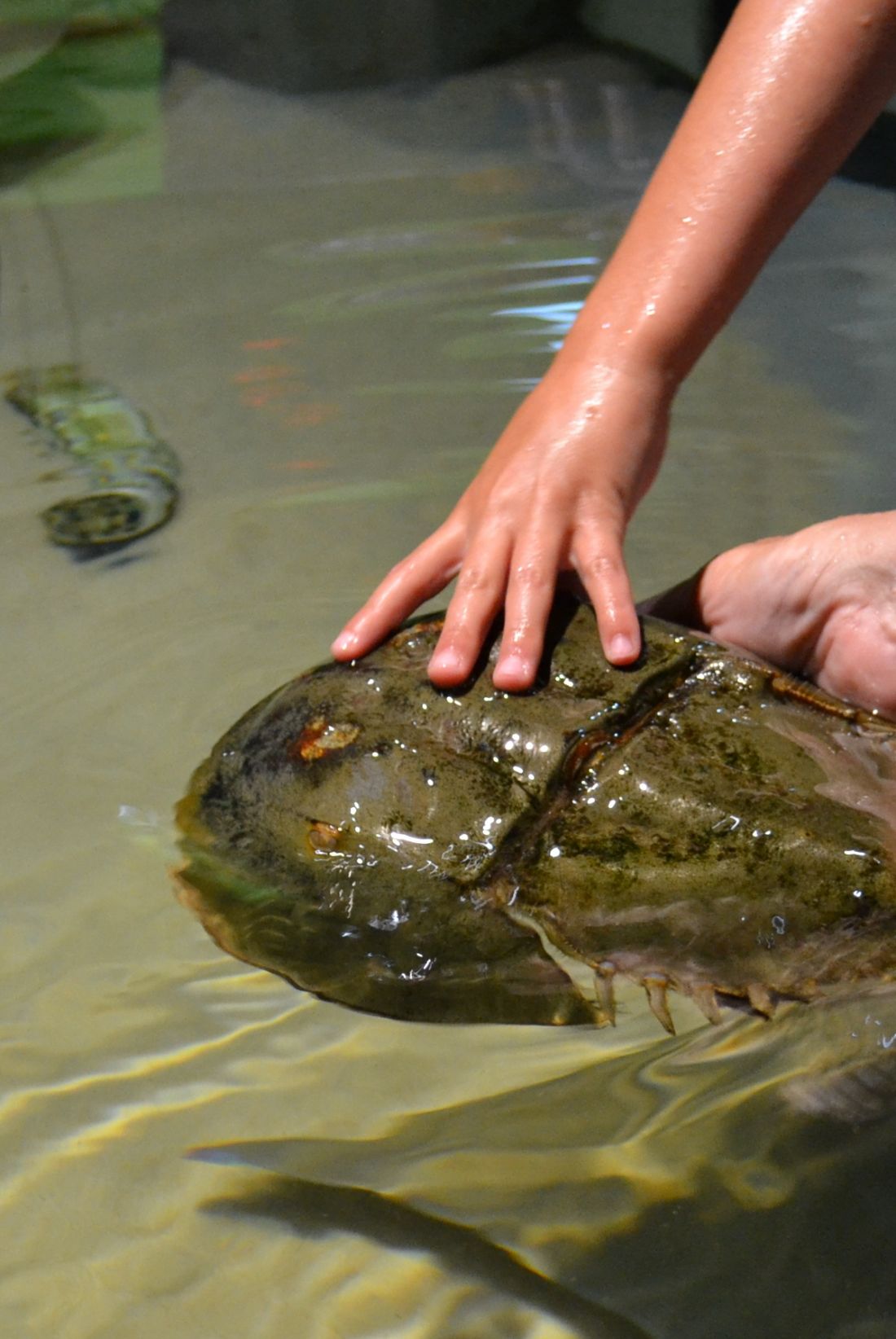 So, let's talk about our go-to activities on rainy days. Movies? Board games? Napping? Many visitors decided not to let the rain keep them from exploring the Outer Banks's incredible environment. The North Carolina Aquarium on Roanoke Island is always a great rainy day activity. After all, you stay dry while still getting to commune with nature. This past week the aquarium received around 4,000 visitors – each day! According to the aquarium's public relations coordinator, Brian Postelle, "Even during peak season, having that many people for several days straight is impressive!"
Photo: Courtesy of N.C. Aquarium on Roanoke Island
And it wasn't just indoor attractions that got all the attention. National Park Service Ranger Ashley Dickerson at the Wright Brothers National Memorial suspected that the unsavory weather would deter people from visiting an outdoor park. To her surprise, though, the number of visitors remained just as constant as it was during any other week.
Even simply walking around, the rain makes you appreciate new parts of the Outer Banks. The chorus of frogs that crescendos in yards and gardens. The beautiful rain-catching gardens and ponds, such as those in Manteo, that collect and clean the water before it enters the sounds. And when the clouds part, even for a moment, and the sun peeks out, it filters through the condensation hanging in the air until it almost looks like the world is sparkling around you – it's a sparkle signature to these beautiful islands that even the heaviest rains can't wash away.  
If you're on the Outer Banks this week, however, know that mostly sunny skies are in the forecast for the next week or so, along with mild temperatures in the low 80s. That's great weather for enjoying everything the Outer Banks has to offer. Find everything there is to do by looking around this site, including our Daytime and Nightlife sections.