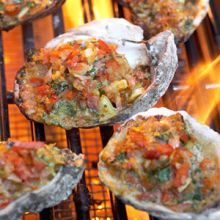 Ah, lowly oyster, how do I love thee? Let me count the ways. Raw on the half shell. Lightly Steamed. Grilled. Roasted. Fried. Oysters Rockefeller. Smoked. Oyster dressing. Oysters Casino. Oyster casserole. Oyster stew. Oyster shooters even. I could go on…and on. Many folks, however, find themselves intimidated by the humble bivalve, unsure how to open them, how to cook them, even if to cook them. If you're one of these people, don't despair! Help is on the way! A Culinary Affair, a locally owned specialty kitchen store located in the Outer Banks Mall in Nags Head, is primed to expand your oyster horizons with their first cooking class, dedicated to, you guessed it, oysters. During the class held Thursday, March 5 at 5:30 p.m., Chef Justin Lachine, a graduate of Johnson and Wales culinary school and owner and chef of Café Lachine, will prepare oysters using several different techniques and sauces while class participants receive recipes, sip refreshments and sample the prepared dishes. Admission is $25/person. Seating is limited to 12, so pre-registration is required. For information on registrations or upcoming classes call A Culinary Affair at (252) 441-0481.
The Outer Banks History Center (OBHC) introduces its 2015 exhibit A Heritage of Heroes: The Coast Guard in North Carolina at a reception during First Friday festivities this Friday, March 6 from 5:30 to 7:30 p.m. in the OBHC Gallery at Roanoke Island Festival Park in Manteo. Hosted by the Friends of the Outer Banks History Center, this free, family-friendly exhibition will run daily March 7 through December 31 from 9 a.m. to 5 p.m. each day. The detailed exhibit explores the founding and early years of the Coast Guard and its predecessors, highlighting the diverse roles of today's Coast Guard and honoring the many North Carolinians who have served. For more information call (252) 473-2655, e-mail obhc@ncdcr.gov or visit the History Center's Facebook page.
While you're in Manteo for First Friday and already at Roanoke Island Festival Park (RIFP) for the History Center exhibit, why not walk right next door and take in the free Outer Banks Community Quilt Show opening in the RIFP Event Room from 6 to 8 p.m.? There is a warm place in my heart for the art of quilting, likely hardwired to memories of the many cold winter nights during my youth when my childhood bed was made warm and snuggly by quilts stitched by grandmothers and aunts sometimes decades before I was born. The exhibit collection is drawn from eastern North Carolina quilt makers and quilt owners and includes both antique and newly created quilts made using a variety of techniques from traditional quilting to embroidery to appliqué. The exhibit will run Saturday, March 7 through Saturday, March 21 (Monday-Friday, 9 a.m. to 4 p.m.; Sat. 10 a.m. to 4 p.m.).  
Watch For 100-Mile Runners and "Crawl" To Health
For those of you who'll be out and about Saturday along Highway 12, keep your eyes peeled for participants of the Graveyard 100, a punishing 100-mile race from Currituck Beach Lighthouse in Corolla, past Bodie Island Lighthouse in South Nags Head to the Cape Hatteras Lighthouse in the village of Buxton on Hatteras Island. Along the route these determined runners will witness beautiful Outer Banks landscapes and panoramas including the spectacular view from the 2.5-mile long Bonner Bridge spanning Oregon Inlet between Bodie Island and Hatteras Island at the run's midway point. An alternate course will go into effect in the event of a weather emergency or road closure.
If the idea of others having even the capability of running or walking 100 miles in one day causes your self-esteem to withdraw box turtle-like into the safety of a protective mental shell, let Manteo's Downtown Wellness Crawl entice you out Saturday morning. Get a free wellness screening and one-on-one consultation onboard the Outer Banks Hospital's Health Coach, a 39-foot Winnebago stationed on Sir Walter Raleigh Street from 10 a.m. to 1 p.m. After that, stop in at Ducks Cottage Downtown Books for an itinerary and then hit the town! You'll find Zumba demonstrations by Maria Williamson at Avenue Grille, fitness demos by the Momentum Boot Camp team, gait analysis at Roanoke Island Running Co., reflexology at Endless Possibilities (call 473-1575 for appointments) and more! Stop in at Ortega'z, Hungry Pelican Deli or Poor Richard's Sandwich Shop for healthy lunch options. Other participating businesses include Roanoke Island Coffeehouse and the Dare County Arts Council. The Wellness Crawl runs from 10 a.m. to 3 p.m., and each station has a different health focus. Along your way make sure to enter the raffles awarding free screenings, race entries, gift certificates and other great prizes. You can even view a screening of the revealing food industry documentary Fed Up, reported and narrated by Katie Couric at 1:30 p.m. (call 305-8343 to reserve your seat)! For more information call Downtown Books at (252) 473-1056.
Live Local Music


Live entertainment returns to Awful Arthur's Oyster Bar in Kill Devil Hills when Natalie Wolfe kicks off their 2015 season this Friday night at 6 p.m. in Awful Arthur's upstairs lounge! The Other Brothers bring their unique blend of wit, excellent musicianship and song selection (from reggae to Roger Miller and all points in between) to Poor Richard's in Manteo from 8 to 11 p.m. A fun time is guaranteed! On the Nags Head/Manteo Causeway Basnight's Lone Cedar Café hosts the blues-based Jonny Waters and Company in the Osprey Lounge beginning at 9 p.m. Meanwhile, a little ways to the north Kelly's Outer Banks Restaurant & Tavern turns the stage over two nights in a row to Tailgate Down, a high-energy country rock band from Southeast Virginia who'll begin playing around 10:30 p.m. 
Outer Banks music lovers get a special treat this Saturday at 6 p.m. at the Dare County Arts Council in downtown Manteo when the Motu Music Foundation presents An Evening with Music Teachers, a $10 fundraising concert featuring some of the area's most creative and skilled musicians — our music teachers. Don't miss this opportunity to meet our community's talented music educators while learning more about the Motu Music Foundation, a comprehensive arts foundation that engages musicians of all ages in the learning, creation and performance of music. Scheduled performers include Ruth Wyand, Leslie Erickson, Joe Mapp, Cathy & Gordon Kreplin, AnLouise Bennett, Ed Tupper, Roy Murray, Nell Long and Natalie Ebert. For more information visit the Motu Music Foundation website or check them out on Facebook.
Also Saturday night, local musician BC returns to Aqua Restaurant & Spa in Duck at 6 p.m., and in Nags Head, Tailgate Down hits the stage for the second performance of their two-night engagement at Kelly's.
Looking Ahead


Good jobs are always at a premium on the Outer Banks, and if you're seeking a job, or seeking a better job, then you don't want to miss the OBX Success Career and Job Fair, sponsored by the Outer Banks Chamber of Commerce and NCWorks Career Center and set for Saturday, March 14, 2015 from 10 a.m. to 2 p.m. at the Ramada Plaza Nags Head Oceanfront in Kill Devil Hills. The job fair is free to job seekers! Just bring multiple copies of your resume and spend the day meeting with area employers about full-time, part-time and seasonal positions available on the Outer Banks. NCWorks Career Center will be on hand presenting job seekers with a complete set of employment tools including how to conduct a job search, create a resume and identify sources of education and training. Other participating organizations and businesses include Outback Steakhouse, Kitty Hawk Kites, Front Porch Café, The Dunes Restaurant & Grit's Grill, Walmart #2000, Best Western Ocean Reef, Dare County Library, Village Beach Club/Nags Head Golf Links, Gray's Outer Banks Lifestyle Clothing Co., Gold Key Resorts – Beachwoods, Tanger Outlets, Monarch Respite, Kees Vacations, Sunset Grille, Striper's Bar & Grille, Kellogg Supply Company & The Cottage Shop and the Nags Head Fire Department. Employers can find candidates, post jobs and research the local labor market. At press time vendor space was still available! Business owners and managers should call Angie Brady-Daniels at (252) 441-8144, ext. 229 or send a note of interest to angiebd@outerbankschamber.com to reserve a booth.

With the arrival of Spring's warmer weather, Wedding Season will quickly be upon us. Anyone with a wedding in their future should make it a point to attend the 2015 Outer Banks Wedding Showcase at Sanderling Resort in Duck, Saturday, March 14, 2015, from 11 a.m. to 4 p.m.  Prospective brides and grooms can sample cakes from local bakeries and meet with photographers, officiants, videographers, event designers/florists and more! You'll find everything needed to plan your Outer Banks wedding, all under one roof, set against the beautiful backdrop of bright sun, sea breeze and beauty of Sanderling Resort. Tickets are $20 in advance. For more details or to purchase tickets visit the Sanderling Resort website.