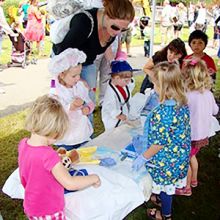 Life and its daily demands - work, family responsibilities, bills to pay and more - can seem overwhelming at times. When we finally find ourselves basking in the sunny warmth of an Outer Banks beach, sparkling green waves rushing ashore only feet away, this delicate strip of sand can seem millions of miles removed from worldly challenges. But sometimes even the remoteness of the Outer Banks isn't remoteness enough, and the world comes calling.
In 1942, during the early days of America's involvement in World War II the British Navy dispatched a number of ships to the American coast to assist with the United States' fledgling anti-submarine warfare efforts against the German U-boat fleet. The trawler HMT Bedfordshire was one of these British vessels. After several months of service along the North Carolina coast, the Bedfordshire was torpedoed and sunk by the German submarine U-558. There were no survivors. The few bodies that washed ashore were buried in what were to become known as the British cemeteries of Hatteras and Ocracoke islands.
For the past 72 years, near the anniversary of the Bedfordshire's sinking, members of the National Park Service, U.S. Coast Guard and British Royal Navy join visitors and local citizens to honor the service of the men buried in the cemeteries. This Thursday, May 8 the British War Grave ceremonies to honor the 37 sailors of the HMT Bedfordshire and 26 other foreign sailors who lost their lives just off our coast will take place on at the British Cemetery in Buxton at 11 a.m. For more information call the Graveyard of the Atlantic Museum at (252) 986-2995 or visit the museum's website. The Graveyard of the Atlantic Museum is located just south of the ferry docks in Hatteras Village.
Stories such as the sinking of the HMT Bedfordshire make it apparent that, despite our seeming remoteness from daily trials and tribulations, we are, in fact, inextricably tied to the web of worldly events, from warfare to economics and environmental issues. The sinking of the Bedfordshire proved beyond doubt that World War II was a truly global conflagration that brought the outside world's conflict and tragedy to a wispy strand of barrier islands thousands of miles from the primary battlefields of Europe and the Pacific. And today the tragedy provides a very strong indication that we will not be immune to the environmental degradations happening on a world-wide scale any more than we could avoid the effects of that world war 70 years ago. Food for thought.
KidsFest
Children & Youth Partnership for Dare County is sponsoring KidFest at Roanoke Island Festival Park's Outdoor Pavilion and Lawn on Friday, May 9 from 9:30 a.m. to 12:30 p.m. The annual event is a free and fun-filled day of face painting, musical performances, educational games, ice cream, art and more for children age 5 and younger. Highlights include the opportunity to explore a fire truck and a United States Coast Guard boat. For more information call (252) 441-4737 or visit the Children & Youth Partnership website. The rain date is Friday, May 16.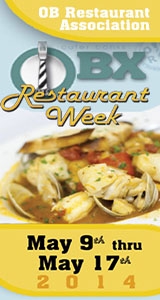 Spring's Foodie Celebration
The Spring incarnation of Outer Banks Restaurant Week arrives just in time for Mother's Day Weekend, beginning Friday, May 9 and continuing through Saturday, May 17. Restaurant Week gives local food enthusiasts and visitors an opportunity to enjoy special three-course lunch and/or dinner menus at participating restaurants throughout the Outer Banks at a fixed price of either $20 or $35 per meal (please note: sales tax and gratuity are not included). The list of participating restaurants and their menus has been posted, so there's no reason to delay making plans for a great Mother's Day meal or to treat yourself to a dinner outing at a new restaurant or a new dish at a favorite establishment.
Lace Up Those Running Shoes for a Good Cause
The Yuengling Nags Head Woods 5K Run and the Outer Banks Relay For Life both take place this Saturday. The Yuengling Nags Head Woods 5K Run begins at 8:30 a.m. is an out-an-back race through the rolling terrain of The Nature Conservancy's Nags Head Woods Ecological Preserve. Hosted by North Banks Rotary Club in partnership with Outer Banks Kiwanis Club, all net proceeds go to support local charities, youth programs and military relief charities. Pre-registration is required.
Relay For Life, an annual event to raise funds and awareness for the fight against cancer, begins at noon Saturday at Roanoke Island Festival Park's Outdoor Pavilion and is scheduled to continue through 7 p.m. Participation is based upon sponsorships gathered from throughout the community.
Garden Inspiration
Seeking ideas for sprucing up your home's interior and outdoor spaces? Inspiration awaits you on the Ace Hardware Home and Garden Tour held Saturday, May 10 from 11 a.m. to 5 p.m. The tour, an annual fundraising event for The Gardens put on with the assistance of the Roanoke Island Garden Club, the Dunes of Dare Garden Club, Outer Banks History Center and Manteo Preservation Trust, will feature gardens, homes and historic sites throughout Roanoke Island, showcasing beautiful homes and gardens that exemplify the creative and original style of their owners. In addition, each home will showcase artists and their art. Tickets are $35/person in advance, $40/person the day of the event; individual ticket price for groups of 10 or more is $32/person. The ticket price includes a buffet salad lunch served at The Gardens from noon to 3 p.m. For more information call (252) 473-3234 or visit The Gardens' website.
Trash Attack!
So much of what is best about the Outer Banks depends on clean air, water and land. This Saturday the Town of Kill Devil Hills is doing its part to clean up our environment by sponsoring and coordinating Trash Attack, a community-wide litter clean-up event co-sponsored by the Outer Banks Surfrider Foundation and the Dare County Arts Council. Participants should meet for registration at Aviation Park (across from First Flight High School) at 9 a.m. Light refreshments will be provided. At 9:30 the clean-up begins, continuing until noon! At 12:30 all your hard work beautifying the community will be rewarded with a cook-out courtesy of the Kill Devil Hills Fire Department Auxiliary. The rain date is Saturday, May 17.
Watersports Return with Spring!
Kitty Hawk Kites has partnered with Kitty Hawk Kites Resort to put on the 2014 Kiteboarding Adventure Camp, a week-long professional kiteboarding clinic held from May 11 through May 18 at Hatteras Kiteboarding Resort in Rodanthe, one of the world's best kiteboarding locations. The $2,600 all-inclusive camp includes airport pickup, lodging, meals, instruction and even backup activities in the event of insufficient wind and brings together experienced Cabrinha team kiteboarders Damien Leroy and Evan Netsch to coach participants using the latest Cabrinha Kites, although participants are expected to bring their personal equipment for primary use. Film and photography services can be provided to document your sessions. To pre-register or for more information on the event, airport pick-up and Waves Village Resort accommodations call (252) 202-1963 or visit the event website.
Whether you're paddling a board for the first time or are already a pro, the Bic SUP One Design Series, hosted by Kitty Hawk Surf Co., is a great activity for watersports fans of all ages. To sign up for this family-friendly standup paddleboard competition, meet at Kitty Hawk Kites' Manteo store Thursday, May 15 at 10 a.m.

This week you have a chance to win a bike rental from Just For The Beach Rentals & a $35 wine card to Chip's Wine & Beer Market!
For more information about Just For The Beach Rentals, check out their website.
For more information about Chip's Wine & Beer Market check out their website.
Last Week's Winner
Congratulations to Wanda Thompson!!!
You won a two-night stay to the Outer Banks Inn & a $35 gift certificate to Kinnakeet Clay!
For more information about Outer Banks Inn, check out their website.
For more information about Kinnakeet Clay Works check out their website.